Accessibility Quick Links
Extra protection on new purchases
90-day protection with Purchase Security Insurance1 if your new purchase is stolen or breaks
Passenger protection
Get accident coverage with Common Carrier Accident Insurance1
Interest rate
RDS%rate[2].VPARO.rate(null,null,6,null)(#R#)% for purchases2 and

RDS%rate[2].VPARO.rate(null,null,3,null)(#R#)% (or RDS%rate[2].VSARO.Published(null,null,90,null)(#O2#)% for Quebec residents) for cash2
No minimum income requirement
$0
Minimum credit limit
$1,000
Get a free SPC membership† with this credit card
Save instantly when you shop at over 450 partner brands in-store and online. Pay no membership fee as a CIBC client with an eligible student product.
More to love about this card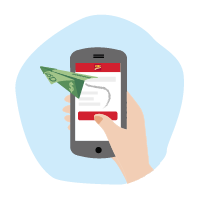 Send money abroad
There are no transaction fees when you send a CIBC Global Money Transfer™, 6. Also, you won't be charged interest, as long as you pay your balance by the payment due date.7

CIBC Pace It™
Some purchases can't wait. CIBC Pace It helps you manage your finances with Installment Plans on your credit card at lower interest rates. Start paying for the big things that matter at a pace you choose.◇
Valuable insurance included with your card1

$100,000 Common Carrier
Accident Insurance

Purchase Security and Extended
Protection Insurance
Optional insurance for your card

CIBC Emergency Travel Medical Insurance 3

CIBC Payment Protector™ Insurance for Credit Cards4
Get more out of student life
Visit our student banking hub to learn about day-to-day banking, credit cards and lines of credit, plus tools and advice that's catered to you. Discover student banking.
Not the right card for you?

Here are a few more that could suit you better.