Accessibility Quick Links
Plan for the important things in your life
Do you want help to reach a specific goal, or do you need a comprehensive financial plan? Either way, your professional financial advisor can help you manage your money today, build a solid financial plan for the future, and readjust when your priorities change.
Your one point of contact
Your advisor is at the centre of your CIBC Imperial Service experience. Whether you want to save for a big purchase or a trip, send your kids to school, retire in comfort or simply reduce your monthly expenses, it all starts with a call to your advisor.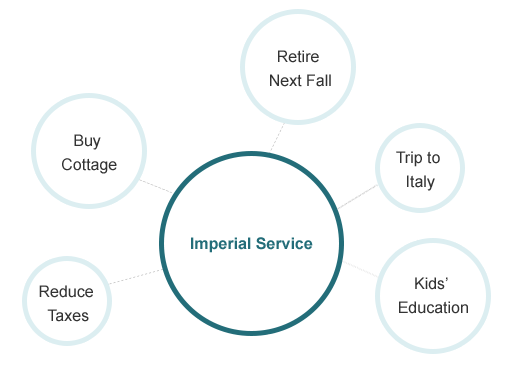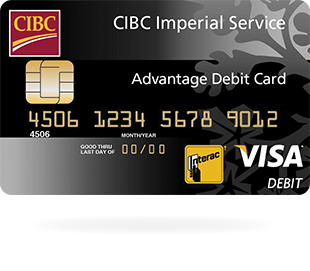 CIBC Imperial Service black card service
You'll enjoy premium benefits that help make it easier to manage your finances:
One point of contact with your own advisor

After-hours and weekend assistance from an experienced and dedicated client service group.

CIBC Imperial Service website with 24-hour access to your financial information, planning articles and tools

Exclusive banking and wealth products

Your advisor is backed by a team of CIBC financial specialists to help with your individual planning needs
---
Are you ready for the CIBC Imperial Service experience?
1. Meet
The first step is getting to know you. What are your hopes for the future? What challenges are you facing? What's important to you and your loved ones?
2. Review
By taking a closer look at your finances, and getting to know your full financial picture, your advisor can help identify opportunities.
3. Recommend
With a clear understanding of your situation, your advisor will recommend strategies for daily banking, investing, borrowing and insurance, and discuss tax considerations.
4. Plan
Your advisor will work with you to create and manage a plan that puts your needs first, and will help you to stay on track.
5. Ongoing Help
You can call your advisor whenever you have a question or a life change, no matter how big or small.
---
How much does CIBC Imperial Service cost?
Financial reviews, financial advice and financial plans are complimentary. Fees and commissions may apply to certain recommended products and services.
What goals can you help me plan for?
Just about everything from managing your household finances and setting aside money for a big purchase, to planning for education and creating your retirement paycheque.
Is CIBC Imperial Service right for me?
Yes, if you have $100,000 or more in savings and investments and feel it's complicated to balance your financial needs today with planning for the future. You'd like a professional to help manage your finances and build your wealth.
Terms and conditions

At CIBC Imperial Service, investment advice and services are provided by CIBC Imperial Investor Service ("IIS") division of CIBC Investor Service Inc. ("ISI") or by CIBC Securities Inc. ("SI"), and in Quebec by SI. ISI is a subsidiary of CIBC, Member of the Canadian Investor Protection Fund and Member of the Investment Industry Regulatory Organization of Canada. SI is a subsidiary of CIBC and member of the Mutual Fund Dealers Association of Canada.

In order to access such trading services, a customer must be resident in Canada at the time of the trade.

This communication does not constitute any offer or solicitation to residents of the United States or the United Kingdom, or any other jurisdiction in which such an offer or solicitation is not authorized or to any person to whom it is unlawful to make such an offer or solicitation. Prospective investors who are not resident in Canada should consult their advisors to determine if these products and services may lawfully be sold in their jurisdiction.

CIBC and its subsidiaries provide services in those jurisdictions in which CIBC or the particular subsidiary is licensed or permitted to conduct business. CIBC Private Banking subsidiaries outside of Canada and the United States are not licensed to provide trust, investment advisory, loan, or brokerage services in Canada or the United States.

CIBC Imperial Service is available only in select markets, depending on the availability of qualified professional advisors.

CIBC Personal Portfolio Services® is a discretionary investment management service provided by CIBC Trust Corporation and distributed by SI and ISI, subsidiaries of CIBC, to individuals with household investable assets greater than $100,000.

CIBC Imperial Service is available in selected markets and is most appropriate for households with investments and savings greater than $100,000.

® Registered trademarks of CIBC.