Accessibility Quick Links
CIBC Imperial Service® is right for you if:
You have $100,000 or more in savings and investments and feel it's complicated to balance your financial needs for today with planning for the future. You'd like a professional to help you manage your finances and build your wealth.
What makes us different?
At CIBC Imperial Service you have one point of contact. From choosing the right home renovation loan, to managing your money in retirement, and everything in between, your professional financial advisor is there to help you every step of the way.
Planning to retire well
You need a plan for retirement. Talk with your advisor to help figure out how much you need to save, how to make your money grow, and how to balance living for today with planning for your future.
Retiring soon
You've worked hard and saved for the future, and now you feel ready to make retirement a reality. Talk with your advisor and learn how to help turn your retirement savings into a retirement paycheque.
Planning for post-secondary education
Helping to pay for post-secondary education can give your child the advantage of graduating with minimal debt. Ask your advisor to show you how investing in your child's future fits in to your overall financial plan.
Banking and borrowing
No matter where you are in life, you have goals for your future and new challenges ahead. Working with your advisor, you can build a plan to help get the most from your money today while you save for the future.
Canadians with a financial plan feel more confident
Putting a plan in place has its rewards. Those with a financial plan feel their financial goals and retirement plans are more on track1. They report higher levels of financial and emotional well-being than those who do limited or no planning.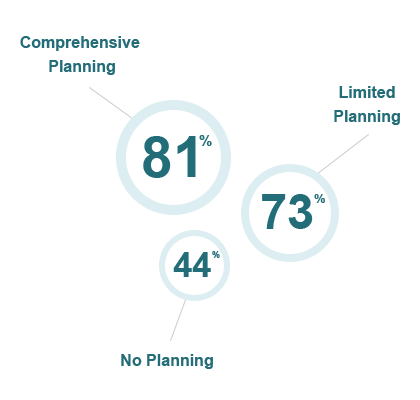 Terms and conditions

At CIBC Imperial Service, investment advice and services are provided by CIBC Imperial Investor Service ("IIS") division of CIBC Investor Service Inc. ("ISI") or by CIBC Securities Inc. ("SI"), and in Quebec by SI. ISI is a subsidiary of CIBC, Member of the Canadian Investor Protection Fund and Member of the Investment Industry Regulatory Organization of Canada. SI is a subsidiary of CIBC and member of the Mutual Fund Dealers Association of Canada.

In order to access such trading services, a customer must be resident in Canada at the time of the trade.

This communication does not constitute any offer or solicitation to residents of the United States or the United Kingdom, or any other jurisdiction in which such an offer or solicitation is not authorized or to any person to whom it is unlawful to make such an offer or solicitation. Prospective investors who are not resident in Canada should consult their advisors to determine if these products and services may lawfully be sold in their jurisdiction.

CIBC and its subsidiaries provide services in those jurisdictions in which CIBC or the particular subsidiary is licensed or permitted to conduct business. CIBC Private Banking subsidiaries outside of Canada and the United States are not licensed to provide trust, investment advisory, loan, or brokerage services in Canada or the United States.

CIBC Imperial Service is available only in select markets, depending on the availability of qualified professional advisors

CIBC Personal Portfolio Services® is a discretionary investment management service provided by CIBC Trust Corporation and distributed by SI and ISI, subsidiaries of CIBC, to individuals with household investable assets greater than $100,000.

CIBC Imperial Service is available in selected markets and is most appropriate for households with investments and savings greater than $100,000.

® Registered trademarks of CIBC.

1 Source: Financial Planning Standards Council, The Value of Financial Planning, results released February 2014. Surveys were conducted from August 2009 - August 2012. The research surveys the general English-speaking population in Canada (excluding Quebec). The results listed are from the third year of research, conducted from April - August 2012.