Accessibility Quick Links
Manage your financial life
Managing everyday finances while saving for the future can be a fine balance. When you're planning a kitchen renovation, dreaming about a vacation, or paying down debt, your CIBC Imperial Service financial advisor can help with a range of flexible banking and borrowing services.


How CIBC Imperial Service helps
CIBC Imperial Service can help bring together the pieces of your financial life. Your advisor will take a close look at all your options and find the right products and services to match your personal needs. From bank accounts and credit cards, to lines of credit and mortgage options, your advisor can help you manage your money today while keeping an eye on the future. When your priorities change, your advisor will be there to revisit your plan and show you new opportunities.
---
Things to consider
Smart borrowing is as important as smart saving and investing

Paying less interest leaves more money in your pocket

Different expenses and your personal situation call for different kinds of borrowing — a line of credit may be best for a home renovation, while a personal loan may be a better choice for a new car
Budgeting and borrowing checklist
Have you analyzed your spending?

Are there areas in your spending you'd like to improve?

Do you pay yourself first, putting money into savings?

Do you think you're paying too much interest?

Will a life change or new plans affect your budget?
Top reasons for taking on debt
Saving for the future is important, but it's also important to consider today's necessary and discretionary purchases. The top reasons Canadians have taken on debt in the last 12 months include,new vehicle, home repair or renovation, financial emergency1, vacation and education.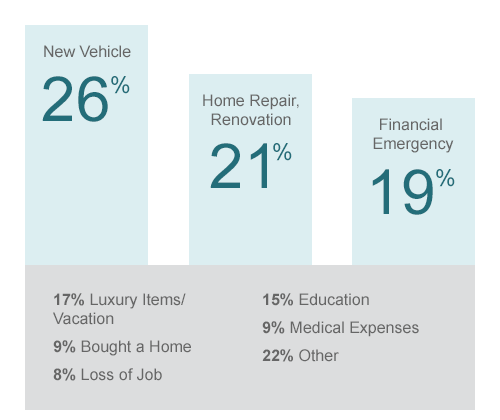 Terms and conditions

At CIBC Imperial Service, investment advice and services are provided by CIBC Imperial Investor Service ("IIS") division of CIBC Investor Service Inc. ("ISI") or by CIBC Securities Inc.("SI"), and in Quebec by SI. ISI is a subsidiary of CIBC, Member of the Canadian Investor Protection Fund and Member of the Investment Industry Regulatory Organization of Canada. SI is a subsidiary of CIBC and member of the Mutual Fund Dealers Association of Canada.

In order to access such trading services, a customer must be resident in Canada at the time of the trade.

This communication does not constitute any offer or solicitation to residents of the United States or the United Kingdom, or any other jurisdiction in which such an offer or solicitation is not authorized or to any person to whom it is unlawful to make such an offer or solicitation. Prospective investors who are not resident in Canada should consult their advisors to determine if these products and services may lawfully be sold in their jurisdiction.

CIBC and its subsidiaries provide services in those jurisdictions in which CIBC or the particular subsidiary is licensed or permitted to conduct business. CIBC Private Banking subsidiaries outside of Canada and the United States are not licensed to provide trust, investment advisory, loan, or brokerage services in Canada or the United States.

CIBC Imperial Service is available only in select markets, depending on the availability of qualified professional advisors.

CIBC Personal Portfolio Services® is a discretionary investment management service provided by CIBC Trust Corporation and distributed by SI and ISI, subsidiaries of CIBC, to individuals with household investable assets greater than $100,000.

CIBC Imperial Service is available in selected markets and is most appropriate for households with investments and savings greater than $100,000.

1 CIBC Poll. On June 5 and June 8, 2015, an online survey was conducted among 3,013 randomly selected Canadian adults who are Angus Reid Forum panelists. The margin of error - which measures sampling variability - is +/- 2.08 per cent, 19 times out of 20. The results have been statistically weighted according to education, age, gender and region (and in Quebec language) Census data to ensure a sample representative of the entire adult population of Canada. Discrepancies in or between totals are due to rounding.

® Registered trademarks of CIBC.