Accessibility Quick Links
Find the right balance
You're saving for your child's education, plus your own retirement and other priorities like a family vacation or vacation property. Your professional financial advisor can show you how investing in your child's future fits into your overall financial plan.

How CIBC Imperial Service helps
Helping to pay for post-secondary school can help give your child the advantage of graduating with minimal debt, or even debt-free. Your advisor will help you sort through your options — RESPs, TFSAs, investments, trusts, student loans and grants, joint lines of credit — and create a plan that works for your family.
Decide how much you will contribute to your child's total post-secondary education costs, and how much you expect your child to contribute

Identify the best ways to save for education

Balance saving for education with your other priorities

Take advantage of Government of Canada and provincial grants

Your advisor will help you create an education plan, put it into action, and adjust it when priorities change.
---
Things to consider
School expenses beyond tuition, like books, food and residence

Differences in costs between different schools and programs

Applying for scholarships, grants, bursaries, student loans

What to do with extra cash: pay for education or save for retirement
Post-secondary education checklist
How many children are you sending to post-secondary school?

How old are they now? At what age do you expect them to start their post-secondary education?

How many years do you expect them to attend?

Do you expect them to live at home, on campus or elsewhere?

How much do you plan to contribute to their education?

Will your children work during the school year or during the summer?
Annual costs by degree
The cost of post-secondary education in Canada continues to rise. Some programs charge more than others. 
Here's what Canadian students are paying in average annual tuition for different degrees1. Keep these numbers in mind when saving for your child's future.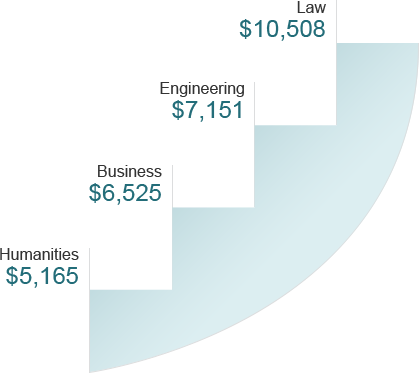 Terms and conditions

At CIBC Imperial Service, investment advice and services are provided by CIBC Imperial Investor Service ("IIS") division of CIBC Investor Service Inc. ("ISI") or by CIBC Securities Inc.("SI"), and in Quebec by SI. ISI is a subsidiary of CIBC, Member of the Canadian Investor Protection Fund and Member of the Investment Industry Regulatory Organization of Canada. SI is a subsidiary of CIBC and member of the Mutual Fund Dealers Association of Canada.

In order to access such trading services, a customer must be resident in Canada at the time of the trade.

This communication does not constitute any offer or solicitation to residents of the United States or the United Kingdom, or any other jurisdiction in which such an offer or solicitation is not authorized or to any person to whom it is unlawful to make such an offer or solicitation. Prospective investors who are not resident in Canada should consult their advisors to determine if these products and services may lawfully be sold in their jurisdiction.

CIBC and its subsidiaries provide services in those jurisdictions in which CIBC or the particular subsidiary is licensed or permitted to conduct business. CIBC Private Banking subsidiaries outside of Canada and the United States are not licensed to provide trust, investment advisory, loan, or brokerage services in Canada or the United States.

CIBC Imperial Service is available only in select markets, depending on the availability of qualified professional advisors.

CIBC Personal Portfolio Services® is a discretionary investment management service provided by CIBC Trust Corporation and distributed by SI and ISI, subsidiaries of CIBC, to individuals with household investable assets greater than $100,000.

CIBC Imperial Service is available in selected markets and is most appropriate for households with investments and savings greater than $100,000.

1 Statistics Canada, Centre for Education Statistics, 2014

® Registered trademarks of CIBC.