Accessibility Quick Links
Plan your retirement spending
Reaching retirement is an exciting milestone, and it's natural to have questions about your many options. Ask your professional financial advisor how you can make the most of your money. Your advisor will help you determine how much you need, helping you create your retirement paycheque, and work with you to plan for your next 20 or more years in retirement.


How CIBC Imperial Service helps
Retirement is a journey, not a destination. Planning for it doesn't end when you retire. Your advisor will be with you every step of the way, from exploring your options and building a plan, to transitioning into retirement, to fine-tuning as you go. Your advisor will:
Discuss your ideas for retirement and how much money you'll need

Help you create a retirement paycheque using your income streams and assets (Government of Canada benefits, pensions, retirement savings, investments and property)

Review banking options and ways to reduce taxes to increase your monthly cash flow
---
Countdown to retirement checklist
Talk to your family about your ideas for retirement

Review your employee pensions and benefits

Consider where you want to live, and why
Calculate the best time to collect your CPP/QPP

Consider working longer, or part-time employment
Download our free retirement success guide
Good planning is key to a successful retirement. For more information, download our free guide, Charting Your Course to Retirement Success.

Your guide includes:
Budgeting for retirement

How to build a retirement paycheque

Bridging the gap if needed
Retirement income sources
When you retire, you are likely to receive income from many sources. These include the Canada Pension Plan, Old Age Security, employer pensions, registered retirement plans, and other assets1. Understanding where your income will come from is an essential part of retirement planning.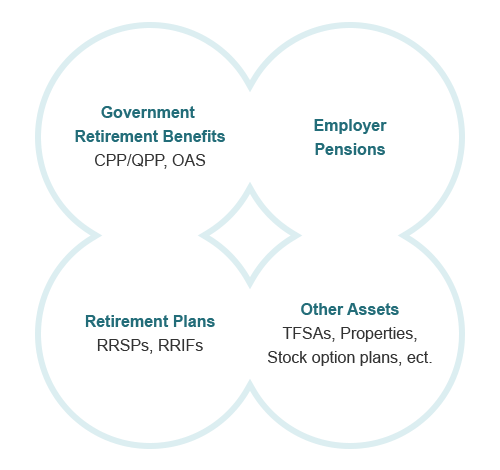 Terms and conditions

At CIBC Imperial Service, investment advice and services are provided by CIBC Imperial Investor Service ("IIS") division of CIBC Investor Service Inc. ("ISI") or by CIBC Securities Inc.("SI"), and in Quebec by SI. ISI is a subsidiary of CIBC, Member of the Canadian Investor Protection Fund and Member of the Investment Industry Regulatory Organization of Canada. SI is a subsidiary of CIBC and member of the Mutual Fund Dealers Association of Canada.

In order to access such trading services, a customer must be resident in Canada at the time of the trade.

This communication does not constitute any offer or solicitation to residents of the United States or the United Kingdom, or any other jurisdiction in which such an offer or solicitation is not authorized or to any person to whom it is unlawful to make such an offer or solicitation. Prospective investors who are not resident in Canada should consult their advisors to determine if these products and services may lawfully be sold in their jurisdiction.

CIBC and its subsidiaries provide services in those jurisdictions in which CIBC or the particular subsidiary is licensed or permitted to conduct business. CIBC Private Banking subsidiaries outside of Canada and the United States are not licensed to provide trust, investment advisory, loan, or brokerage services in Canada or the United States.

CIBC Imperial Service is available only in select markets, depending on the availability of qualified professional advisors.

CIBC Personal Portfolio Services® is a discretionary investment management service provided by CIBC Trust Corporation and distributed by SI and ISI, subsidiaries of CIBC, to individuals with household investable assets greater than $100,000.

CIBC Imperial Service is available in selected markets and is most appropriate for households with investments and savings greater than $100,000.

1 Government Resource: servicecanada.gc.ca

® Registered trademarks of CIBC.