Accessibility Quick Links
Bank anywhere with our mobile app or access our 1,100 branches and over 3,000 ATMs across Canada.
Earn cash back with credit card purchases. You don't need to provide an income or credit history, or a security deposit.
Send money back home with no fees1, get account updates in real time and tap to pay for purchases, all from your mobile device.
Your financial journey in Canada starts here
You can open an account online in minutes
Get support that fits your unique journey
Moving to Canada and don't know where to start? Answer a few basic questions to get tailored resources, tips and banking offers with the CIBC Smart™ Guide to Canada.
Whether you're planning your journey, just arrived or already settled, we'll help you start your new life here.
Banking designed for your new life

Start saving and managing your money today with a CIBC Smart™ Account for Newcomers
Special offer
Pay no monthly fee for 2 years.†† Plus, get $350† after you open a CIBC Smart Account for Newcomers as your first CIBC chequing account.

Credit cards to meet your needs
You could get a higher limit‡ on your credit card. Whether you want cash-back, travel or reduced interest rates, we have a credit card that will fit your needs. Newcomer Banking applications do not require credit history or funds to be secured.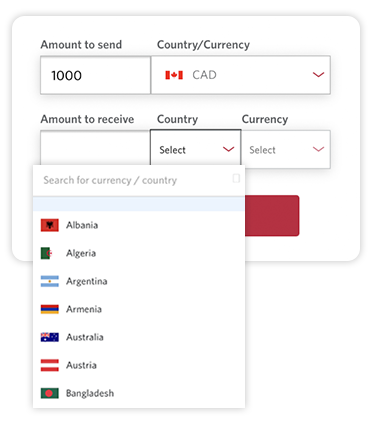 Send money back home with $0 transfer fees1
With CIBC Global Money Transfer™, it's safe and fast to send money to loved ones around the globe. You can pay using your eligible CIBC credit card or CIBC bank account.

Bank anywhere with CIBC Mobile Banking®
Manage your money from your mobile device
Pay bills, deposit cheques with your phone's camera and instantly get your credit score for free2.
Tap your phone to make a purchase
Pay for everyday items up to $250 with Interac Debit® or use your CIBC debit or credit card with Apple Pay® or Google Pay™.
Your newcomer journey at a glance

Track your spending to grow your savings faster
There's a lot to keep track of now that you're in Canada. With CIBC Insights, we help you see where your money is going and how to save more.


Ready to start banking in Canada?
Joining is as easy as opening one of our most popular accounts, online or on your mobile device.
Discover more resources for newcomers

What to do after you arrive in Canada
Learn important things to do in the first week, month and year after your arrival to experience the best that Canada has to offer.

Learn how to make a budget
We'll guide you through the costs you'll face in Canada and help you start saving, investing and managing your cash.

Send and receive money in Canada
Once you're settled in your new home, we make it easy to move your money to Canada and send money to loved ones overseas.

Invest in your future in Canada
CIBC Investor's Edge is an online investing platform that lets you build your own portfolio. Choose from a variety of investment options, such as stocks and mutual funds.

Save for your children's education
We'll help you learn about investing for your children's post-secondary education, the benefits of government grants, and growing an RESP.

Koodo phone plan
CIBC Newcomer clients will receive an exclusive offer from Koodo to save money on their mobility plan, including free international long-distance minutes.


Canoo
CIBC is proud to partner with Canoo to help Newcomers discover the best of Canada for free. The Canoo Cultural Pass provides newcomers with VIP access to over 1,400 of our country's most exciting cultural and outdoor experiences.
Let's get in touch
If you have questions, we're available over the phone and in person.