Accessibility Quick Links
Chat up our virtual assistant around the clock
It's available in English and French on all our digital banking platforms to answer your questions and complete everyday banking tasks 24 hours, 7 days a week.
How to navigate to our virtual assistant
How to find our virtual assistant in online banking

BOTTOM RIGHT CORNER
If you're using a web browser to do your online banking, such as Chrome or Safari, you'll spot the chat icon in the bottom right corner. The icon will remain in its spot even if you scroll or navigate away to another page.
How to find our virtual assistant on our mobile app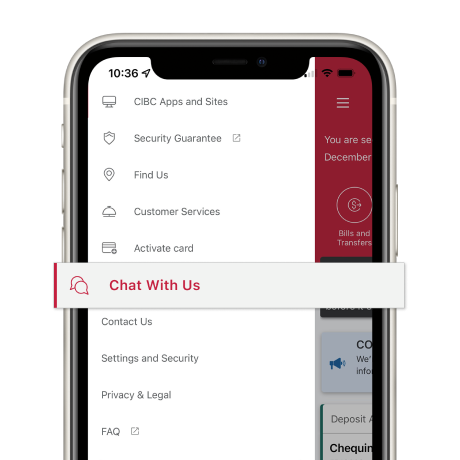 IN THE SIDE NAVIGATION
Go to the side navigation on the app, scroll all the way down and select "Chat with us" to begin.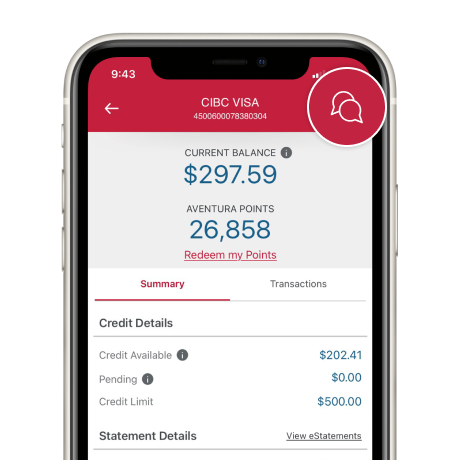 TOP OF THE ACCOUNT PAGES
The chat icon to launch our virtual assistant is also available at the top right corner of all of your individual account summary pages.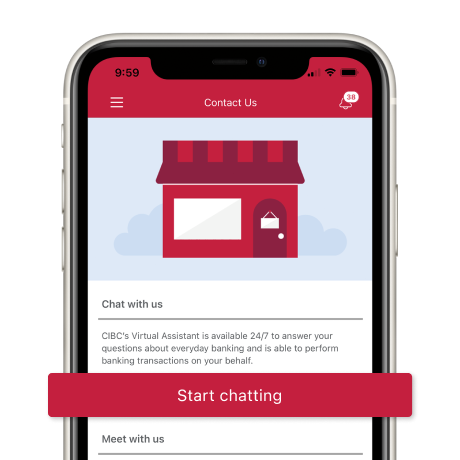 THE CONTACT PAGE
Navigate to the "Contact us" page through the side menu and select "Start chatting."
What our virtual assistant can do
It can do a lot for a bot. Its features include but aren't limited to: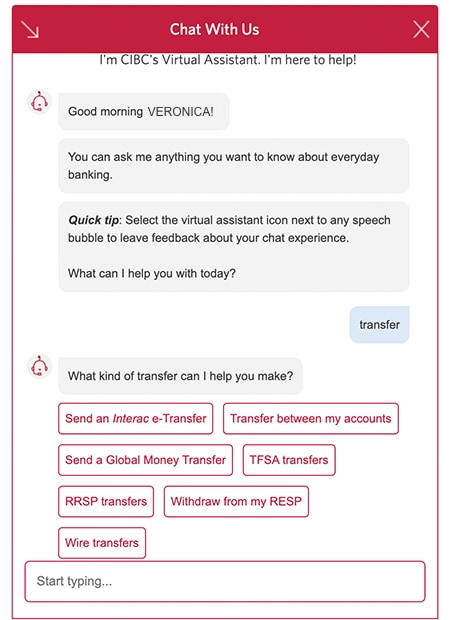 Why you'll love our virtual assistant
Smart
If it can't help, it'll transfer you to a Chat Specialist, available 7 am to midnight on weekdays and 9 am to 6 pm on weekends.
Easy to use
It'll guide you through simple prompts even if you're not sure how to word your questions.
Secure
It'll protect your information at the same level as the rest our digital banking platform.
Start using our virtual assistant
Available on CIBC Online Banking® and the CIBC Mobile Banking App® for iOS and Android.