Accessibility Quick Links
Aventura
CIBC Aventura® Visa* Card for Students
Flying home for a break? Start earning Aventura Points to use toward your next flight.
Annual fee
$0

Minimum annual income
$0

Interest rate
RDS[%rate[2].VSAVC.Published(null,null,6,null)(#O2#)%] for purchases5
RDS[%rate[2].VSAVC.Published(null,null,3,null)(#O2#)%] for cash5
Dividend
CIBC Dividend® Visa* Card for Students
Special offer
Earn 2% cash back at the grocery store — for no annual fee.
Annual fee
$0

Minimum annual income
$0

Interest rate
RDS[%rate[2].VSDIV.Published(null,null,6,null)(#O2#)%] for purchases4
RDS[%rate[2].VSDIV.Published(null,null,3,null)(#O2#)%] for cash4

To qualify
You're currently a post-secondary student.

You're a permanent Canadian resident and you've reached the age of majority in your province.
(The age of majority is 18 in Alberta, Manitoba, Ontario, Quebec, Prince Edward Island and Saskatchewan. The age of majority is 19 in British Columbia, New Brunswick, Newfoundland and Labrador, the Northwest Territories, Nova Scotia, Nunavut and Yukon.)

You haven't declared bankruptcy in the past 7 years.

Apply online
Applying takes about 5 minutes, and you'll get a response in as little as 60 seconds†.
Check out the services you can personalize to better protect you and your credit.

Set up alerts
Sticking to a budget? Set up Spend Alerts and we'll notify you when you exceed your set budget or when you're nearing your credit limit††.
Track your spending
Want to find out where your money goes? We'll help you detect trends in your spending by category.
Visa's Zero Liability Policy
Should someone steal your card, your card number, or other card details, you will not be held responsible for fraudulent purchases processed through the Visa network as long as you meet your obligations‡.
We're the first Canadian financial institution to offer all 3 leading mobile wallets.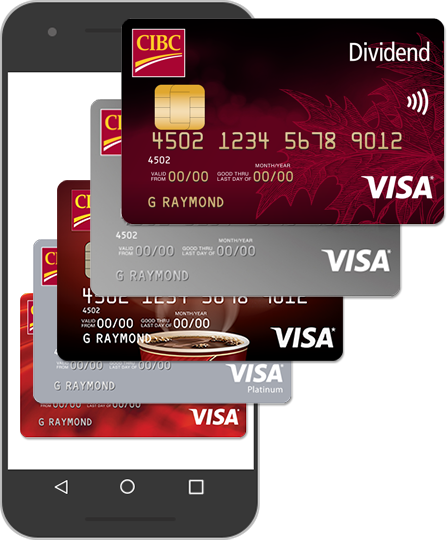 ---
Looking for more information?
---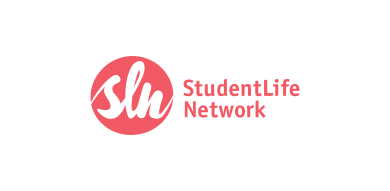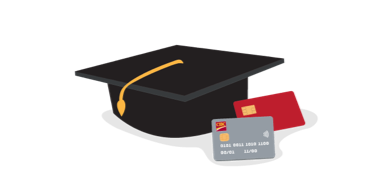 Terms and conditions

Show or hide terms and conditions.

Terms and conditions vary. Select the terms and conditions link connected to each credit card for more information.

◊◊ NO PURCHASE NECESSARY. Open January 1, 2018 to December 31, 2018 to legal residents of Canada who are sixteen (16) years of age or older and are current students of an accredited Canadian university, college or secondary school. Grand prize of $35,000 CAD. Odds of winning depend on number of eligible entries received. Math skill test required. Refer to Student Life Network for contest details. Read full contest rules (PDF, 340 KB) .

† We may withdraw approval if we become aware of any unfavourable information regarding your financial position or account status, or if you are unable to provide any additional information reasonably requested by CIBC. The application response time may take longer than 60 seconds in the event of technology issues. If you supply your email address, an application status email will be sent as soon as the technology issues are resolved. Otherwise, you'll receive a response to your credit card application within 7 to 10 business days.

†† Transactions must first be posted to your account before they can trigger a spend alert. It may then take up to 24 hours after a triggering transaction is posted for an alert to be sent. On select CIBC cards, an overlimit fee is charged if the account balance is over its credit limit on the date the statement is prepared.

‡ The Visa Zero Liability Policy does not apply to ABM transactions or to PIN transactions not processed through the Visa network. You must comply with the CIBC Cardholder Banking Service Agreement including safeguarding your card, your card details and PIN.

◊ The CIBC free credit score service is a feature in the CIBC Mobile Banking App which allows CIBC clients to subscribe to get their credit score from Equifax Canada through Borrowell, our third party service provider.

The Equifax credit score is based on Equifax's proprietary model and may not be the same score used by third parties or by CIBC in certain instances to access your creditworthiness. The provision of this score to you is intended for your own educational use. Third parties and CIBC will take into consideration other information in addition to a credit score when evaluating your creditworthiness.

You should always obtain the most updated credit information and scores from Equifax Canada to ensure accuracy before making a major financial decision.