Accessibility Quick Links
Here's how you qualify for CIBC Investor's Edge student pricing:
STEP 1
Open a CIBC Smart™ Account for students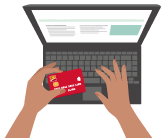 Get a bank account with no monthly fees and unlimited transactions.1

STEP 2
Open a CIBC Investor's Edge account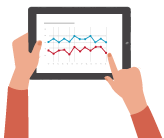 Choose one or more of our account types depending on your investment goals.
Why start now?
This is how investing early can pay off big-time:
If you start investing now by setting aside $25 every week, assuming a 6% rate of return, you'll have about $7,550 in 5 years or more than $200,000 in 40 years.*

The longer you wait to start investing, the more you'll need to set aside every week to reach the same amount.
Tax-Free Savings Account (TFSA)


Pay no tax on interest, income or capital gains earned within your account
Withdraw money tax-free at any time
Registered Retirement Savings Plan (RRSP)


Lower your taxable income while investing for your long-term goals
Pay no tax on the earnings and growth within your RRSP, until you withdraw money
Non-registered account

Access your money easily
Invest however much you want without worrying about reaching a maximum
Ready to start investing?
Call us

Monday to Friday
8:00 am to 8:00 pm ET

Toll-free: 1-800-567-3343

Asian language services
Get support in Mandarin and Cantonese.
Monday to Friday
8:00 am to 8:00 pm ET
Toll-free: 1-888-366-6888