Accessibility Quick Links
A virtual coach built into our mobile app
CIBC Smart Planner is an intuitive tool that gives you timely insights into your spending habits to help you track and understand your finances better and stay on top of your goals.
Video: Go from dreaming to doing with CIBC Smart Planner™ (1:00)
How to start using CIBC Smart Planner
Sign on to the CIBC Mobile Banking App® and set up your CIBC Smart Planner in a few easy steps.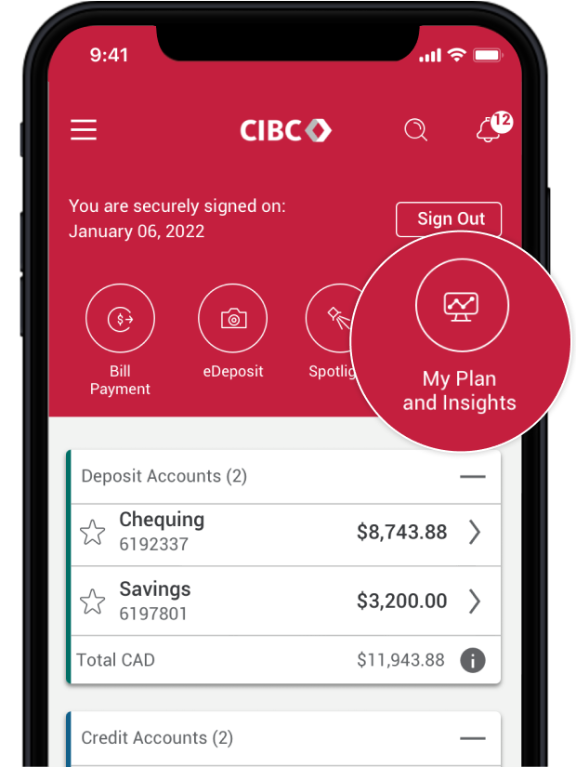 STEP 1
Select "My Plan and Insights" from the quick actions menu.
STEP 2
Set up alerts to keep track of your plan.
STEP 3
Select "Create my plan" and follow the guided questionnaire about your financial wellbeing and goals.
STEP 4
Continue to check your dashboard for insights and keep customizing your goals, budget and net worth.
Get familiar with CIBC Smart Planner's features

Choose your goals
Choose from a list of goals or add custom goals.
Manage your budget
Answer a few questions about your finances and get a customized budget.
Track your net worth
Review and manage your assets and liabilities.
Create healthier financial habits
Get tips based on your debit and credit card activity to help you manage your spending and grow your savings.
Get started with CIBC Smart Planner
Let us help with your goals
Book a meeting with your advisor if you need additional support.
Start your plan today
CIBC SmartPlanner is currently only available on the CIBC Mobile Banking App® for iOS and Android.
Are you a client of CIBC Imperial Service?
CIBC GoalPlanner can help you simplify planning your financial goals and make adjustments to meet your evolving needs.
Frequently asked questions