Accessibility Quick Links
Tailored to your student budget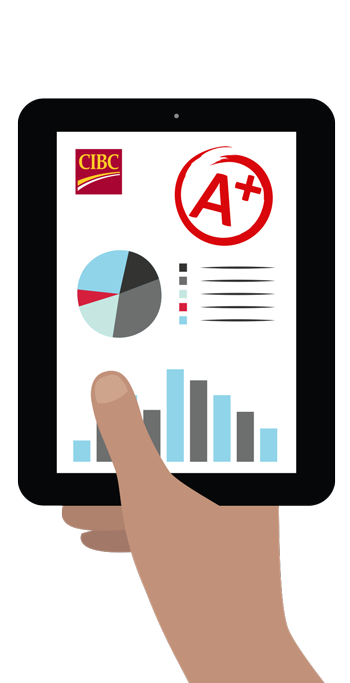 What you get:
No monthly fee, unlimited transactions1 and free unlimited Interac e-Transfers
Free paperless record-keeping2
Debit purchases across Canada using the Interac network®1
Debit purchases outside Canada, and online, by phone or by mail with a CIBC Advantage Debit Card® using the Visa network
24-hour account access through CIBC banking centres, bank machines, and telephone, online, and mobile banking

How you get it:
Provide proof of enrolment in a full-time post-secondary program (college, university or CEGEP)
International students can qualify for this offer by showing their student ID, foreign passport and study permit (IMM 1442)
This offer lasts up to a maximum of 4 years from your program enrolment date (based on expected graduation date or program length). To extend, you must re-apply with proof of continued enrolment

Plus, with the CIBC Express Switch® Service3, it's easy to transfer your pre-authorized transactions and/or account balance from another bank to CIBC.
Better ways to bank with CIBC
---
Get more out of student life
Visit our student banking hub to learn about day-to-day banking, credit cards and lines of credit, plus tools and advice that's catered to you. Discover student banking.
---
Save your recently viewed products
Turn on this feature so you can easily come back to CIBC pages you've visited. You can turn it off or clear your saved history any time.
Terms and conditions

Show or hide

Products and their features may change at any time.

This is a general description only. Get complete information about fees here.

1 A transaction includes cheques, withdrawals, transfers, pre-authorized payments, bill payments and debit purchases. Additional fee(s) apply to withdrawals from non-CIBC bank machines and foreign currency transactions (including cheques written in currencies other than the account currency).

2 "Paperless" record keeping is a paper-free alternative to statements and bankbooks. This option enables customers to track account activity online or by phone or CIBC bank machine. Please note, no printed statements will be sent to customers selecting this option. Customers must review their account transactions through CIBC Online or Mobile Banking, CIBC Telephone Banking or CIBC bank machines at least once every 30 days and examine all entries and balances at that time. If there are any errors, omissions or irregularities, customers must notify CIBC in writing within 60 days after the date on which the entry was, or should have been, posted to the account. Banking activity that occurred prior to Online Banking registration will not be available in the Online or Mobile Banking transaction history.

3 CIBC Express Switch is available only when an account is opened in a branch or by CIBC Telephone Banking. If you wish to use this service, your account at another bank must be a traditional branch-based personal bank account from which CIBC Express Switch can transfer pre-authorized transactions and/or account balances. Eligibility may change from time to time and some pre-authorized transactions may not qualify for the switch.