Accessibility Quick Links
Manage your money with these real-time alerts
Balance alerts
Get notified whenever the available balance or credit in your personal account1 reaches a set threshold, so you can avoid running low on funds.
CIBC Smart Balance Alert™
Forgot about that payment? We'll send you a text message so you can avoid a non-sufficient funds (NSF) fee and a declined payment.2, 3 Also, keep in mind that carrier charges may apply.
Credit card transaction alerts
Stay on top of your purchases. Get information on your credit card activity in real time without having to sign on.
Real-time fraud alerts
Don't let unusual activity become the usual. We'll notify you right away by text, email or phone if a transaction seems out of place.
How to set up alerts
Some alerts, like the Smart Balance Alert and fraud alerts, are automatically turned on for your security. Others you can turn on for your convenience.
How to set up alerts on the mobile app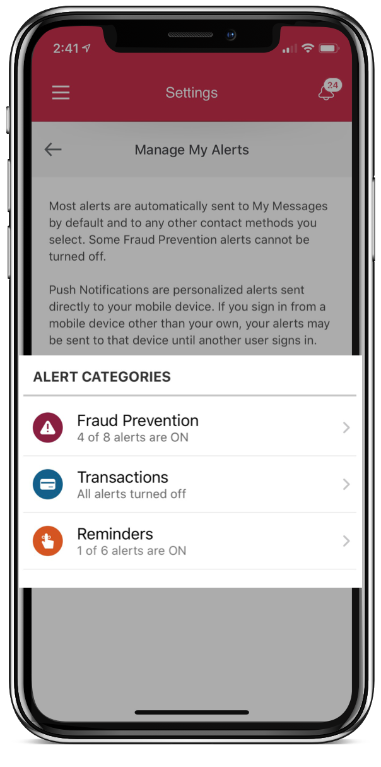 STEP 1
Sign on to the
CIBC Mobile Banking® App.
STEP 2



Select "Manage My Alerts" from the menu.
STEP 3



Select the category of alert you want to get.
STEP 4



Use the toggles to turn each alert on. Once activated, you can set your preferences for each alert.
How to set up alerts on desktop

Keep yourself secure

Can't tell if a text, email or phone call is from CIBC? Here are some quick tips for recognizing a real CIBC alert.
Have your name or the last 4 digits of your account number
Have specific details about your account, a recent transaction or unusual activity
Ask for your PIN or other personal information
Direct you to a third-party website
---
If you want to stop receiving CIBC SMS alerts from a short-code, text back "Stop." If you want to start receiving messages again, text "Start."

Frequently asked questions
What else would you like to do?