Accessibility Quick Links
Send Money
Send cash fast so you can pay your babysitter, rent or part of the restaurant bill.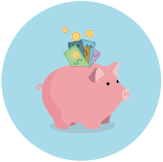 Autodeposit
Skip answering the security question and deposit money automatically with Interac e-Transfer.
Request Money
Fulfil requests for money or request money from another person using Interac e-Transfer.
Get started with Interac e-Transfer

What you'll need
An email address
A CIBC bank account
Access to CIBC Online Banking®
or the CIBC Mobile Banking® App
What are the fees1? 
Send money: $1.50 with an eligible bank account1
Fulfil a request for money: Free
Receive or reclaim money: Free
Stop a transaction: $3.50
How much can I send?
Send as little as you want, up to a maximum of:
$3,000 within a 24-hour period
$10,000 within a 7-day period
$30,000 within a 30-day period
---
You can use the Interac e-Transfer service with:
Save your recently viewed products
Turn on this feature so you can easily come back to CIBC pages you've visited. You can turn it off or clear your saved history any time.
Terms and conditions

show or hide

1 Other participating financial institutions and CertaPay may charge fees to their customers as senders or recipients. The Interac e-Transfer fee is waived for CIBC Smart Accounts, CIBC PremierService Accounts and for clients who are enrolled in CIBC Advantage for Youth, CIBC Smart for Students, CIBC Smart for Seniors (on the CIBC Smart Account) and CIBC Advantage for Students (on the CIBC Everyday Chequing Account). 

® Interac e-Transfer is a registered trademark of Interac Inc. Used under license.