Accessibility Quick Links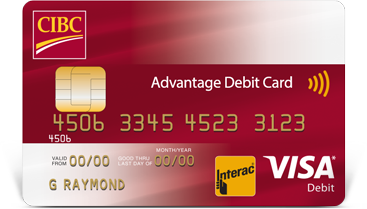 Make only a few transactions a month?
With the Everyday Chequing Account, make up to 12 transactions1 for $3.90 ($1.25 for each additional transaction). Your transactions include:
Everyday Chequing Account features and fees
Want unlimited Interac e-Transfer® transactions included and more flexible banking? Get the CIBC Smart™ Account.
Make your account work for you
Set alerts — and enjoy peace of mind
Choose the alerts you want to receive, and we'll send a message to your phone. It's that simple.
Deposit your cheque in a flash
Use CIBC eDeposit® to deposit your cheque by taking a picture.

Your security comes first. It's simple: If you've been a victim of fraud, and you've met your responsibilities, we promise to return 100% of the money you've lost from your CIBC accounts. Learn more about privacy and security.

Free credit score service
Get your credit score instantly. It's free for CIBC clients on the CIBC Mobile Banking® app7 .

Bank across all devices
Bank on the go like never before: on your desktop, smartphone, tablet or Apple Watch® .

Pay with your phone
Checkout and go with Android Pay™, Samsung Pay® and Apple Pay® . Just load your CIBC cards and pay.

CIBC Global Money Transfer®
Send money to over 45 countries for $0 with Global Money Transfer8 .
Order foreign cash online
Up to 40 currencies available at CIBC Banking Centres and multi-currency ATMs.

Beyond 9 to 5
We're here for you when you want expert help. Many locations are open late and on weekends. (Yes, Sundays too!)
We're first in mobile and online banking year after year
For the fourth year in a row, we earned the top score for online banking functionality in Forrester Research Inc.'s 2017 Canadian Forrester Research report. Learn more.

Not the right account for you?
Here are a few more that could suit you better.
Save your recently viewed products
Turn on this feature so you can easily come back to CIBC pages you've visited. You can turn it off or clear your saved history any time.
Terms and conditions

1 A transaction includes cheques, withdrawals, transfers, pre-authorized payments, bill payments (including CIBC Credit Cards and CIBC Personal Lines of Credit) and debit purchases. For CIBC eAdvantage Savings Accounts, a transaction does not include transfers to your other CIBC bank account(s) using the transfer function on CIBC Online Banking, CIBC Mobile Banking, CIBC Telephone Banking and at CIBC ATMs. For all accounts, transfers to CIBC-branded loans (excluding CIBC Personal Lines of Credit), mortgages and investments (registered and non-registered) are free. Other fees (in addition to any transaction fee) include: withdrawals from non-CIBC bank machines, Interac e-Transfer transactions (the Interac e-Transfer fee is waived for CIBC Smart Accounts, CIBC PremierService Accounts and for clients who are enrolled in CIBC Advantage for Youth, CIBC Smart for Students, CIBC Smart for Seniors (on the CIBC Smart Account) and CIBC Advantage for Students (on the CIBC Everyday Chequing Account) and transactions in foreign currency (including cheques written in currencies other than the account currency).

2 The regular fee applies to sending any additional Interac e-Transfer transaction. Interac e-Transfer transactions cannot be carried forward to subsequent months.

3 "Paperless" record-keeping is a paper-free alternative to printed statements. This option enables clients to track account activity online or by phone or CIBC bank machine. Please note, no printed statements will be sent to clients selecting this option. Clients must review their account transactions through CIBC Online Banking, CIBC Mobile Banking, CIBC Telephone Banking or CIBC bank machines at least once every 30 days and examine all entries and balances at that time. If there are any errors, omissions or irregularities, clients must notify CIBC in writing within 60 days after the date on which the entry was, or should have been, posted to the account.

4 Only the front of cheques will be imaged.

5 Subject to credit approval.

6 Overdraft fees are in addition to interest charges on the outstanding overdraft amount. CIBC's interest rate is currently 21% per year and may vary from time to time. Interest will be calculated and debited monthly to your account based on the final daily indebtedness in the account throughout the calendar month. Interest rate set by CIBC will apply both before and after CIBC Overdraft Protection Service is terminated, and before and after judgment is obtained against you.

7 The CIBC free credit score service is a feature in the CIBC Mobile Banking® App which allows CIBC clients to subscribe to get their credit score from Equifax Canada through Borrowell, our third-party service provider. The Equifax credit score is based on Equifax's proprietary model and may not be the same score used by third parties or by CIBC in certain instances to assess your creditworthiness. The provision of this score to you is intended for your own educational use. Third parties and CIBC will take into consideration other information in addition to a credit score when evaluating your creditworthiness. You should always get the most up-to-date credit information and credit scores from Equifax Canada to ensure accuracy before making a major financial decision. 

8 CIBC foreign exchange rates apply. A Global Money Transfer and a Foreign Exchange transaction counts towards your allowable transaction limit, bank account transaction fees may apply. Must have a CIBC chequing, savings or personal line of credit account to send a CIBC Global Money Transfer. Most transfers are completed by the next business day. However, there are times when a transfer requires 2 to 3 business days to be completed. Read the CIBC Global Money Transfer Agreement (PDF, 100 KB) .