Accessibility Quick Links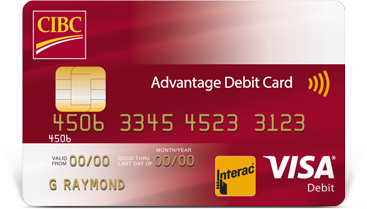 Make only a few transactions a month?
With the Everyday Chequing Account, make up to 12 transactions1 for $3.90 ($1.25 for each additional transaction). Your transactions include:





Everyday Chequing Account features and fees
Want unlimited Interac e-Transfer® transactions included and more flexible banking?
Get the CIBC Smart™ Account.
Make your account work for you
Set alerts — and enjoy peace of mind
Choose the alerts you want to receive, and we'll send a message to your phone. It's that simple.
Deposit your cheque in a flash
Use CIBC eDeposit® to deposit your cheque by taking a picture.

Your security comes first. It's simple: If you've been a victim of fraud, and you've met your responsibilities, we promise to return 100% of the money you've lost from your CIBC accounts. Learn more about privacy and security.

Free credit score service
Get your credit score instantly. It's free for CIBC clients on the CIBC Mobile Banking® app7.

Bank across all devices
Bank on the go like never before: on your desktop, smartphone, tablet or Apple Watch®.

Pay with your phone
Checkout and go with Android Pay™, Samsung Pay® and Apple Pay®. Just load your CIBC cards and pay.

CIBC Global Money Transfer®
Send money to over 45 countries for $0 with Global Money Transfer8.

Order foreign cash online
Up to 40 currencies available at CIBC Banking Centres and multi-currency ATMs.

Beyond 9 to 5
We're here for you when you want expert help. Many locations are open late and on weekends. (Yes, Sundays too!)


Not the right account for you?
Here are a few more that could suit you better.
Save your recently viewed products
Turn on this feature so you can easily come back to CIBC pages you've visited. You can turn it off or clear your saved history any time.