Accessibility Quick Links
Earn up to 2,500 bonus Aventura Points2 – here's how
Get 500 Aventura Points after you complete each of the tasks below within 60 days of being approved for your CIBC Aventura® Visa* card2.
 Share your email address with CIBC
 Sign up for eStatements for your new Aventura Visa card
 Add an authorized user to your new Aventura Visa card
 Hold any eligible CIBC chequing account
 Register your Aventura Visa card with Apple Pay or Samsung Pay
Annual fee
$0
Each additional card (up to 3): $0

Interest rate
RDS%rate[2].VWVA.rate(null,null,6,null)(#R#)% for purchases3
RDS%rate[2].VWVA.rate(null,null,3,null)(#R#)% for cash3
Minimum annual income
$15,000 household
$0 for students
Earn Aventura® Points with every purchase4
1 point
For every $1 spent on groceries, gas or at drug stores6.
1 point
For every $1 when you purchase your trip through the CIBC Rewards Centre7.
1 point
For every $2 spent on all other purchases4.

Car accident?
You've got Auto Rental Collision/Loss Damage Insurance8.

Common carrier accident?
You've got $100,000 Common Carrier Accident Insurance8.

New card purchase lost or damaged?
You've got Purchase Security & Extended Protection Insurance8.
Ready to get on board with the CIBC Aventura Visa* Card?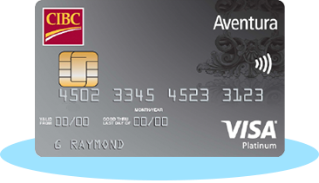 Save your recently viewed products
Turn on this feature so you can easily come back to CIBC pages you've visited. You can turn it off or clear your saved history any time.
Terms and conditions

Show or hide

1 Offer applies to newly approved card accounts only; transfers from an existing CIBC credit card are excluded. Offer is for the primary cardholder, is non-transferable and may not be combined or used in conjunction with any other offer. Offer may be revoked if you appear to be manipulating or abusing it, or if you are engaged in any suspicious or fraudulent activity, as determined by CIBC at its sole discretion. Offer may be withdrawn or changed without notice at any time. Card account must be open and in good standing at the time the Aventura Points are awarded.

2 It may take up to 2 statement cycles for the bonus Aventura Points to appear on your credit card statement. You can provide us with your email address and sign up for eStatements through CIBC Online Banking, by visiting a banking centre or by calling 1-800-465-4653. You will be issued the additional card(s) automatically when we get your request, as long as your credit card account is: a) still in good standing at that time, and b) your request does not exceed a total of 3 authorized users (counting any existing authorized users you may already have). Authorized users under the age of 13 can only be added by calling CIBC at 1-800-465-4653. You must hold any of the following CIBC Chequing accounts: CIBC Everyday® Chequing Account, CIBC Smart™ Account, CIBC PremierService® Account , CIBC US$ Personal Account, CIBC Personal Chequing Account, CIBC EverydayPlus® Chequing Account, CIBC Waive Account®, CIBC MenuPlus® – Maximize Interest Account or CIBC Chequing Savings Account. If you do not have an eligible account you may apply at https://www.cibc.com/en/personal-banking/bank-accounts/chequing-accounts.html.  You can also call 1-866-525-8622. To learn more about the mobile payment options, visit www.cibc.com/ways-to-pay.

3 Interest rates may change from time to time on at least 30 days prior notice to primary cardholders. "Cash" means cash advances, balance transfers and CIBC Convenience Cheques. "Purchase" means card purchases less returns and does not include: cash advances, interest, fees, balance transfers, payments, CIBC Convenience Cheques.

4 Aventura Points are earned on card purchases less returns, and not on cash advances, interest, fees, balance transfers, payments, regular CIBC Convenience Cheques or Aventura Points redemptions. Aventura Rewards and Program Terms may change without notice. Taxes, fees and other charges may apply to Rewards. Aventura Points earned on purchases during a monthly statement period may not be credited to you if your card is not in good standing at any time during the monthly statement period.

5 For full details view the maximum ticket prices and Aventura Flight Rewards Chart at the CIBC Rewards Centre. Some airlines may impose fees, restrictions or other conditions on air travel. Aventura Points will be cancelled if they remain unredeemed for 60 days after you voluntarily close your Aventura credit card account or within 12 months of the primary cardholder's death.

6 Earn 1 Aventura Point per dollar charged on purchases (less returns) at merchants classified in the credit card network as grocery stores, service stations or automated gas dispensers, or drug stores. This bonus Aventura Points offer is only available on the first $6,000 in net annual card purchases on your account (meaning purchases by all cardholders) at grocery, drug store and gas merchants; after that, net card purchases at grocery, drug store and gas merchants will earn Aventura Points at the regular rate. The $6,000 limit will reset to zero after the day your December statement is printed. Terms, conditions and eligible merchant categories may change without notice.

7 Bonus (double) Aventura Points are earned on each dollar charged to the card on CIBC Rewards Centre travel purchases charged to the card other than taxes, insurance, service charges or similar items. Aventura Points are not earned on travel obtained by redeeming Aventura Points.

8 Insurance coverage(s) included with CIBC credit cards are underwritten by Royal & Sun Alliance Insurance Company of Canada (RSA). Different cards will have different coverage(s). To learn about which coverage(s) are included with a specific card, and to get important information regarding coverage eligibility requirements, benefits, limitations and exclusions, view our credit card agreements and insurance certificates. This information is also available in the insurance certificate(s)in your card package. Some insurance coverage(s) require purchase(s), auto rentals, common carrier fares and other trip costs to be charged to the card to activate coverage. Other conditions may also apply. Auto Rental Collision/Loss Damage Insurance (CLDI) is available for automobile rentals of up to 48 days. The full cost of the rental must be charged to the card and the rental agency's Collision Damage Waiver (CDW) or Loss Damage Waiver (LDW) must be declined. CLDI provides coverage up to the actual cash value (ACV) of the rental vehicle as defined in your insurance certificate. Note that some rental agencies may assess their damages at an amount greater than the ACV of the rental vehicle and you may be liable to them for the difference. Before declining the rental agency's CDW or LDW, you should read carefully and compare the terms of the rental agreement, the CLDI insurance certificate in your card package and any other insurance you own to decide which coverage best meets your protection needs. Certain RSA coverages are "excess insurance" (all other sources of insurance and recovery must be exhausted before coverage is available). For more information, call RSA toll-free in Canada, continental U.S. and Hawaii at 1-866- 363-3338. in Canada, continental U.S. and Hawaii or You can call collect from elsewhere at 1- 905- 403-3338.