Accessibility Quick Links
Stay on budget
Reduce interest payments with a low interest rate credit card.
Passenger protection1
Get accident coverage with Common Carrier Accident Insurance
Annual fee
$29 (first year rebated†)
Each additional card (up to 3): $0
Interest rate
RDS%rate[2].VSSEL.Published(null,null,6,null)(#R#)% for purchases2
RDS%rate[2].VSSEL.Published(null,null,3,null)(#R#)% for cash2
Minimum annual income
$15,000 household
More to love about this card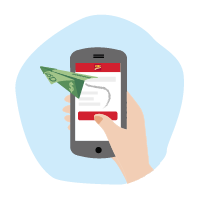 Send money abroad
There are no transaction fees when you send a CIBC Global Money Transfer™, 6. Also, you won't be charged interest, as long as you pay your balance by the payment due date.7
Valuable insurance included with your card

$100,000 Common Carrier Accident Insurance1
Optional insurance for your card

CIBC Emergency Travel Medical Insurance 3

CIBC Payment Protector™ Insurance for Credit Cards4
Not the right card for you?
Here's another that could suit you better.