Accessibility Quick Links
We're delighted and excited to top the Forrester Research Canadian Online Banking Functionality Report. In addition to the highest overall score, we also earned the top spot for Security and Privacy.
We're telling you because we think it shines a light on our commitment to you, the client.  Whether you want to send money, pay bills, request a credit limit increase, or meet with us in person―this is banking that fits your life.
We have the tools you need to manage your money
Our innovative tools earned a top score in the money management category.
Our innovations help you manage your money better
Here's a handful of online banking features designed to help take control of your finances and simplify your life: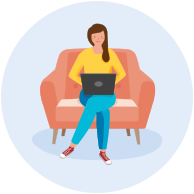 Online appointment booking
Meeting with us is easy. Book your appointment online directly in a CIBC advisor's calendar, and get expert help with accounts, loans, investments and more.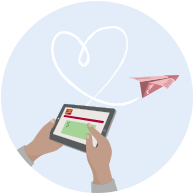 No fee CIBC Global Money Transfer®
Send money to the U.S. and over 45 countries, with no transfer fee. It's easy and secure, and the money will arrive in as little as one business day.1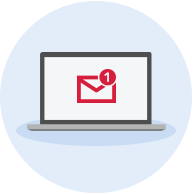 Paperless2 statements for investment accounts3
CIBC eStatements are now available for deposit accounts and all CIBC registered and non-registered investment accounts including, mutual funds, GICs, TFSAs, RRSPs,  RESPs, and more.
Terms and conditions

1 CIBC foreign exchange rates apply. A Global Money Transfer and a Foreign Exchange transaction count towards your allowable transaction limit, bank account transaction fees may apply. Must have a CIBC chequing, savings or personal line of credit account to send a CIBC Global Money Transfer. Most transfers are completed by the next business day. However, there are times when a transfer requires 2 to 3 business days to be completed.

2 "Paperless" record-keeping is a paper-free alternative to printed statements. This option enables clients to track account activity online or by phone or CIBC bank machine. Please note, no printed statements will be sent to clients selecting this option. Clients must review their account transactions through CIBC Online Banking, CIBC Mobile Banking (where available), CIBC Telephone Banking or CIBC bank machines at least once every 30 days and examine all entries and balances at that time. If there are any errors, omissions or irregularities, clients must notify CIBC in writing within 60 days after the date on which the entry was, or should have been, posted to the account.

3 Applies to CIBC Personal Portfolio Services and CIBC Securities Inc. mutual fund account statements from the time of eStatement registration (historical statements not available).

4 CIBC online services include: CIBC Online Banking and the online services of CIBC Investor's Edge, CIBC Imperial Investor Service, CIBC Wood Gundy and CIBC Private Investment Counsel.
All other CIBC online services are not included.

5 CIBC Online Security Guarantee only applies to CIBC Mobile Banking and Brokerage users. The guarantee does not include any other CIBC Mobile services.
We changed this guarantee in January 2008 so that it applies to your online investment accounts with CIBC Investor's Edge, CIBC Imperial Investor Service, CIBC Wood Gundy, and CIBC Private Investment Counsel. If there are any future changes to this guarantee, we'll let you know by notices posted on www.cibc.com and www.investorsedge.cibc.com.
Save your recently viewed products
Turn on this feature so you can easily come back to CIBC pages you've visited. You can turn it off or clear your saved history any time.