Accessibility Quick Links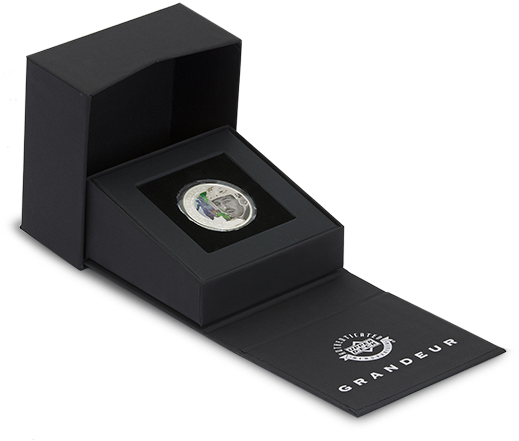 A winning coin collection for the hockey fan
Introducing limited edition GrandeurTM Hockey  Collector Coins. These 1 oz. silver and ¼ oz. gold coins feature 20 hockey stars and come in 4 different finishes. 
You could receive a gold coin—for the price of silver! 
Coins are blind packaged, that means players and finishes will be unknown until opened. Coins can be purchased individually or as a set in a collectors box. A collectors box will contain a random assortment of 4 players. Collectors will have a 1 in 66 chance of obtaining a gold coin1.
Collector coins: $100 CA each
Specially packaged collector sets of 4 random players and finishes with space to collect 20 coins: $499 CA
You can also enter our sweepstakes for a chance to win one of 2,000 gold coins1.
Finishing touches 
Each player is featured on a limited edition collector coin with one of the following 4 finishes
1. 1 oz. silver, basic
2. 1 oz. silver, high relief
3. 1 oz. silver, frosted
4. ¼ oz. gold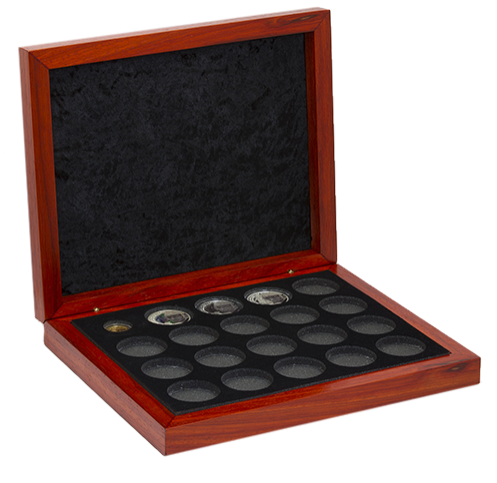 Buy, collect and trade
Swap coins with your friends and collect them all—just like trading cards. Each coin features one of these hockey greats: 
Patrice Bergeron
Dustin Byfuglien
Sidney Crosby
Jack Eichel
Wayne Gretzky
Jaromir Jagr
Patrick Kane
Dylan Larkin
Henrik Lundqvist
Erik Karlsson
Connor McDavid
Sean Monahan
William Nylander
Alex Ovechkin
Carey Price
Patrick Roy
Daniel Sedin
Vladimir Tarasenko
John Tavares
Jonathan Toews
Limited-edition GrandeurTM Hockey Collector Coins available now
Buy for yourself, or as a gift for the coin collector or hockey fan in your life. Coins can be purchased online or at your nearest CIBC Banking Centre. You can get the coins delivered to your home or to your CIBC banking Centre.
Buy GrandeurTM Hockey Collector Coins  
Available at CIBC Banking Centres, and through CIBC Online Banking® and the CIBC Mobile Banking® App.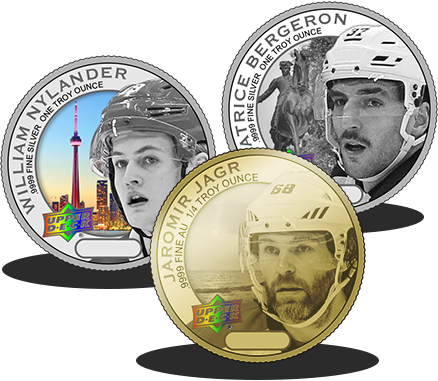 Frequently asked questions
Terms and conditions

select to show or hide terms and conditions

1 NO PURCHASE NECESSARY to enter the Sweepstakes or win a Gold Collectible Coin. To enter without purchase, hand print your name, e-mail, complete mailing address with postal code or zip code, date of birth, and day and evening telephone numbers with area code and mail to: 2017 Grandeur Collectible Coin Product Sweepstakes, COMC Consignment 4311 Canada Way Burnaby, BC V5G 4J9 Canada. Upon receipt, your name will be entered into the Sweepstakes. Must be age of majority and at least 18+ years of age or over to enter. Failure to comply with the Terms and Conditions will result in a disqualification of your entry. Math skill-testing question required for legal residents of Canada only. 2,000 gold coins available (diminishing as awarded during sweepstakes period), and 34 gold coins available for no-purchase necessary entries; each gold coin is a single 0.25 oz. gold coin. (Approximate retail value is $346 USD based on multiple factors including gold market price, fabrication costs, and player demand). Odds of getting a gold coin are 1:66, or if mail in entry, depends on number of eligible entries received (but no worse than 1:66). Start date for promotion: April 5, 2017 at 12:01 am Pacific Standard Time ("PST"); End date for promotion: November 5, 2018 at 11:59 pm PST. For details about gold coins and full contest rules, go to  www.grandeurcoins.com. Open to legal residents of Canada and the United States (except for residents of Florida, New York, Rhode Island, and Puerto Rico). Full contest rules (PDF, 82 KB)


2 Nothing herein shall be construed as an endorsement of CIBC by Wayne Gretzky. Product depicted for demonstration purposes only and is subject to change without further notice. ©2017 UDC. 5830 El Camino Real, Carlsbad, California 92008. All rights reserved. Made in the USA. ©NHLPA. Officially Licensed Product of the NHLPA. NHLPA, National Hockey League Players' Association and the NHLPA logo are trademarks of the NHLPA and are used under license. www.upperdeckstore.com. www.NHLPA.com.

 
Save your recently viewed products
Turn on this feature so you can easily come back to CIBC pages you've visited. You can turn it off or clear your saved history any time.