Accessibility Quick Links
First impressions are so important when potential buyers are looking at your home. Scott McGillivray suggests some fixes you can make to enhance the curb appeal of
your home.
It's not only the inside that counts. As a seller, you want potential buyers to not just fall in love with the inside of your house, but to instantly fall in love with the outside of your house, too. First impressions are so important when potential buyers are looking at your home. Here are some fixes you can make to enhance the curb appeal of your home.
1. Look from the top
Consider a new roof. Most new homeowners want to spend their money on furniture or kitchen appliances, not a new roof. Despite the investment, a new roof adds great curbside appeal. The best part is, you can often transfer the roof's warranty to the new homeowner.
2. Do some little

touch-ups



Painting old shutters, front porches, window boxes, doors and decks is really smart. To ensure your efforts aren't in vain, prep the area properly and use the right paint products. Talk to an expert at your local paint store and transform a weary-looking exterior on an affordable budget. While you're at it, look into having any broken glass replaced in windows as well.
3. Replace, repair

and shine
Hauling out the brass polish and using some elbow grease to brighten up your home's exterior numbers, door handles and kickplates can create a big impact. Look at different parts of your home like the house number, mailbox, front doormat and planters. Replacing or repairing these things could enhance the street view of your house and help create a more inviting feel for visitors.
4. Maximize the space

you have
If you're lucky enough to have a front porch, transform it into an outdoor room. A few comfortable chairs and cushions, an outdoor rug and a side table instantly add square footage to your home. As a finishing touch, hang some drapes or blinds to create privacy.
5. Consider new doors

and windows



New doors and hardware may be a big plus for buyers considering properties at the top of their budgets. The same goes with replacing old windows. Potential homebuyers will appreciate that they don't have to do the work themselves, and it could be the deal-maker on the sale of your home.
Enhancing curb appeal creates a great ambience when you're approaching a house. Seeing a shiny, clean and organized exterior shows you take care of your home and makes the potential buyer feel more comfortable in their decision to purchase.

Need some financial advice?
Book a chat with one of our advisors. They can help set you up for success, today and into the future.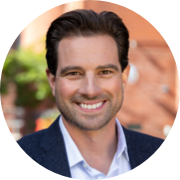 Scott McGillivray
Trusted contractor, savvy real estate investor and celebrated TV personality
Explore more helpful resources