Accessibility Quick Links

All CIBC Smart™ Prepaid Visa* Cards and CIBC Smart™ Prepaid Travel Visa* Cards will be deactivated at midnight on January 31, 2023. They are no longer available for purchase.
Your last day to reload or replace your Smart Prepaid Card.
Replacements for an expired, damaged, lost or stolen Smart Prepaid Card will no longer be issued. Please check the expiry date printed on the front of your card.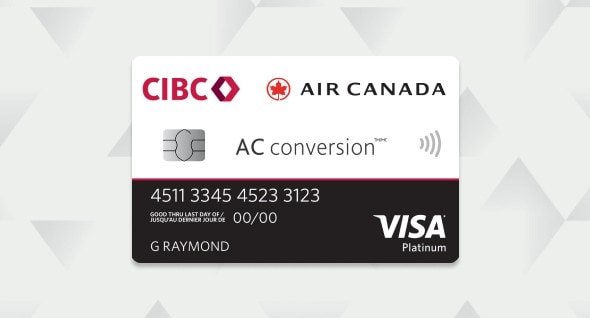 Interested in another CIBC prepaid card option?
Apply for the CIBC Air Canada® AC Conversion™ Visa* Prepaid Card using the Apply Now button by December 29, 2022, and if approved and eligible, get your existing Smart Prepaid Card balance transferred in the same currency.
Use your funds
You can use the funds on your Smart Prepaid Card by making purchases or payments until midnight on January 31, 2023. Funds can also be withdrawn at an ATM machine on the Visa network.
You may be charged fees for withdrawing funds at non-CIBC ATM machines. For more details, kindly refer to yourSmart Prepaid Card terms and conditions (PDF, 65 KB) Opens in a new window.1.
Please note that withdrawals at ATMs in Canada can only be made in Canadian funds regardless of your card currency. You can check your account balance and transaction history through CIBC Online or Mobile Banking and at Visa Prepaid Cards Opens in a new window..
Receive your remaining balance
After January 31, 2023, we'll automatically return your remaining balance. Please allow up to four months for your funds to be sent to you. We appreciate your patience.
If you have an active CIBC personal CAD deposit account either held single or jointly in your name, then we will credit funds to that account. If the balance is in a foreign currency, we'll convert it to CAD. If you have funds on a USD card and hold a single or joint personal USD deposit account that is eligible for direct deposit, we'll credit funds to that account with no conversion.
If you don't have an active CIBC deposit account or if we can't apply the credit to your account, we'll send a money order for the funds to your mailing address on file.
If you have multiple cards, the balance from each card will be credited to your CIBC deposit account or accounts or sent by money order separately.
Frequently Asked Questions
About CIBC Smart Prepaid Cards