Accessibility Quick Links
It's a mortgage
Choose from a wide range of mortgage options, including:
CIBC Fixed-Rate Closed Mortgage: You'll always know what your payments will be.
CIBC Variable Flex Mortgage®: Low variable rates and higher prepayment privileges.
It's a home equity line of credit
Flexible, ongoing access to funds at a low interest rate; secured against your home equity
Automatic rebalancing so as you pay down your mortgage, your line of credit will increase up to your available limit1
No need to switch your mortgage to CIBC to qualify
Only pay interest on the funds you use
Flexible repayment options, including the ability to pay as little as interest only

Buying your first home?
Get $500 cash back*.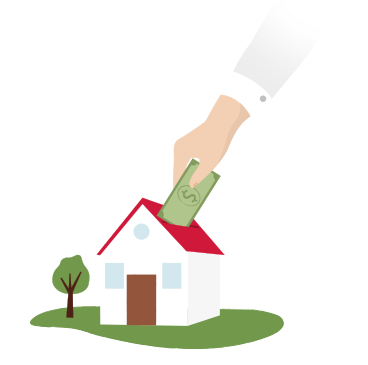 Mortgage tools and resources
Save your recently viewed products
Turn on this feature so you can easily come back to CIBC pages you've visited. You can turn it off or clear your saved history any time.
Terms and conditions

Show or hide

† CIBC Prime Rate was RDS%rate[1].PRIME.rate(null,null,null,null)(#O2#)% on RDS%SYSTEM_DATE(#M# #d#, #Y#)%. Your interest rate will change whenever CIBC Prime rate fluctuates. On July 17, 2017, your rate will revert to the negotiated rate. Apply by February 28, 2017, and open the line of credit by April 30, 2017; subject to credit approval. A $250 property valuation fee applies. CIBC may change or cancel this offer at any time without notice. Other conditions apply. Offer ends February 28, 2017. CIBC Cube Design & "Banking that fits your life" are trademarks of CIBC. All other trademarks are owned by CIBC.

CIBC Home Power Plan Line of Credit is offered by CIBC. All CIBC Home Power Plan Line of Credit applicants must meet CIBC's lending criteria. Minimum borrowing amount is $10,000. Minimum equity in your home is required to qualify. Available on residential properties only. Some conditions and restrictions apply.

CIBC Prime is the variable rate of interest per year declared from time to time to be the prime rate for Canadian dollar loans made by CIBC in Canada. The interest rate on your line of credit will change whenever CIBC Prime varies.

1 Automatic rebalancing of your CIBC line of credit may take up to 60 days and is subject to the Maximum Personal Line of Credit Rebalancing Limit. Home Power Plan limit cannot exceed an approved percentage of the value of the home at time of application.