Accessibility Quick Links
CIBC eDeposit for cheques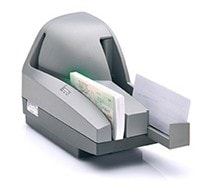 New feature!
Deposit U.S. dollar cheques quickly, easily and securely using CIBC eDeposit for cheques. There are no additional monthly costs to deposit U.S. dollar cheques into a U.S. dollar account. You can also use the same remote desktop cheque scanner for Canadian and U.S. dollar cheques.
To sign up for CIBC eDeposit for cheques, talk to your CIBC representative, call the CIBC Business Contact Centre at 1-800-500-6316 or request an appointmentRequest an appointment. Opens a new window in your browser.
Conveniently scan and deposit your cheques online, anytime.
CIBC eDeposit™ for cheques online service helps your business save time and improve cash flow by allowing you to scan and securely deposit Canadian and U.S. dollar cheques into your account from the convenience of your office or remote business locations.
Businesses with frequent or large volume cheque deposits can use the CIBC eDeposit for cheques online service to quickly scan, upload and deposit multiple cheques in a single transaction, using a desktop cheque scanner and CIBC's online deposit application. Text recognition technology reads your cheque images and pre-populates deposit information, saving you time preparing your deposits.
The online application also provides detailed reporting on the number and value of your cheques deposited, and provides access to your cheque images to facilitate reconciliation and record keeping.
The application allows you to select the account that you wish to deposit the cheques into, and your cheque images are securely transmitted over the Internet. Deposits made before 7:00 pm ET are credited to your account the same business day.

Save time and money
Bank on your schedule and deposit cheques when it is convenient for you, 24 hours, 7 days a week.
Save time and reduce operating costs of preparing deposits.
Avoid time-consuming trips to the bank to make deposits.


Gain better control of your cash flow
Deposit Canadian and U.S. dollar cheques.
Improve your cash flow and get faster access to your cash by depositing your cheques the same day you receive them.
Easily review cheque deposit data online.


Know that your deposit is secure
Sign on credentials and encryption facilitate secure deposit of your scanned cheques.


Run your business your way
CIBC Cash Management Solutions can help you take better control of your banking needs - giving you more time to focus on what matters to your business. Get started today:
Talk to your CIBC representative for details or call our Business Contact Centre at 1-800-500-6316.
CIBC eDeposit™ for cheques