Accessibility Quick Links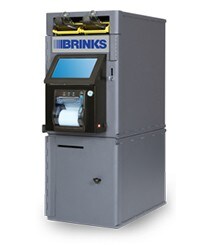 Improves cash flow by electronically depositing cash on your premises into your business account, using a Brink's CompuSafe®.
CIBC eDeposit™ for cash, combined with a Brink's CompuSafe delivers an innovative cash management solution that enables high cash volume businesses to improve cash handling, reduce operating costs and improve cash flow by electronically depositing your cash into to your CIBC business account.
A Brink's CompuSafe® automates cash handling and reporting tasks. Throughout the day, employees can efficiently deposit cash directly into the CompuSafe using integrated bill counters. Optional cash/coin dispensers and recyclers can also allow employees to withdraw funds for a new till. At the end of the day, the CompuSafe reports the total value of cash deposits to CIBC.
Thanks to CIBC eDeposit for cash, the value of the cash held in the CompuSafe is electronically deposited to your CIBC business account. This provides same-day credit for cash still on your premises, enhancing cash flow and helping you meet your cash obligations.2
At minimum once per week, or when the safe reaches capacity, your cash is picked up by armoured car and delivered to CIBC.
Save time and money
Help reduce opportunities for shrinkage and human error by automating tasks like counting and deposit preparation
Save time and lower operating costs and by automating reconciliation and reporting tasks
Eliminate time-consuming trips to the bank to make deposits
Reduce armoured car pick-up frequency and fees without impacting cash flow

Enhance cash flow
Gain faster access to your capital with deposits applied to your business account for cash still on your premises!
Easily access deposit information for cash flow forecasting
Improve cash cycling and remove excess cash from your site, freeing up additional funds for depositing into your account
Enhanced Reporting Software provides accurate, real-time1 visibility of cash movements for greater control

Improve security
Secure cash in the CompuSafe to help reduce opportunities for theft and to help improve security for your employees
Transport cash securely to CIBC through Brink's Canada
Comprehensive built-in security features throughout the cash cycle, ensure cash exposure is kept to a minimum

Run your business your way
CIBC Cash Management Solutions can help you take better control of your banking needs - giving you more time to focus on what matters to your business. Get started today:
Talk to your CIBC business advisor
Call

1 866 992-7223
Save your recently viewed products
Turn on this feature so you can easily come back to CIBC pages you've visited. You can turn it off or clear your saved history any time.