Accessibility Quick Links
Proper planning and checking off the right tasks on your to-do list can help you start strong when launching the new business.
While many business starters feel empowered with the mere thought of running their own companies, many often feel challenged on getting past the "business planning" stage. When you've got so much to plan and execute for the new start-up, you may overlook some crucial questions such as "how to register a business", "how to have a unique business name", or "how to get a business license"?

It's natural to feel overwhelmed when starting your very first business.
Lamaeh Said, CIBC Business Banking Financial Advisor says that "To succeed in business today, you need to be flexible and have good planning and organizational skills."
"Many people start a business thinking that they'll turn on their computers or open their doors and start making money, only to find that making money in a business is much more difficult than they thought," she said.
We've outlined 10 simple steps on how to start a business with a bang:
1. Select your business structure
When it comes to launching a new business, one of the most important steps will involve choosing the type of business ownership that corroborates your goals. As a Canadian business owner, you can choose among these business forms:
Before selecting a specific form of ownership, research on its various aspects such as filing taxes, deciding on the extent of authority you need, paying debts in case the business goes into losses from your personal assets or your company's, administration, registration, and renewal costs.
2. Register your business
The form of ownership you select, will have a direct impact on what the registration process will be like. No matter what business structure you go for, it's always good to look into the details:
Sole proprietorship and partnership
Know which territories and provinces you want to operate your business in and register it accordingly. In addition, request a federal business number depending on the province where you want to do business.
When incorporating your company, you might have to choose between federal incorporation and provincial incorporation. Though the former ensures the protection of your business name, provides a distinct sense of recognition, and allows you to freely conduct business throughout Canada, it's at discretion to make the feasible selection. Learn more about whether or not you should incorporate your business.
3. Choose your business name
Your business will be recognized with a name. So, make sure to keep it unique, catchy, and something that perfectly matches the personality of your brand. It should be straightforward and easy to remember. After all, you won't want to lose your customers just because you chose a non-appealing business name.
Make sure your business name is available via the Government of Canada website Opens in a new window..
Once you've chosen your business name, ensure to get it registered with the government Opens in a new window.. All business owners, except sole proprietors who have named their company after themselves, can register their business either as a trade name or legal corporate name.
Not every business requires to obtain GST/HST. Register for your GST/HST account via the Canada Revenue Agency Opens in a new window.. Small business owners whose gross income has been less than $30,000 CAD for the past 12 months on July 1, 2021, are exempted from registering for GST/HST As per the latest updates Opens in a new window.. Also, if your business offers legal aid services, music classes, etc., then you can receive an exemption from registering for GST/HST.
5. Get your business license
Obtaining a specific business license or permit helps your business operate legally and effectively in the given location. However, every business doesn't need to get one. You can find permits and licenses you may require when starting or operating your business through companies such as BizPaL Opens in a new window..
Every start-up doesn't require equal amounts of financing. While some business owners use personal finances like their savings for their new venture, others might rely on other sources of financing such as government grants, money received from angel investors or equity.
After arranging finances for your business, stay focused on your goals. "The old saying 'Rome wasn't built in a day' applies here. Just because you open a business doesn't mean you're going to immediately start making money. It takes time to let people know who you are, so stay focused on achieving your short-term goals," says Lamaeh.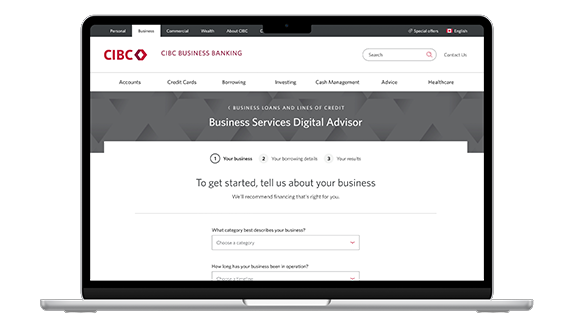 Business Services Digital Advisor
Looking for borrowing options? Tell us about your business and our tool will recommend financing that's right for you.
Just like you buy an insurance policy for covering yourself and your loved ones against emergencies, plan to invest for busines insurance as well. Whether you're just getting started, or have been running your business for some time, you can help protect yourself and your organization by understanding your insurance options Opens in a new window..
No matter how efficient and organized you are, there will be times when you'd feel the urge of hiring new employees. Familiarize yourself with the hiring process beforehand and know what documents you'd require before and during the process.
Business owners, having a business number, can register for a Payroll Deductions account followed by employment insurance and workers' compensation insurance for protecting their employees against unexpected times. Learn more about Payroll services Opens in a new window..

As per Lamaeh, businesses should keep detailed records of their transactions to know where the business stands financially and brace up for any potential challenges. For recording and tracking your transactions effortlessly, invest in a business bank account. Use an accounting software to reconcile your bank account transactions on a monthly or quarterly basis like QuickBooks Opens in a new window..
Open a new CIBC Business Operating Account®
Whether you're growing, expanding or establishing your first business account, every entrepreneur deserves an account that fits.
All of the above steps will be waste if you don't implement your marketing strategy right. Identify what platforms you'll be using for connecting with your customers and planning how to go that extra mile for meeting their needs Opens in a new window.. Lamaeh puts it perfectly: "Be creative. Always look for ways to improve your business and make it stand out from the competition."
Besides the nitty gritty, make sure you bring your passion to the table. "One of the most important ingredients in a successful business idea is passion. It will consistently drive you to improve your process, so your business grows. Conduct market research on your industry and talk to target customers to find out your business's potential," says Lamaeh.
Sometimes, it helps to have a checklist so you don't miss important tasks when launching your start-up. You can find important information for business starters on The Government of Canada Checklist for Small Businesses Opens in a new window..
If you're looking to start your own business, we can help.
Connect with a dedicated CIBC Business Advisor who will work with you to understand your needs, provide expert advice and customized financial solutions. Whether you need to clarify your borrowing options, learn how to set up a business account, or you just need an extra set of eyes, we'll make it easy for you to make your ambitions a reality.
To discuss your Business Banking needs
Book a chat with one of our advisors. They can help set you up for success, today and into the future.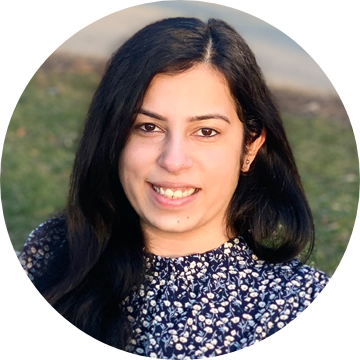 Written by
Cheshta Mann
Cheshta Mann is a freelance writer based in London, Ontario. She works with a diverse range of clients across industries. With her financial background and a seven-year writing tenure, she takes pride in supporting content development for CIBC. Cheshta is also pursuing her career in the accounting field.
Contact us
Connect with a business banking expert on your schedule or in your community.