Accessibility Quick Links
Throughout our history, hundreds of inspirational stories have been shared showing the impact CIBC Miracle Day has in communities across Canada. Here are some of the most recent differences we have made in the lives of young people:

Feature Stories

Wood Gundy Investment Advisors trade 'wait list' for 'doctor's office'
Kids facing a mental health illness access the help they need faster, thanks to CIBC Miracle Day

In Halton, one in five children suffers from a mental health disorder and only 20 per cent are getting the help they need. There are over 800 children on a waiting list for 1,241 different services. It can take up to a year or more for them to receive the care they need.
This is why the CIBC Wood Gundy Burlington and Oakville branches give to Reach Out Centre for Kids (ROCK), which has received donations totaling $75,000. ROCK is the largest accredited children's mental health centre in the Region of Halton. They provide a multi-disciplinary approach to prevention, diagnosis, assessment and treatment of infants, children, youth and their families.
"The employees at CIBC Wood Gundy took the time to understand the importance of prevention and early intervention for children dealing with mental health issues. They realize that investing in children today will lead to a stronger society and economy tomorrow. They are passionate about helping kids and this shows on CIBC Miracle Day," says Kirsten Dougherty, Director of Foundation Operations, ROCK.
Every single investment advisor at both the Burlington and Oakville branches participates in CIBC Miracle Day, and since 2003, they have collectively given over $500,000 to children's charities.
"You're never as tall as when you reach down to help a kid. The program helps us define our role in the community. It feels great to help kids in need," says Nizar Esmail, Branch Manager at CIBC Wood Gundy in Oakville and Burlington.
From November 26 to December 7, participating CIBC Wood Gundy Investment Advisors can help make miracles happen for kids in need through donating their fees and commissions to children's charities.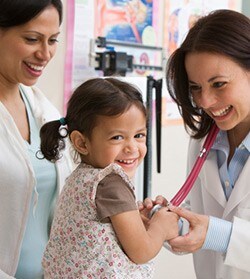 Wood Gundy Investment Advisors trade 'standing still' for 'moving forward'
Preschoolers from low-income families access education, health and wellness support thanks to CIBC Miracle Day.

Low income Calgary families have access to a one-of-a-kind program at the CUPS One World Child Development Centre, which has received over $200,000 in funding since 2006 thanks to Miracle Day donations from the CIBC Wood Gundy Calgary Central Office.
Children ages 3 to 6 attend full-day preschool and kindergarten with transportation provided; receive nutritional breakfasts, lunch and snacks; access physical and mental health care providers ranging from dentists to psychologists; and the families have easy access to counselling and social service agencies.
"The enlightenment from giving back to our community warms our souls to the deepest level," says Sean Messing Investment Advisor, CIBC Wood Gundy and one their Miracle Day committee members. Milan Cacic, a fellow Investment Advisor echoes this sentiment. "Not only do each of us give our own personal money we also give our time. The endorphin high that comes from seeing the impact to the children from our Miracle Day dollars is overwhelming."
"For many, the cycle of poverty is unintentionally handed down from one generation to the next," says Carlene Donnelly, Executive Director at CUPS Health and Education Centres. "The generosity of CIBC Miracle Day supporters helps us break the intergenerational cycle of poverty through early intervention programs that strengthen families and address children's developmental delays. This support gives these deserving children the opportunity to reach their full potential in life."
Over the past 10 years, the CIBC Wood Gundy Calgary Central Office has been a leading supporter of CIBC Miracle Day, giving over $2 million to local children's charities.
From November 25 to December 6, participating CIBC Wood Gundy Investment Advisors can help make miracles happen for kids in need through donating their fees and commissions to children's charities.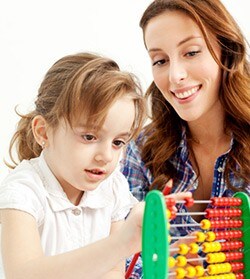 Wood Gundy Investment Advisor trades surviving for thriving
Families in crisis receive essentials because of CIBC Miracle Day
In B.C., there is one place families go to when their sick child needs help – B.C. Children's Hospital. Far too often, when families arrive, with children in tow, they have no food, clothing, or shelter.
Recognizing the support these families need, the Red Cross Family Support Program is waiting for them at the hospital to answer their cries for help.
When CIBC Wood Gundy Investment Advisor David Papau heard about the Red Cross Family Support Program, he knew this would be a special place for him to invest his CIBC Miracle Day donations.
"CIBC Miracle Day is a proud tradition with the belief that by working together with employees, clients, and charitable partners we can make a difference in the lives of kids," says David.
"The Red Cross volunteers choose to put themselves in the middle of stressful situations, providing: rides to doctor appointments, clothing, gift cards to grocery stores, a warm bed, a friendly smile and an empathetic ear. In my eyes, they each deserve a medal."
"Without donors like David, so many little programs like ours would have a hard time existing," says Marilyn MacDonald, who is with the Red Cross. "CIBC Miracle Day connects people with the means to give to families who need help. This is what leads to strong communities."
As a 37-year employee with CIBC Wood Gundy Vancouver Park Place, David remembers when CIBC Miracle Day first started in 1984 with the goal to help kids in need. In the past 10 years alone, he has personally raised over $200,000 through CIBC Miracle Day for donation to children's charities in Vancouver.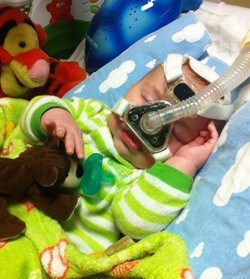 CIBC hopes to help create miracles for children with disabilities
$500,000 in funding for revolutionary clinical trial in robotic therapy
On the heels of the most successful CIBC Miracle Day to date the CIBC Children's Foundation is thrilled to announce $500,000 in funding for an innovative clinical research study in robotic therapy for children with cerebral palsy at Holland Bloorview Kids Rehabilitation Hospital. Cerebral palsy is the most common childhood physical disability in Canada, affecting approximately one in every 300 Canadian children.
"At CIBC we care about what matters - especially kids, cures, and community. If this research finds new therapies for kids with disabilities then our Miracle Day aspiration - of helping kids who need it the most - will be realized," said Geoff Belsher, Managing Director and Group Co-Head, Wholesale Banking, CIBC.
The exciting two-and-a-half year clinical research study, co-lead by Dr. Darcy Fehlings and Dr. Virginia Wright, is the first known randomized trial to evaluate the impact of robotic assisted gait training for children with cerebral palsy. The device supports a child to walk upright while using robotics to move the child's legs in a way that simulates a natural walking pattern.
"There is a lot of excitement about the innovative use of robotics in treatments and therapies for children with cerebral palsy and other neurological disorders. We are tremendously grateful to our partners for supporting this exciting development in research at Holland Bloorview," said Virginia Wright, Scientist, Holland Bloorview Kids Rehabilitation Hospital.
Right to Left Back Row: Wesley Magee-Saxton, walking using the Pediatric Lokomat; David Moloney and Steven McNeil, CIBC Workability Network; Dr. Virginia Wright, Scientist, Holland Bloorview Kids Rehabilitation Hospital.
Right to Left Front Row: Dana and Jared Florence, Founders, THREE TO BE Foundation; Tracey Bailey, Director of Development, Holland Bloorview Kids Rehabilitation Hospital; Michael Kelly, Board of Directors, Holland Bloorview Kids Rehabilitation Hospital; Sheila Jarvis, President & CEO, Holland Bloorview Kids Rehabilitation Hospital; Darcy Fehlings, Scientist, Holland Bloorview Kids Rehabilitation Hospital; Geoff Belsher, Managing Director and Group Co-head Wholesale Banking, CIBC.
 
Wesley Magee-Saxton, age 12, with Virginia Wright, Scientist, Holland Bloorview Kids Rehabilitation Hospital says "It feels amazing!" as he walks using the help of the Pediatric Lokomat.
 
Wesley Magee-Saxton, age 12, walks using the help of the Pediatric Lokomat at Holland Bloorview Kids Rehabilitation Hospital as they launch a revolutionary clinical trial in robotic therapy benefiting children with cerebral palsy.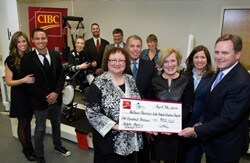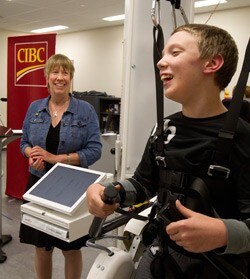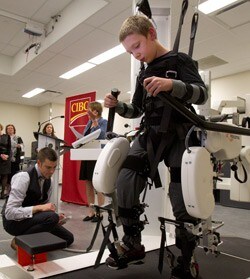 CIBC Children's Foundation proudly expands the CIBC Theatre for All program
CIBC Children's Foundation is proud to mobilize the Kids up Front Foundation to run the CIBC Theatre for All program in cities across Canada through a $50,000 donation. The CIBC Theatre for All originally began in 2007 with the Kids up Front Foundation and the Citadel Theatre in Edmonton. This year, the CIBC Theatre for All will run ticket banks for distribution of unused theatre tickets to deserving families in Toronto, Calgary, and Vancouver as well.
"Thousands of children and youth in Canada face socio-economic challenges that prevent them from accessing arts and cultural community events. The goal of CIBC Theatre for All is to remove barriers and provide children in Canada with the opportunity to experience a live theatre production, the ballet, or the symphony to educate and inspire," said Lindsay Oughtred, Executive Director, Kids Up Front Foundation Toronto.
Using donated event tickets and collaborating with 450 charitable partners, Kids Up Front Foundation has provided 750,000 arts, sports and entertainment experiences with a monetary value of $20.8 million over the past 10 years.
"Recently an 18-year-old who has lived in foster care her whole life came to pick up her tickets," said an agency worker. "Despite her challenges she graduated from high school and is starting in the theatre program at Ryerson. She can't afford to go to live performances, but now she will get the opportunity."
If you have a ticket for an event and would like to donate them to Kids up Front for use in the CIBC Theatre for All program, please contact 416-479-6971.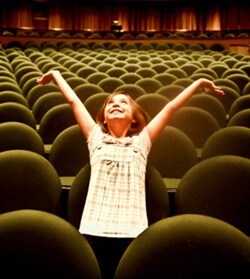 July 2011 - CIBC Children's Foundation helps kids overcome the odds at summer camp
For 80 years the Owen Sound Rotary Club and YMCA has been committed to providing summer camp access to children from all walks of life at Camp Presqu'ile. Thanks to donors like CIBC Children's Foundation, no economic barriers exist for children to attend.
"At Camp Presqu'ile we try to create a utopia where the kids see positive role models and project a value system to carry them through the year," says Andy Barnard, Camp Director.
"The Camp has changed my life, it has kept me away from drugs and this year I got 9 credits in high school," says Ben, a camper.
David Black, Vice President Investment Advisor with CIBC Wood Gundy in Owen Sound has been involved with Camp Presqu'ile since 1979. He has donated to them through CIBC Miracle Day since it's inception in 1984. In the past 5 years alone, his donations exceed $15,000.
Black recognizes his clients take great pride in making the donation possible. "Through my association with the camp, many Rotary members have become my clients. Every year on Miracle Day they know that doing business with CIBC is ultimately helping kids have access to programs like Camp Presqu'ile. Relationships with my clients become stronger."
Beyond financial support, Black has volunteered thousands of hours helping with spring clean-up, carpentry, cooking and more. "The change I witness in the kids at Camp Presqu'ile is amazing. They become confident and able to work as a team. They know they will not be judged and this allows them to open up and be themselves. It is so gratifying to see the difference I am making through my work at CIBC each time I interact with the kids."
To date CIBC Children's Foundation has donated $250,000 to summer camps in 2011 alone. Some include Camp Good Times in B.C., Colonie Ste. Jeanne D'arc in Montreal, and other YMCA summer day camps. See a complete list of 2010 Miracle Day grant recipients.
The children's names in this story have been changed to protect their privacy.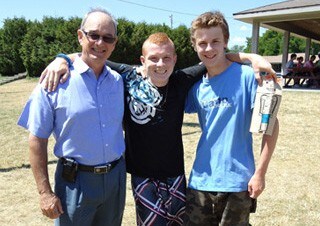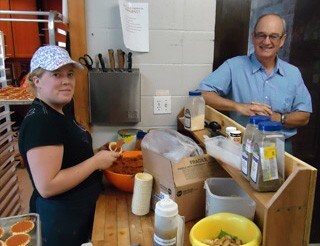 CIBC Miracle Day supports new patient treatment room for newborns with some help from Paul Coffey

Thanks to the generosity of CIBC employees and clients, the new CIBC Patient Room at Sunnybrook's Neonatal Intensive Care Unit will provide much needed support to babies born prematurely.
CIBC's $70,000 contribution was made possible by clients who had a chance to do business with the Cash Equities desk's 'guest trader' NHL super star, Paul Coffey. CIBC Wood Gundy Investment Advisor, Frank Soave, enlisted his long time friend to make a special appearance on the trading floor in Toronto on CIBC Miracle Day in 2009.
Both Frank Soave and Paul Coffey have long been committed to helping families access the expertise and care that they need for their children. Frank has been a strong supporter of the fundraising initiative, "Putting for Preemies", that focuses on generating support for these much needed medical services in Ontario. When it came time to designate his CIBC Miracle Day donations, Sunnybrook's NICU and Follow-up Clinic was a clear choice for Frank.
"CIBC Miracle Day funds are working to make a difference in the lives of children our community. Having the chance to designate funds to Sunnybrook is proof that that we are doing something special each year on the first Wednesday of December", said Frank Soave.
Learn how CIBC Miracle Day funds are making an impact at Sunnybrook Women's and Babies program by Taking a virtual tour today.
Bringing Miracles to Life
The Boys and Girls Clubs across Canada share one mission: to provide a safe, supportive place where children and youth can experience new opportunities, overcome barriers, build positive relationships and develop confidence and skills for life.
In Ottawa, the Boys and Girls Club has been serving the community since 1923 and is a leader in after-school programs in the city. With four facilities and nine program locations, the Club works with 4,500 children from the Ottawa area, giving all children the chance to achieve and believe.
According to Scott Bradford, Executive Director of the Boys and Girls Club of Ottawa, the Club is a "$4 million a year operation, with about three-quarters raised through fundraising events and donations from the local community. We couldn't have any of this without the community."
Scott praises the work of CIBC Wood Gundy's Ottawa Branch, naming many former and present Investment Advisors and staff who have made a difference in the lives of local children and youth. From an annual skiing marathon and an amateur boxing gala that has become one of Ottawa's "must attend" events, to money raised on CIBC Miracle Day, the Ottawa Branch has helped the Boys and Girls Club achieve many of their funding goals over the past 20 years.
Branch Manager Steve Gallant and Investment Advisor Brett Fripp have both been intimately involved with the Boys and Girls Club of Ottawa and speak with pride of their branch's support over the years.
Bill Colby, Investment Advisor and former Branch Manager, and Past President of the Boys and Girls Club of Ottawa Board, started the annual Charity Ski-A-Thon almost 20 years ago, along with former Investment Advisor Ian Nute. Today, Brett serves as co-chair of the event committee, joined by Administrative Assistant Brenda Carvill, one of the branch's most dedicated volunteers. The Charity Ski-A-Thon has raised over $1 million for the Boys and Girls Club, and in 2009, raised enough funds to purchase a 25-seat passenger bus to transport children and youth to the Boys and Girls Clubhouses throughout the Ottawa area.
Steve Gallant founded Ringside For Youth, which has become a much anticipated gala evening of dinner, performances and amateur boxing. The 2010 event featured Ottawa Senators captain Daniel Alfredsson and former heavyweight champion Smokin' Joe Frazier and raised $155,000 for the Boys and Girls Club. Since the first event in 1994, Ringside For Youth has raised over $1.5 million.
Embracing the tradition of making a difference in the lives of children close to home, the Ottawa Branch also donates funds raised on Miracle Day to the Boys and Girls Club.
Along with the support of former Branch Manager, Ted White, Steve has long championed the Boys and Girls Club, donating money and his time to various initiatives, such as the Homework Club, the Computer Club and summer camps. With his enthusiasm as the catalyst, everyone at the Ottawa Branch gets involved on Miracle Day, whether serving on the organizing committee or donating funds through one of the branch's many fundraising activities.
 
$100,000 contribution to POGO to assist families as they cope with children with cancer
CIBC and its employees are helping to ease the financial burden on families going through cancer care for a child through the Pediatric Oncology Group of Ontario (POGO), a leader in children's cancer care.
Cancer continues to be the leading disease-related cause of death among children in Ontario. Each year, 400 children in the province are diagnosed with cancer, while 4,000 more are in active treatment and follow-up care.
Representatives from CIBC recently presented a $100,000 cheque to POGO at the Credit Valley Hospital in support of the Pediatric Oncology Financial Assistance program. Proceeds from CIBC Miracle Day provide families with food, accommodation and childcare allowances, helping to alleviate these unexpected costs that can be devastating to families struggling with the seriousness of childhood cancer.
The benefit to the families is undeniable. David, a seven-year-old cancer survivor who spoke at the POGO Gala, summed it up with the following:
"My little sister was just a baby when I got cancer. She couldn't come to the hospital very often. I was so happy that my mom and dad could be there with me because POGO helped my family pay for things like babysitting."
Pediatric Oncology Group of Ontario
CIBC Children's Foundation helps change Tahirah Stanley's life

Tahirah Stanley knows how opportunities can change your life. As one of 10 children from a single parent household in an inner-city community, Tahirah was a frustrated, angry youth struggling with behaviour issues before she was introduced to the Trails Youth Initiative. The initiative, which CIBC Children's Foundation has sponsored since 2000, gave Tahirah a way to channel her anger into something positive.
Participants in the Trails Youth Initiative attend a wilderness camp one weekend each month and two weeks each summer for the four years of the program where they are taught leadership and life skills. Some youth stay on for an additional fifth year as part of a Leaders-in-Training program.
Tahirah cites the program's ongoing support for helping her see and keep focused on the future. Today, this Trails graduate and 2005 CIBC Youthvision Scholarship winner is a second-year student at York University who has put the skills she learned in the program to good use. She has been awarded the YMCA Youth Peace Medallion for her community contributions and recently travelled to Ecuador for youth humanitarian work. Tahirah attributes her life successes to her experiences at Trails Youth Initiatives.
Since 2000, CIBC Children's Foundation has contributed more than $50,000 towards this important program.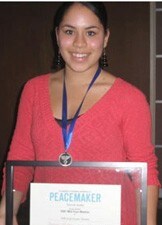 Memories of Tim Miller and the Miracle on 42nd Street
 
Three advisors share fond memories of the event that stemmed the ultimate success of Miracle Day.

A quarter century ago, Tim Miller, a Wood Gundy Branch Manager, had an idea: let's find a different way to raise money for children in need. Twenty-five years later, three of the advisors that worked with Tim and embraced his vision remain with CIBC Wood Gundy. Here are their recollections of the first ever Miracle Day, known at the time as Miracle on 42nd Street:
It was always late November when it would start and you knew it was coming. There was always music playing in our office at Wood Gundy's 42nd Street Branch, but we all knew the moment we heard Johnny Mathis singing those Christmas classics that Tim was in the Christmas mood. I never met anyone who loved the season more than Tim. He felt blessed by good fortune and Christmas was Tim's way of sharing. Not just with those close to him, but with those far less fortunate. Tim was a dreamer and a man who could make dreams come true. The Miracle on 42nd Street was our idea to take that spirit of giving to a higher level. Looking back 25 years we never would have imagined the impact. So much money raised the national spirit of the day and the children that have been helped. I certainly am humbled by what has transpired and I can only imagine Tim's beaming smile if he was here to witness the 25th anniversary of his Miracle on 42nd Street.
It all started during a meeting with our manager, Tim Miller. We were all brainstorming on a concept of funding charities, centered around children, that wouldn't take the traditional route of asking individuals and corporations for money. The idea of directing commissions during a set period seemed to make sense to all of us. It would do everyone a service including the clients, both retail and institutional, who wanted to do something special around the holiday season. It apparently hit a chord with everyone we approached and the orders rolled in and, as most people know, the Miracle on 42nd Street morphed into the Miracle Day. The good that has been realized by the actions of everyone who has ever directed their commissions to this fundraising project has been incredible. No one could have imagined how it would grow and continue to provide funding for the most deserving of our population, the children. It is an amazing legacy for 42nd Street and stands as a testimony to the generosity of people in our business.
It was the late Tim Miller's most innovative and creative fundraising event. Each member of Wood Gundy's 42nd Street Branch dressed up in Santa Claus suits and marched all over the floor of the new Toronto Stock Exchange on King Street. All Miracle Day commissions from Wood Gundy across Canada were donated to children's charities and thus, was the beginning of this wonderful tradition.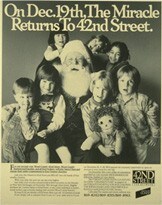 CIBC Miracle Day funds help guide Montreal's high-risk youth on the right path to education

CIBC Wholesale Banking' Simon Frenette believes the best way to help break the cycle of poverty is through education. Two years ago after a discussion with his colleague, Martin Autotte, he decided to see how he could make a difference. He volunteered with REVDEC, a community organization that works with youth between the ages of 12 and 18, and has been supported by funds from CIBC Miracle Day since 2002.
"The students targeted by REVDEC are typically struggling at school, and exhibit high-risk behaviours," says Simon, Executive Director, Fixed Income Sales in our Montreal office. "The goal is to engage these students, and provide them the support and guidance they need to stay in school and achieve success."
The name REVDEC comes from two French words, rêve, meaning dream, and décrocheur, meaning drop-out. The program has two streams that work to help youth reconnect with the school system. It targets boys and girls between 12 and 16 who are at high risk of dropping out of school by providing them with guidance and role models. Petit REVDEC specifically targets pregnant teens and young mothers between the ages of 12 and 18, and provides parenting skills, encourages them to return to school, and offers weekly peer-based support groups.
Both programs operate in the Hochelaga Maisonneuve district, a high needs community in the city.
Since joining REVDEC in 2007, Simon has become a member of the organization's Board of Directors and is its treasurer. "As a community and an organization, I believe the best investment we can make is to education," says Simon. "There are many children that struggle to succeed, partly due to their living environments. REVDEC helps young adults to perform at their greatest potential, bringing out the diamonds in the rough. Knowing that I have helped to make a difference in a child's life is incredibly rewarding."
Since 2002, CIBC Miracle Day has supported REVDEC with more than $81,500 in donations.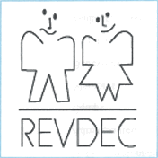 CIBC Miracle Day: Touching lives throughout the industry

Connie Marshall looks back on how Miracle Day has touched her life over the past 24 years.
Connie Marshall, Branch Administrator in CIBC Wood Gundy's Hamilton Branch, learned about the importance of Miracle Day long before she became a CIBC employee. In 1985, she was working for another investment firm in Vancouver where part of her job was to place block trades with institutional desks for her managed clients. Her second week on the job happened to include Miracle Day and all of her trades for that day were directed to the Wood Gundy Institutional Desk in support of local kid's charities.
The importance of Miracle Day stayed with Connie and when she joined CIBC Wood Gundy in early 2006 she was thrilled to be responsible for ensuring the funds raised by the Hamilton Branch were distributed to different children's charities. One such charity is McMaster Children's Hospital annual telethon which is televised each year. Because of the branch's generous donations, they are invited to participate by answering the phones and taking pledges.
"Mac holds a special place in my heart," shares Connie. "My niece was born there and without the neonatal unit at Mac she wouldn't be here today... in her first year of university."
As Branch Administrator, Connie is instrumental in the hiring process for her branch. During one interview, she was asked by a candidate what her favourite part of her job was, and without hesitation she replied, "Miracle Day and seeing the good it does for all the charities we support. The name of the charity doesn't matter - for every contribution we make, I consider the children we help."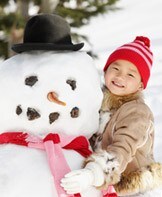 CIBC Miracle Day continues to support its original four charities - 25 years later
CIBC Miracle Day has grown from supporting four charities in 1984 to more than 400 charities this year.
In honour of the 25th anniversary of CIBC Miracle Day, CIBC Children's Foundation is renewing its relationship with each of the four original charities - The Hospital for Sick Children, The Star Santa Claus Fund, the Jewish Family and Child Service, and Ronald McDonald House - that benefited from the $192,407 donated on the very first Miracle Day.
"CIBC Children's Foundation has a strong history with the four original charities," says Sean McIntyre, Managing Director, Investment Banking and 2009 Miracle Day co-chair. "Through the Foundation's support of these charities over the past 25 years, we have been able to bring thousands of miracles to life," he explains.
"The continued support of CIBC's Children's Foundation has allowed so many children and their families the opportunity to have a place to call home during some very challenging times," says Judy MacGowan, Director of Development at the Toronto Ronald McDonald House. "Our relationship with the Foundation and the many CIBC employees that volunteer with us each year is important to the success of our charity and appreciated by the families that use Ronald McDonald House each year."
This year CIBC Children's Foundation has donated a total of $142,382 to these charities and more than $2 million since 1984.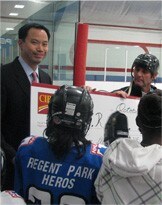 Howard Anderson uses Miracle Day Funds to make a huge impact

For CIBC Wood Gundy's Howard Anderson, giving back to his community has always been important - and for as long as he's been an Investment Advisor it has also been an important part of his business model. When he was introduced to CIBC Miracle Day in 2001, he found it a perfect fit; not only did it allow him to continue his support of children's charities, CIBC's involvement increased the impact he could have by allowing him to donate commissions on a pre-tax basis.
"In a town of about 10,000 people, the money we allocate through Miracle Day allows us to make a huge impact," says Howard, an Investment Advisor in the New Glasgow, Nova Scotia, branch.
Most years, Howard donates about $20,000 in commissions from Miracle Day to support a number of important charities. In 2009, these donations supported the District 13 Recreation and Planning, Aberdeen Hospital Trust-Pediatrics, Camp Geddie, West Side Community Centre, Big Brothers Big Sisters of Pictou County and Summer Street Foundation.
The Summer Street Foundation donation is of particular importance to Howard and Associate Investment Advisor, David Whittemore. Howard and David have supported Summer Street, an organization that helps people with intellectual disabilities discover possibilities and opportunities to enrich their lives, since it began 15 years ago. David is currently president and sits as a member of its Investment Committee.
In addition to the funds donated from Miracle Day, Howard and David assist in raising additional funds through a yearly golf tournament. In total, they have raised almost a quarter million dollars for the Foundation.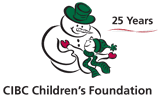 Big Brothers and Big Sisters — Making a difference in a child's life

Over the past 10 years, the CIBC Children's Foundation has donated more than $300,000 to fund numerous programs run by Big Brothers and Big Sisters Toronto. CIBC Wholesale Banking' Andrew Zimcik has seen first-hand the positive difference this investment has made in the lives of so many youth.
"After working as a camp counselor, I realized the powerful impact a Big Brother or Big Sister can have in building the confidence and self esteem of kids who need a positive role model in their lives," says Andrew. "Seeing the growth in these kids is a real testament to the success of the organization and the work of their employees and volunteers."
For over 100 years, Big Brothers and Big Sisters of Toronto have been matching mentors with children in relationships that are fun and rewarding for both. Being a mentor is about sharing time and exploring the world with a little brother or sister, whether it's playing catch, reading a book or watching movies and making popcorn. As a Big Brother or Big Sister, mentors talk, listen, support, guide, encourage — believing in a Little Brother or Little Sister can help them believe in themselves.
Recently, CIBC Children's Foundation signed on to be a Founding Funder of the Big Brothers and Big Sisters of Toronto Big Bunch Program. CIBC's latest contribution brings the Foundation's total donation to more than $300,000. The Big Bunch Program is a group mentoring program that serves little brothers and sisters who are on the waiting list for a one-on-one "Big" match.
"I am proud to say that I work for an organization that is so strongly committed to bettering the lives of children," explains Andrew, 2009 Big Brother of the Year in the site-based program category. "Everyone involved with CIBC Miracle Day is truly making a difference."
Bringing art, culture and sport to families in need
 
The Kids Recreation Fund of Sport Yukon helps children from financially troubled families in Whitehorse.

For the past three years, Dean Knoblauch, Tyson Boychuk and Dennis Ewasiuk, CIBC Wood Gundy Investment Advisors in the Vancouver Park Place Branch, have directed their CIBC Miracle Day funds to families some 1,500 kilometres north in the Yukon.
"When we looked at where our donation could have the most benefit to the health and well-being of children, the Kids Recreation Fund of Sport Yukon kept coming to the top of the list," says Dean. "Children and youth who have the opportunity to be involved in organized activities tend to be happier, healthier and learn the necessary skills to help them lead successful lives."
The Kids Recreation Fund was established in April 1999 to allow children from families experiencing financial hardship to actively participate in organized sport, art, cultural, social and recreational programs. The Gonzalez family in Whitehorse was very grateful that CIBC Wood Gundy in Vancouver chose to support the Fund.
"I cannot thank you enough for the financial support given to my family," says Mrs. Gonzalez, whose four children were able to go rock climbing, dog sledding and snowboarding thanks to the three Investment Advisors. All this was possible ONLY because of your generous help. Once again THANK YOU! from the Gonzalez Family: Gracias for making fun affordable."
"This is what the Kids Recreation is all about - letting kids be kids," adds Tyson. "No child should be denied the chance to play."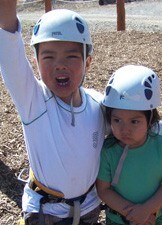 Since 1984, CIBC Miracle Day has always been about the kids!
Ask Jo-Anne O'Connor, Managing Director, Cash Equities, about CIBC Miracle Day and she can tell you many stories - 24 years' worth to be exact. Jo-Anne joined Wood Gundy in the summer of 1985 and has seen many changes.
One key change Jo-Anne has seen is how the idea of one single office has grown to a national initiative, thanks in part to technology.
"In the beginning there was no way that we could have processed the volume of orders that we do today," Jo-Anne explains. "Back then everything was manual. We would have to call our orders to the 'floor' at the TSX and the 'floor' would call us back with reports which we would have to write down with pen and paper. Today, all of this work can be done electronically, right from our desks."
Twenty-four years later, Jo-Anne, Head Liabilities Trader at CIBC, sees millions and millions of shares being moved each day, thanks to advances in technology. "Not only do these advances help us complete more trades daily, on CIBC Miracle Day we are able to make more dreams come true," says Jo-Anne.
As a mother of three, Jo-Anne is no stranger to children's activities and spending time at the rink. Jo-Anne was on hand for the recent equipment fitting at Moss Park Arena in Toronto, organized by Hockey Education Reaching Out Society (H.E.R.O.S.), a program sponsored by CIBC Children's Foundation since 2004.
"There is something special about seeing a child lacing up their skates for the first time, seeing them learning to skate and scoring their first goal," Jo-Anne says. "Knowing that my colleagues and I have made this possible for so many children across Canada gives me a warm feeling inside. Miracle Day is about community pride and ensuring all children have the opportunity to get involved. While the way we operate has changed over the past 25 years, the purpose of Miracle Day hasn't. It is and always has been for the children!"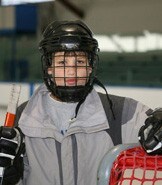 From Miracle on 42nd Street to CIBC Miracle Day... An idea that betters the lives of children across Canada.

In 1984, a Wood Gundy branch in Toronto came up with an idea that would ultimately change the lives of thousands of children not only in Canada, but around the world. Wood Gundy's 42ndStreet Branch - located on the 42nd floor at head office and named after the famous 42ndStreet in New York - was a retail brokerage branch whose community spirit made it unique and far ahead of its time in the Canadian market.
Branch Manager Tim Miller and the Advisors in his branch decided to donate their commissions for one day of business to children's charities. For people who count on commissions for their livelihood, giving them up - even if only for one day - reflected their strong commitment to helping children.
The initiative was named Miracle on 42nd Street, and in that first year $163,935 was raised by this branch. "When we started the Miracle we were looking for a way to give back and share our good fortune with others," says Alan Friedman, one of the Investment Advisors who helped create the event in 1984. "We had no idea that it would grow into one of Canada's largest single-day corporate fundraisers for children."
Twenty-five years later the venture is going strong, with over $190 million raised globally for children's charities. A proud tradition that has been replicated but never duplicated, last year's Miracle Day took place on Wednesday, December 2, 2009.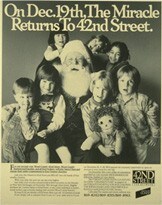 CIBC Children's Foundation Therapeutic Playroom provides the right medicine to heal
When four-year-old Ian came out of surgery to successfully remove a brain tumour, he faced months of rehabilitation to regain many of the motor skills he lost due to the tumour. Thanks to the donations of CIBC employees on Miracle Day, Ian benefited from the state-of-the-art CIBC Children's Foundation Therapeutic Playroom at Bloorview Kids Rehab.
Now five, Ian is in senior kindergarten and is back participating in his favourite sports like hockey, basketball and karate. Ian's mother, Claire, says her son loved spending time in the playroom and feels strongly that the therapeutic recreation was an important part of his therapy.
Bloorview Kids Rehab focuses on childhood disability care, encompassing a child's social, emotional and spiritual well-being. Play is just as important to well-being as rehabilitation treatments. CIBC Children's Foundation Therapeutic Playroom is an innovative early childhood educational, recreational and leisure environment for children and their families. It's a no-pain zone where Bloorview inpatients like Ian get to play and have fun.
"When you see what someone like Ian has been through - and there are so many stories which are similar to Ian's - you are just so grateful for the amazing people at places like Bloorview," says David White, Managing Director of Corporate Credit Products. "I am extremely proud that CIBC has been able to play a role in helping to improve the quality of children's lives, giving them the chance to get back to just being a kid again," adds David, a past board member and current Finance Committee member of Bloorview Kids Foundation.
CIBC Children's Foundation has been supporting Bloorview Kids Rehab since 1992, providing more than $870,000 to help kids heal.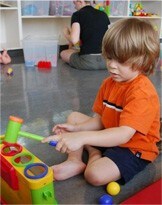 CIBC employees deliver "miracles" all year round
Laura Dottori-Attanasio and Peter Lee donate their time to helping kids achieve their goals and dreams
CIBC's Peter Lee and Laura Dottori-Attanasio believe in helping kids and as members of the Children's Aid Foundation (CAF) Board of Directors, they are committed to making a difference.
"Volunteering my time to bettering the lives of children and ensuring they have access to the opportunities every child deserves is very important to me," says Peter, Regional Director, CIBC Wood Gundy and new Chair of the CAF board of directors. "Knowing that CIBC Miracle Day donates to this important organization makes me very proud to be part of CIBC."
Laura, Managing Director and Global Head of Corporate Credit, agrees. She became involved with CAF through volunteering as a mentor with Covenant House.
"I have seen first-hand the positive impact the Foundation has in the lives of children and their families, whether it is having the opportunity to play a sport, take an art class or pursue post-secondary education. It is important that everyone be involved in our community in one way or another, to help make it a better place for all," says Laura.
Since 1984, the Children's Aid Foundation and CIBC Children's Foundation have worked together to better the lives of children from across Canada.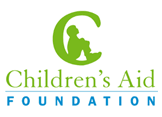 CIBC Children's Foundation gives kids in economically challenged neighbourhoods the gift of hockey
Thanks to the efforts of CIBC Wood Gundy Investment Advisors in Vancouver, more than 1,400 boys and girls from economically challenged neighbourhoods across Canada have been able to play hockey.
Ten years ago, Investment Advisors with Vancouver's Park Place Branch tapped into CIBC Miracle Day funding to start H.E.R.O.S. (Hockey Education Reaching Out Society), an initiative that brings kids from challenging backgrounds together to play hockey and to learn valuable life skills such as self-esteem, commitment and discipline.
"When we created the program we wanted to give kids from less fortunate circumstances a chance to succeed," says Terron Falk, Vice President, Investment Advisor in the Park Place Branch. "CIBC has supported H.E.R.O.S. as a sponsor since the beginning and I personally have witnessed first-hand the change in these kids over the years. I can't imagine a more worthy cause than to help a child turn their life around."
H.E.R.O.S. provides children in economically challenged neighbourhoods an opportunity to learn the game of hockey by providing all equipment and on/off ice instruction. H.E.R.O.S. uses hockey as a catalyst to encourage self-esteem, confidence, responsibility, teamwork and commitment. Program chapters are located across Canada - in Vancouver, BC's Sunshine Coast (Gibsons and Sechelt), Calgary, Winnipeg, Edmonton and Toronto (three locations), and internationally in Belfast and Dublin.
CIBC Children's Foundation has supported H.E.R.O.S. for the past 10 years, donating $85,000 to the program this year and $300,000 in total.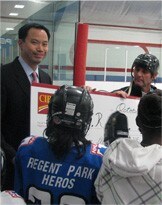 CIBC Miracle Fund and Renewed Support for Children's Aid Foundation
CIBC Children's Foundation has donated $500,000 to the Children's Aid Foundation (CAF) to renew the CIBC Miracle Fund. Rik Parkhill, Managing Director and Head of Cash Equities, announced CIBC's continued commitment to CAF at The Teddy Bear Affair, one of the organization's top fundraising events.
Since 1999, 4,300 at-risk children were granted a Miracle because of the CIBC Miracle Fund and CAF. Operating in nine major cities across Canada, the CIBC Miracle Fund gives disadvantaged children and youth opportunities such as the chance to play a sport, take an art class, go on a class trip or receive school supplies.
"It was great to be able to announce CIBC's half-a-million-dollar donation to CAF in front of hundreds of people committed to the success of the organization, many of whom are clients and whose trades on Miracle Day made the donation possible," says Rik Parkhill, a member of CIBC Children's Foundation National Donations Committee.
The CIBC Miracle Fund was created in Toronto 10 years ago and expanded nationally in 2004 to include Halifax, Montreal, Ottawa, Winnipeg, Regina, Edmonton, Calgary and Vancouver.
"CIBC's renewed support of the Fund and the Children's Aid Foundation will allow CAF to continue their work with abused, neglected and at-risk children and youth, delivering access to funds for things like culture, music, sports and school activities," adds Rik.
"The Children's Aid Foundation is grateful for CIBC's entrepreneurial spirit in creating the CIBC Miracle Fund, and envisioning a future where all Canadian children and youth have the same opportunities to experience the wonder of childhood," said Ann Barnard Ball, CFRE, Executive Director, Children's Aid Foundation.
CIBC Miracle Day helps make playgrounds accessible for all

Adam Markwell, an Investment Advisor at CIBC Wood Gundy in Toronto, knows first-hand the impact CIBC Children's Foundation has had on important projects like the Neshama Playground, a playground designed for all children. Adam has two young children, and spends a lot of time in these urban outdoor spaces.
"It didn't take me long to realize that there aren't many opportunities for children with special needs at public playgrounds", said Adam, a Campaign Cabinet member for Neshama Playground as well as an active volunteer with several other youth-related charities. "I'm proud that CIBC Children's Foundation has been a leader in this initiative by generously helping Neshama to meet their fundraising goals. I'll be happy when all kids have access to play areas that meet their needs. This is the first step."
CIBC Children's Foundation was the lead donor with a $150,000 commitment to this playground, which has raised more than $700,000 to date.
Neshama is a joint initiative between a local citizens group - who are fundraising $1 million from the private sector - and the City of Toronto, to help build this revolutionary playground. Neshama playground will include accessible physical play structures for children with physical and cognitive disabilities and accessible features such as washrooms, paths and seating that will also accommodate parents with special needs.
"Neshama is proud to have CIBC's support in this important initiative. Their leadership and generous financial support not only has helped us to recruit additional funds for the program, but has also ensured that Neshama will become a model for future playground structures which allows children of all abilities to play together. We want every child to have fun," says Tom Caldwell, one of the driving forces behind the Neshama project.
CIBC Children's Foundation helps change the lives of children

Since 2001, CIBC Children's Foundation has donated almost $200,000 to Integra, the only children's mental health centre in Ontario that specializes in assisting children and youth with learning disabilities. Learning disabilities are estimated to affect more than three million Canadians and are the most common form of disability for children aged 5 to 14.
"I never paid much attention to the effects my learning disability (LD) had on my life," said Keir Thompson, a recipient of counseling at Integra, including the Find a Friend Group Counseling Program. "I guess I knew that my behaviour put people off but I just made myself believe that being on my own, being a loner, was okay. I didn't know that I could actually change my lack of enthusiasm for life."
Integra provides information, advocacy and therapeutic support for youth between the ages of 8 and 18 and their families. In 2009, CIBC Children's Foundation's $25,000 donation continued to fund the Find a Friend program that helps youth improve their ability to interact socially and make friends, abilities that they often seriously lack. These are skills that have been shown to increase individual resilience and success in life.
"I only 'saw the light' when Integra put me into Find a Friend group therapy sessions where I learned to have fun socializing. I now do much better in school. I learned how to talk openly with my fellow students and my teachers," said Keir. "I actually think about the future now and make plans. Integra did help me find a better way of life and I am grateful for that."
CIBC Miracle Day helps to "Share the Music" with over 1,400 kids
On February 1, 2011, a diverse group of youths from schools around Toronto participated in an evening of music, education and inspiration made possible through Roy Thomson Hall and Massey Hall's Share the Music program. The evening included a performance by Jazz legend Wynton Marsalis, as well as a pre-concert meeting between Marsalis and the group.
Funded through CIBC Miracle Day for the past two years, Share the Music is an arts and education outreach program presented by the Corporation of Massey Hall and Roy Thomson Hall. Attending the event was Jackie Moss, CIBC Executive Vice-President, Human Resources and James Beattie, Managing Director, Institutional Cash Equity Trading, who together presented CIBC's recent $25,000 contribution.
"At CIBC, we believe that it's important to support youth and the growth of tomorrow's leaders," said Jackie Moss. "We're honoured to support Share the Music as well as hundreds of other initiatives for young people in our communities."
Share the Music enriches and inspires young people by exposing them to world-renowned performers and related pre-concert educational workshops. The workshops, usually created and hosted by noted local performers and educators, are a mix of informative commentary, musical demonstrations and interactive activities that stimulate and broaden the student's understanding of the art. Participants are selected from priority schools in the GTA.
"The value of this unique experience in the life and education of a child is immeasurable," said James Beattie, "I am proud that we are able to help provide this enhancement opportunity to kids that wouldn't otherwise be available to them, through the contributions of our clients and employees on CIBC Miracle Day."
The complete line-up of 2010-11 performances that range from Vivaldi to Ladysmith Black Mambazo can be viewed at Share the Music Events.
Terms and conditions

~ Alan Friedman, Investment Advisor, Toronto Gallery Branch

~ Gene Goldberg, Investment Advisor, Toronto Trillium Branch

~ Jon Kanitz, Investment Advisor, Toronto Gallery Branch