Accessibility Quick Links


Elliot's story
"Through CIBC Miracle Day, my family is a direct recipient of people coming together towards one cause — helping kids. It feels good to be able to pursue a personal passion in my professional life."

— Elliot Scherer, Capital Markets, CIBC, Toronto

"Every year I wear a cape as part of the 'Capes for Kids' campaign to raise funds for Holland Bloorview Kids Rehabilitation Hospital, a CIBC Miracle Day partner.
For me it's personal, because Holland Bloorview is more than just a hospital to me and my family, it's a place where my son and family go to get the support we need. Spending time there and being part of the community is really special to us.
Through CIBC Miracle Day, my family is a direct recipient of people coming together towards one cause. My son continues to get the support he needs, and I can continue to give back towards a cause close to my heart. It feels good to be able to pursue a personal passion in my professional life."

More ways Team CIBC is making a difference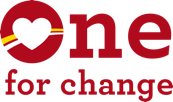 At CIBC, we celebrate motivated, dedicated and passionate team players who give from the heart. No matter how large or small, each change makes a difference. All the changes they make help make our communities better.