Accessibility Quick Links


"I run for a future where we no longer lose the ones we love to breast cancer."

— Zina Atkinson, Personal and Small Business Banking, CIBC, Toronto

"I've lost too many of my loved ones to breast cancer. I'm not a doctor or a medical researcher, but I needed a way to be able to help with the fight against the disease. That's why I've been involved in the CIBC Run for the Cure for over 25 years.
The Run raises funds for breast cancer research and awareness, and everything that I do in service of The Run is in honour of the family I've lost and the family still affected. I want to keep their stories alive; for example, by donating books in remembrance of my late mother-in-law and our shared love of reading, or naming our family fundraising team, "Angels of Graceland" after my late cousin Grace.
It's their stories — and my daughters' future — that inspire me to do more and keep fighting for this cause. I hope for a future where we no longer lose the ones we love to breast cancer."


Canadian Cancer Society CIBC Run for the Cure

Sunday, September 30, 2018

More ways Team CIBC is making a difference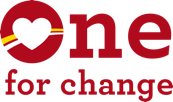 At CIBC, we celebrate motivated, dedicated and passionate team players who give from the heart. No matter how large or small, each change makes a difference. All the changes they make help make our communities better.