Accessibility Quick Links
Canadian Cancer Society CIBC Run for
the Cure
We believe in a world without limits to ambition and creating a future where no one has to fear a cancer diagnosis.

Cancer is a very important cause to CIBC because it affects so many Canadians, including our team members, clients and loved ones.
Through CIBC and the CIBC Foundation, we invest in organizations that deliver cancer research, treatment, screening and diagnosis; and wellness, survivorship and patient support programs.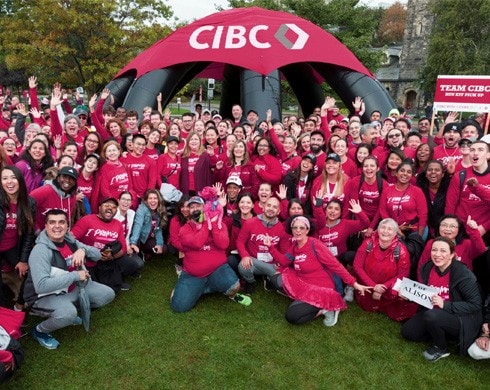 Team CIBC is made up of thousands of passionate team members, friends, family and clients across Canada. Each year they donate, fundraise and participate in the Canadian Cancer Society CIBC Run for the Cure to show their commitment to the breast cancer cause.
You and your family, friends and clients are invited to join Team CIBC at this year's exciting Run on Sunday, October 1, 2023.