Accessibility Quick Links
If you're ready to switch to CIBC, here's a plan to make the move easy so you can stay focused on your business.
Like moving buildings, changing point-of-sale systems or adopting new accounting software, switching to a new bank requires a plan. It's not uncommon for business owners to abandon their efforts to change banks, citing the effort, uncertainty, and unknowns about the process.
If you're considering switching your business banking to CIBC, the first thing to know is that you won't be doing it alone. A CIBC business advisor who specializes in small business accounts and borrowing will help you establish new services. They'll get you set up without interrupting your day-to-day operations or obligations.
Here's a preview of how your move to CIBC will unfold and some actions you can take to stay on track.
Take inventory of your current banking
Your CIBC business advisor will need to know the products and services your business holds with other financial institutions. They'll open similar accounts for you at CIBC.
These include your day-to-day operating accounts, business savings accounts, and any foreign currency accounts your business uses to manage cash or make payments.
Pro tip: Bring copies of the monthly statements for your business accounts. Your advisor will review them to assess your needs and show you how to move funds from your old accounts into your new CIBC accounts.
You may hold the sole credit card for your business. Or maybe you've issued additional cards to officers or employees of the company. Either way, let your advisor know. CIBC offers a variety of business credit cards with options to add additional cardholders.
Pro tip: Your advisor will ask if your business credit cards are tied to your personal credit, or if the business is liable for the debt incurred. This information will affect the type of business credit card you apply for at CIBC.
If your business carries loans or uses a line of credit with your previous financial institution, your advisor will help you apply for similar credit facilities with CIBC. Approval will be conditional on using the approved credit and funds to pay off your debts at your previous financial institution.
Pro tip: To move your business loans and lines of credit, you need to apply for credit at CIBC. Bring your financial statements, credit agreements and previous statements to your first meeting with your advisor. Knowing the amount of credit available to your business, and the outstanding balances, will help your advisor get a head start on your credit applications.
Review your account activity to determine your automatic payments and deposits. These include utility bills, payroll, payables, and collections of receivables. Make a list of all automatic transactions for the past year.
Pro tip: Most online banking and accounting services let you filter and generate reports showing your pre-authorized debits and credit.
Your business accounts are likely plugged into other services that help your business run. These include merchant payment terminals, payroll software and accounting services. Make a list of these service providers and ask them how best to update your account information once your new CIBC Business Account is established.
Pro tip: Are you in the market for new business services? CIBC supports integration with Quickbooks Online and Xero for accounting and Ceridian PowerPay Plus for payroll through CIBC SmartBanking™ for Business. You can access these services at no additional cost with your business account.
Your CIBC business advisor will help you apply for most products. For others, you can apply independently. In either case, these tips will make it easy to move your business banking to CIBC.
Review your average daily balance and monthly transactions to help you choose a business account.
Plan on keeping it open for 90 days, with sufficient funds to cover automatic payments or outstanding cheques. Once you have access to your CIBC business account, it's easy to transfer the balance from your old account to your new CIBC account. You can send an Interac e-Transfer® payment, or deposit a cheque at any CIBC ATM or with the CIBC Mobile Banking® App.
Select a business credit card with low or no fees and low rates. Or choose one with travel rewards and comprehensive travel insurances. Whatever you prefer, CIBC has a wide selection of business credit cards.
Once your new business credit card is available for use, you can use it to pay off your old business credit card, effectively transferring the balance.
Tell your advisor what credit products you have at your current financial institution. They'll help you apply for equivalent CIBC loans and lines of credit.
Important reminder: When you move a business loan or line of credit, there could be fees associated with registering and discharging security. When you transfer a collateral mortgage, you might also incur legal fees, appraisals and environmental site assessments.
As part of the disbursement of your borrowed funds, CIBC will arrange to pay out the outstanding balances of your credit products at your previous financial institution.
Once your account is open, you'll receive a CIBC Business Banking Convenience Card. Use it to register for mobile banking and CIBC Online Banking® Opens in a new window..
Pro tip: Remember your list of automatic transactions? It will come in handy as you set up automated payments and deposits in your new CIBC account. Plus, you can use online banking to generate a direct deposit form for customers or other parties who collect or remit payments.
If your business uses electronic fund transfers (EFTs) or wire payments, or sends Interac e-Transfer payments exceeding $3,000, you can register for CIBC SmartBanking for Business.
Make a list of your payees, the average amount you pay, how often you pay them, and their location, such as Canada, U.S. or international. This will help your business advisor recommend or set up payment solutions for your business.
Remember to leave sufficient funds in your old business account to cover automatic payments. Once you're satisfied all your automatic payments are coming from your new CIBC business account, you can close your old bank account.
Connect with a CIBC business advisor for a no-cost, no-commitment consultation. Whether your business is big or small, you'll have a single point of contact at CIBC to support your business and handle your personal banking.
Ready to switch? Let's talk
Book a chat with a CIBC business advisor. They can help set you up for success, today and into the future.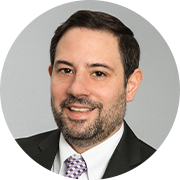 Written By
Joseph Campagna
Joseph Campagna is a CIBC Business Banking professional with expertise in deposits, cash management and credit. He has extensive experience developing relationships, providing advice and helping Business and Commercial Banking clients achieve their financial goals.
Contact us
Connect with a business banking expert on your schedule or in your community.