Accessibility Quick Links
It's great when clients ask questions, even if they aren't sure what to ask. The best thing to do is communicate.
Taking the plunge into entrepreneurship can be daunting. One of the first hurdles prospective business owners face is securing startup capital, and thoughts about "how can I afford this?" Before opening the doors to your business, whether online or the more traditional brick-and-mortar variety, you're going to need capital to invest. Most people are not in the position to fund a new business endeavour completely out of pocket, and even if they are, that level of risk is not always advisable. Even fewer people have the privilege of going to the bank of mom and dad.
Enter the answer that will quell all of your fears: a business loan.
However, before you apply for a business loan, you'll need to decide what kind of business structure you will be using.
If you're curious about entrepreneurship, have a dream of setting up shop, or are ready to take the next steps, CIBC wants to help you along the way.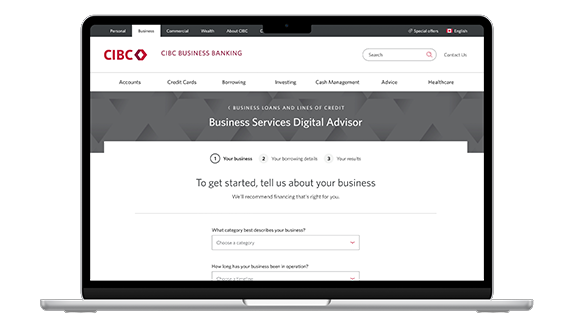 Business Services Digital Advisor
Looking for borrowing options? Tell us about your business and our tool will recommend financing that's right for you.
What to expect when applying for your first business loan
What documents and paperwork do I need to bring when meeting with an advisor?
"[Clients] will need to bring in Personal and Business Financial documents depending on the type of their legal structure," explains CIBC Business Effectiveness Manager, Shadae Hassan Opens in a new window..
"I normally ask my clients to bring in their Personal Notice of Assessment Opens in a new window. and T1 General Tax Returns for the last 2 years, in addition to the Business Financial Statements for the same period. As we move forward with the application, they will need to provide additional information."
Business owners should also expect to provide a business plan which typically includes some of the following information, according to Hassan.
Aside from a Personal Notice of Assessment, tax returns and Business financial statements for the past 2 years, additional information may be needed depending on the scope of your business, business structure, and your individual needs. Hassan advises these documents often include the following:
The importance of openness with clients is key, notes Hassan, who says it's great when clients ask questions, even if they aren't sure what to ask. The best thing to do is communicate.
"Let me know all that you need from me. It ensures your time is respected and the process goes as smoothly as possible. As a business owner, time is money," explains Hassan. "So the time spent dealing with complicated financial options is time not spent growing your business."
Is there more than one type of business loan?
Although the process of loan applications can be overwhelming, Hassan reassures clients that There are many roads to financing your business Opens in a new window..
Business loans at CIBC are not one-size-fits-all. In fact, Hassan highlights that "CIBC has a variety of special loans available for different business segments — from startup financing to specialized loans packages for professionals, such as medical and physician, and optometrist offerings."
What are the pros and cons of having a business loan?



When working with clients to determine what CIBC service best suits their needs, Hassan has a handy list of pros and cons to help clarify why a business loan is the right way to go for so many first-time business owners.
The pros include:
While the cons are:
Should business loans be kept separate from personal loans?



If you have never had a separate business banking account, you might wonder why it is necessary to have a business loan. "Business solutions, whether accounts or loans, should always be separate from personal solutions," explains Hassan. "Having a business loan or a business account helps with future growth and credit requests as there will be historical information that the lenders will be able to use for making decisions." There is also the fact that by keeping things separate, you won't have to spend additional time trying to sort out your business and personal expenses come tax season. There are also numerous financial options and products only available to businesses that you would otherwise miss out on.
When you apply for a business loan from CIBC, you can expect to leave with your questions answered, your application on track, and the beginning of a great relationship between you and your CIBC advisor that will help you achieve your business goals. Looking past that first meeting, Hassan emphasizes that, "It is really important that new business owners do a lot of research and ask others in similar lines of business for help and support. I believe that you need a strong advisor, accountant, lawyer, and mentor to help you along your journey of making your dreams a reality."
If you're looking to take out a business loan, we can help.
Connect with a dedicated CIBC Business Advisor who will work with you to understand your needs, provide expert advice and customized financial solutions. Whether you need to clarify your borrowing options, learn how to set up a business account, or you just need an extra set of eyes, we'll make it easy for you to make your ambitions a reality.
Need some financial advice?
Book a chat with one of our advisors. They can help set you up for success, today and into the future.
Contact us
Connect with a business banking expert on your schedule or in your community.