Accessibility Quick Links
Help manage your expenses, make necessary purchases and give your company room to grow with the credit you need. CIBC offers three business Visa cards with flexible access through cash advances and cheques.
The CIBC Aventura® Visa* Card for Business and CIBC Aerogold® Visa* Card for Business offer greater spending limits, premium rewards and exclusive travel benefits, while the CIBC bizline™ Visa* Card's low interest rate and easy access work like a convenient line of credit.
CIBC Aventura® Visa* Card for Business
Enjoy the freedom to use your flight rewards on hundreds of airlines with no blackout periods or restrictions, and points that don't expire1 all while meeting your business needs.
CIBC Aerogold® Visa* Card for Business
Take advantage of low interest rates, earn Aeroplan® miles toward reward travel and enjoy premium Air Canada® and Visa Infinite* travel benefits.
CIBC bizline™ Visa* Card
With an interest rate as low as 1.5% above prime, a credit limit up to $50,000 and no annual fee, you can combine the benefits of a line of credit and a credit card.
---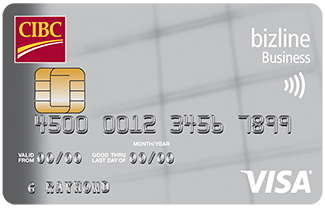 The CIBC bizline™ Visa* Card
Combine the power of a line of credit with the convenience of a Visa card.
Find out more
Save your recently viewed products
Turn on this feature so you can easily come back to CIBC pages you've visited. You can turn it off or clear your saved history any time.
Terms and conditions

1 For full details see maximum ticket prices and Aventura Flight Rewards Chart at CIBCRewards.com. Some airlines may impose fees, restrictions or other conditions on air travel. Aventura Points will be cancelled if they remain unredeemed for 60 days after you voluntarily close your Aventura credit card account or within 12 months of the primary cardholder's death.