Accessibility Quick Links
Meet the Business Services Digital Advisor, a tool for business owners to quickly narrow down their financing options and make their ambitions a reality.
No matter what stage your business is at, it's important to stack your team with knowledgeable and experienced players to better set yourself up for success. Here at CIBC, we can provide you with holistic solutions, resources to help you learn and grow and tools to allow you to achieve your business goals.
Seeking financing options?
Borrowing funds is often a key part of any business, whether it's to facilitate growth or to simply get started. While we offer a variety of borrowing solutions, we appreciate that business owners, such as yourself, have limited time and that it can be overwhelming to sift through and understand all of the available options.
As such, we're happy to introduce the Business Services Digital Advisor . This tool will make it easier for you to start your lending journey and quickly determine what financing options may be right for you.
You can access the tool from our Business Banking homepage , Borrowing page or Smart Advice for Business page .
The Business Services Digital Advisor is user-friendly and only takes a few minutes to run through. To get started, you'll first be prompted to answer questions about your business and your borrowing needs. After completing these simple steps, the Business Services Digital Advisor will recommend the best business credit solutions CIBC has to offer you.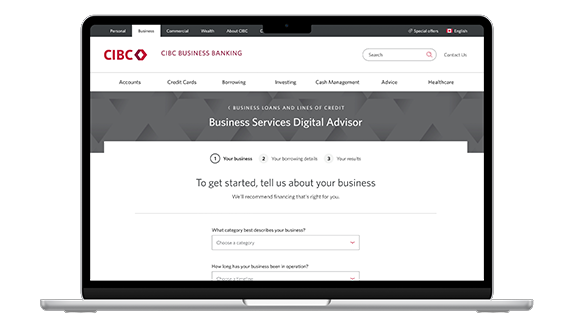 Business Services Digital Advisor
Looking for borrowing options? Tell us about your business and our tool will recommend financing that's right for you.
In addition to assisting with your borrowing needs, we can support you with other important aspects of managing a business, including opening or selecting an appropriate business account and efficiently managing your cashflow.
It's often a wise practice to keep your business expenses separate from your personal expenses. To help you do this, we have a number of business accounts to fit the needs of your business, including operating accounts, savings accounts, and more.
Open a new CIBC Business Operating Account®
Whether you're growing, expanding or establishing your first business account, every entrepreneur deserves an account that fits.
Once you've selected the appropriate account, as a business owner, you're charged with another important task: managing your money.
One way we can help you is with CIBC SmartBanking™ for Business .
SmartBanking helps you to efficiently operate your business from a single digital dashboard, where you'll be able to send and receive payments, track your financials and access reporting tools to help you make more informed business decisions at no additional cost1.
If you need to make payments, we have a number of ways you can do so:
We also have options to receive payments, including via Interac e-Transfer for Business or Interac e-Transfer, through electronic funds transfer pre-authorized payments, digitally depositing cheques and more.
If you're looking to review your financing options to start a new business or manage an expanding business, the Business Services Digital Advisor can help you sort through the available options. Once you've completed that step, connect with a dedicated CIBC Business Advisor who will review your copy of personalized results and work with you to understand your needs to provide expert advice and customized financial solutions.
That said, whether you need to clarify your borrowing options, explore your cash management options, learn how to set up a business account or you just need a to talk things through, we're here to help.
Need some financial advice?
Book a chat with one of our advisors. They can help set you up for success, today and into the future.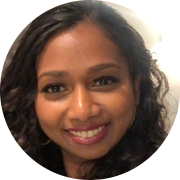 Written By
Devika Goberdhan
Devika's career experience spans product management, communications, and working as a freelance journalist. From interviewing entrepreneurs across Canada, to writing about culture and lifestyle topics after hours, Devika is a storyteller with a passion for elevating her readers and creating the content small business owners and their financial advisors need to be their best.
Contact us
Connect with a business banking expert on your schedule or in your community.