Accessibility Quick Links
Preparing for that first meeting with your CIBC business advisor is your opportunity to get excited and talk about your brand
new business.
Your business plan can captivate people with your idea and make a solid case for its financial viability. Talking about your mission and its business potential with effective language and proper numbers can help turn your dream into a reality. When you talk about each detail of your business plan with the help of business advisors, you'll gain confidence to speak about your business, get your message out there and win over new clients, staff or investors.
When talking through your business plan, you want to make a strong impression. The right plan and pitch can erase any doubts people may have about your idea or the fact that you're the right person to make it a success.
When you're sitting with your advisor in that first meeting, make sure your plan covers 4 important topics:
Talk about your business plan. Your business plan is your roadmap to success. It outlines your vision, details your strategy and shows your ability to turn your idea into a successful business.
Sales and marketing plans
Talk about your "4 Ps" of marketing: product, price, place and promotion. Everyone from potential partners to investors will want to know how customers are going to discover and acquire your product or service.
Cash flow projections are very important, especially during the first 12 months of your new business. Talk to a CIBC Business Advisor on how you plan to generate revenue. Three essential components to discuss are cash flow projection, sales pipeline and forecast, and opening balance sheet.
According to the Business Development Bank of Canada, "an important factor in evaluating your loan application will be your personal credit history as reflected in your credit rating from credit bureaus, such as Equifax and TransUnion." Make sure you talk about your lending history with your advisors and discuss loan options specific to your needs to help finance your start-up.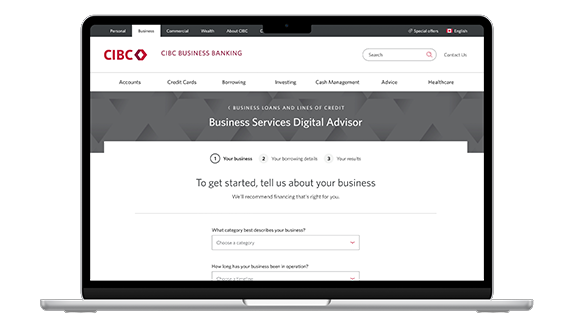 Business Services Digital Advisor
Looking for borrowing options? Tell us about your business and our tool will recommend financing that's right for you.
Tips to speak confidently about your business plan
Consider these simple tips when developing your pitch and talking about your business plan:
When discussing your new business, make sure to highlight your own business experience and any success stories. Helping listeners understand your past can give them a sense of your expertise and build confidence in the background you're bringing to the new venture.
Make your plan easy to read and follow a logical progression to help carry people through concept to strategy and so on. Organization builds trust with listeners and demonstrates the time you've taken to think things through.
In addition to your business plan, when sharing your vision, make sure you have copies of your T1 statements, notice of assessments and any contracts. Having documentation ready signals that you are assured in your plans and helps progress the conversation to the next steps. Since you're starting out, you may not have any financial business documents available, however, it may be great to include documents like personal financing documents, personal debt financing or outside equity financing documents.
Your industry's latest buzzwords may mean nothing to a potential client or investor. Use language everyone can understand to ensure they can focus on what really matters: the business idea, not the trendy words you're using.
Let them see the person they're doing business with. Convey your personality and offer a glimpse of your preferred working style so that the relationships you are establishing are set up for success from the outset.
Back up statements with well-researched facts and examples from reputable sources. Evidence eliminates doubts and will help you answer questions with ease. The stronger your knowledge and the deeper your well of research, the better positioned you will be to win over others.
Present it professionally
Be polished in your presentations, but there is no need to go overboard with graphics or colour. Your designs should highlight the core concepts and goals, helping people understand your vision without distracting or detracting from it.
If you're asking for something, say so. Be clear about your ask and the rationale that backs it up. In business conversations, aim for clarity and quantify your needs.
Know your strengths and weaknesses. Understand where it makes sense to ask for additional support. Highlight your differentiators and seek out partners who can fill in the gaps and offset your weaknesses.
If you're looking to start your own business or need help to grow your existing business, we can help.
Connect with a dedicated CIBC Business Advisor who will work with you to understand your needs, provide expert advice and customized financial solutions. Whether you need to clarify your borrowing options, learn how to set up a business account, or you just need an extra set of eyes, we'll make it easy for you to make your ambitions a reality.
To discuss your Business Banking needs
Book a chat with one of our advisors. They can help set you up for success, today and into the future.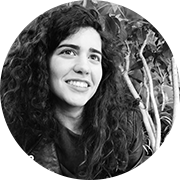 Written By
Lauren Rabindranath
Lauren Rabindranath is a copywriter and communications consultant based in Toronto, Ontario, who works with clients across industries. Working with CIBC Business Banking, Lauren supports content development for online platforms, relating her personal experience as an entrepreneur to CIBC's tailored services.
Contact us
Connect with a business banking expert on your schedule or in your community.