Accessibility Quick Links
Bhyravi decided to pivot into entrepreneurship after realizing she needed a career that would offer her greater work-life balance.
Bhyravi Bala is the co-owner of a multi-disciplinary health clinic in Toronto, Ontario, Health Club Wellness Clinic Opens in a new window..
Having relocated to Canada in 2008, Bhyravi got married and had two kids. She has an extensive background in engineering, specializing in electrical engineering and operations management for an impressive 12-year tenure. Additionally, she holds expertise in designing healthcare-related products. While she found her work in engineering fulfilling, her children were growing older and their increasing activities made it challenging to maintain a conventional 9-to-5 job, especially since her husband, Murali Thavarajah was also working full-time.
Recognizing the need for a career that would grant her more control over her schedule, Bhyravi articulates, "I was seeking a way to manage my time on my terms. I aspired to pursue an independent venture that would allow me to leverage my skills and contribute significantly to my household."
How's the business doing?
The Health Club Wellness Clinic was up for sale by the previous owners in 2020. After doing her due diligence and conducting thorough research on the clinic and the services it offered, Bhyravi and Murali, who co-own the business, decided to move forward with the purchase. Bhyravi says she "found that it was part of a thriving industry that is always in demand." As well, her background in operations management made pursuing the Health Club Wellness Clinic more appealing. And so, the couple moved forward with purchasing the business and it has been operating under Bhyravi's leadership since August 2020.
With the help of the previous owner in the early days of ownership, Bhyravi has successfully transitioned into operating the business. But this took time, as with any new role there is a learning curve.
She explains, "Even after the transition, numerous processes required my attention. For instance, I had to recruit a physiotherapist, which involved tasks like advertising the position, conducting interviews, drafting contracts, handling the hiring process, onboarding new staff and navigating the intricacies of insurances and direct billing. The first couple of years demanded significant effort, but now I have a more hands-off approach."
In addition to learning the ropes, Bhyravi acknowledges that the business faced a sluggish start upon their takeover in 2020. Bianca Nastasi, Banking Centre Leader, who has been working with Bhyravi, highlights that "chiropractic and physiotherapy businesses were affected during the COVID-19 pandemic, as not a lot of people were going for treatment as frequently as they normally do, but Bhyravi was able to persevere and still grow the business."
In fact, Bhyravi proudly shares, "We have been growing since we took over. For instance, if I compare the numbers from January to August of 2022 to January to August of 2023, we see a revenue growth of 15%, which is not too bad at all."
How did CIBC make your ambitions a reality?
Murali has been a Personal Banking client since 1993 and Bhyravi began banking with CIBC in 2008. When the couple initially set their sights on acquiring the Health Club Wellness Clinic, they explored various external avenues in search of a business loan. However, they received feedback indicating that they lacked the requisite background and experience for such a venture, with some deeming it high risk. As an alternative, they opted to secure a personal loan against their primary residence to finance the purchase of the business and the associated property.
After 2 years, they had the financials available to resume trying to secure a business loan. And so, in 2022 the couple reached out to their advisor at CIBC, who put them in touch with Bianca Nastasi. Once they were connected, Bianca jumped into action to assess the situation and put together a plan to help Bhyravi and Murali.
In this instance, by getting a deeper understanding of the business and the owners, Bianca was able to determine that "Bhyravi had multiple sources of income and things that we could add back to strengthen the loan application."
Bhyravi also recounts how Bianca "personally visited the clinic, offered valuable advice, guided us on strategies to settle our personal loan, and directed us in collecting all the necessary documentation to bolster our business case, thus maximizing our borrowing potential for the business. She was always available to help us and she made the process of securing a business loan so smooth."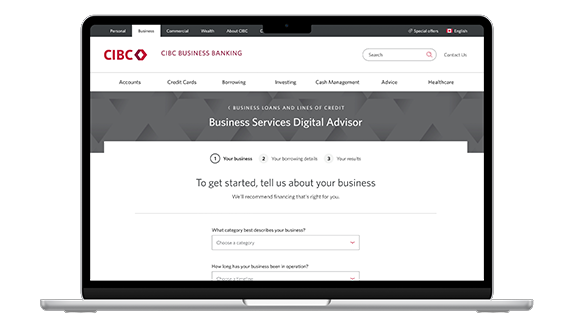 Business Services Digital Advisor
Looking for borrowing options? Tell us about your business and our tool will recommend financing that's right for you.
While Bhyravi's business continues to grow, she has high hopes and big plans for the future.
In fact, Bhyravi shares, "Once we have streamlined all our processes and perfected the blueprint for the business, our goal within the next 2 to 3 years is to establish a second location".
If you're looking to start a business or manage an expanding business, we can help.
Connect with a dedicated CIBC business advisor who will work with you to understand your needs, provide expert advice and customized financial solutions. Whether you need to explore your borrowing needs, to clarify your cash management options, learn how to set up a business account, or you just need a sounding board, we'll make it easy for you to make your ambitions a reality.
To discuss your Business Banking needs
Book a chat with one of our advisors. They can help set you up for success, today and into the future.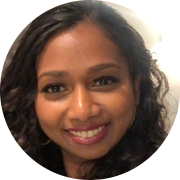 Written By
Devika Goberdhan
Devika's career experience spans product management, communications, and working as a freelance journalist. From interviewing entrepreneurs across Canada, to writing about culture and lifestyle topics after hours, Devika is a storyteller with a passion for elevating her readers and creating the content small business owners and their financial advisors need to be their best.
Contact us
Connect with a business banking expert on your schedule or in your community.