Accessibility Quick Links
Your guide to business planning
Every business needs a road map to point the way to success — and we can help you create it. We've put together an easy-to-use guide to assist you in planning your business strategy, an important step in setting your objectives and reaching them.

Why you need a business plan
Whether you're thinking of starting a new business or contemplating changes to an established one, a good business plan helps set you on the road to financial success. By mapping out your goals and strategies, you'll get a clearer picture of what your business really needs. In addition, an effective business plan is essential if you want to attract investors.

How to complete your guide
Our tools will provide you with a line-by-line approach to business plan writing. Whether you are a new business owner or an established one, simply download the applicable, easy to use guide to get started. Once finalized, you will have a blueprint for your business that communicates your goals and how you plan to achieve them.
Upon completion, the guide can be provided to your business advisor who will work with you to help ensure you have the right financial solutions in place to make your business a success.
Start by reviewing the contents of the guide
Determine what information you will need. Your accountant can help with many of the financial details
Complete all sections of the Guide applicable to your business:
You may find it valuable to review and update your business plan, revisiting it at least once a year.

Come see us
After completing Guide to Business Planning, make an appointment with your business advisor. Be sure to inform your advisor that you have completed your business plan and, if possible, have it delivered in advance of your meeting. The information in your plan will help your business advisor understand your goals and help you meet your individual banking needs.
Don't have a business advisor with CIBC? Call 1 877 299-2358 to get connected to a CIBC Business Advisor today.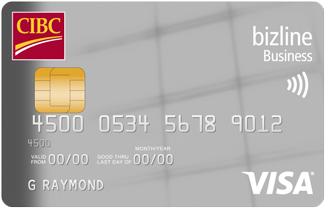 The CIBC bizline™ Visa* Card
Combine the power of a line of credit with the convenience of a Visa card.