Accessibility Quick Links
Rachael-Lea Rickards of Real Talk Candles tells entrepreneurs that it's important to get help and mentorship. This is the key to success.
If there was a scented candle specifically for someone launching a small business during COVID-19, it would smell like "your 9 to 5 friends are laughing at you," jokes Rachael-Lea Rickards, founder of Real Talk Candles Opens in a new window..
In April, the Toronto-based entrepreneur launched her line of "real talk" scented and non-scented vegan, animal cruelty free, soy blend candles, mere weeks after COVID-19 had been declared a global pandemic. The candles are designed to start a conversation with products such as "West Indian Mother" (smells like "Who cyaah hear muss feel!") and the "No Words" candle (smells like "I'm here but we don't have to talk").
Meanwhile, another entrepreneur, Sasha Senior's business was born out of passion. Senior opened Windsor's only locally owned skateboard store, Bliss Skateboard Shop. Opens in a new window. The store provides everything from shoes and safety gear to ramps. "Windsor needed a skateboard shop and I was blessed with the opportunity to provide one," says Senior, who took the business from an idea to a reality in less than six months.
Real Talk Candles and Bliss Skateboard Shop are relatively new businesses, but since launching, Rickards and Senior have learned a lot about setting up a small business during COVID-19 Opens in a new window..
They have some tips for entrepreneurs on what it takes to finance a startup, plus advice from Nav Dhaliwal, CIBC Business Banking expert Opens in a new window..
Senior and Rickards both started out by funding their businesses out of pocket. Rickards put in her own money to cover her costs. As the business grew, she used the money coming in to finance and grow her operations.
Senior wasn't able to get a loan, so instead ended up using her income as well as money from the sale of her car. She started Bliss Skateboard Shop with $7,000.
"Make sure you have a source of income to help start your business. That's what helped me," says Senior. She's been able to avoid going into debt by putting her own money in the business. Bank loans can be a huge help to businesses, but Senior says it's helpful if the business isn't solely reliant on that funding.
Dhaliwal says that it can take time for a business to start making money, so having personal funds that can help cover a business's working capital (the difference between current assets and liabilities) can help in those early stages. "Also, any financing you receive requires a certain percentage of personal equity in the business," he notes.
Get familiar with key financial concepts
For those new to the business world, it can feel like speaking a whole new language. Dhaliwal highlights these key concepts:
Cash flow projections: "This will help the owner plan ahead and give a path on what they need to do to be successful," says Dhaliwal, adding that CIBC has templates, such as Creating Cash Reserves (PDF, 4.6 MB) Opens in a new window. available.
Debt to Equity: "How much equity has the owner injected into the business versus how much they are in debt," says Dhaliwal. "Depending on industry and risk in business, the bank can offer from $1 for every $1 injected to $3-$4 for every $1 injected."
Debt Service Coverage: "How much income after tax is going out to payments," says Dhaliwal. "A bank looks to the business to have $1.25 to service every $1 of debt owed."
Dhaliwal encourages entrepreneurs to partner with their accountant or a financial advisor to help prepare these statements, which include opening day balance sheets and/or projections.
Before asking for funding, you need to know how much to ask for.
"Consider all fixed expenses, rent, internet, security system, insurance, where and how to get your product and other options for getting product for your business," says Senior.
Dhaliwal advises completing an opening day balance sheet, and factoring in how much of your own money you're willing – and able – to contribute, to figure out how much funding is needed to start your business.
Figure out what finance options are right for you
From angel investors and personal income to crowdfunding or bank loans, there are different options for financing a small business. Dhaliwal's advice? "Always start by looking at any available grants and government programs. Opens in a new window."
Dhaliwal also says that entrepreneurs need to decide if they are willing to approach a silent investor and give up equity, or if they'd rather work with a financial institution.
Prepare before applying for a loan
Before applying for a small business loan, Dhaliwal emphasizes the need to be prepared. He recommends compiling: a fully completed business plan, cash flow projections, opening day balance sheet, all personal tax documents for the last two years and a summary of personal assets.
Some of the most common mistakes Dhaliwal sees from entrepreneurs applying for small business loans are business plans that are not detailed enough, overly optimistic projections or a lack of research to understand what will be involved in the business.
"Be prepared to be open and willing to provide information requested," he says. "A lender will want to know your business inside out, as would an investor, to ensure the partnership aligns and that they are setting you up for success. Complete thorough research and take a conservative approach when looking at projections."
You don't need to do it all on your own
Looking back on the past few months, Rickards says there are three things she wishes she had known: you can't do everything yourself, the importance of mentorship and the need to listen less to others. "Find people who have walked your walk, and let go of the rest," she says.
Senior echoes Rickard's sentiments. "Be confident and be around people that support you," she says.
Dhaliwal says one benefit of working with the bank is the built-in assistance for small businesses. "Banks are always there to support the client beyond just the loan," he explains. "The advisor helps review businesses and see how they can help improve cash flow by providing resources or tools (i.e. collect payments faster, remote banking etc.)."
During the COVID-19 pandemic, he also highlights that banks have supported entrepreneurs by providing loan payment deferrals and creating relief programs.
Both Rickards and Senior say that when it comes to financing their small businesses, they are both still learning.
Rickards never imagined that Real Talk Candles would take off like it has, going from a self-care hobby to a full-fledged business, with office space and staff members in a matter of months. With changes like adding payroll and new products, her financial needs also shifted. Though she didn't originally look into financing options, she's now exploring what's available. "Honestly, it's a work in progress," she says.
Presented by How She Hustles with proud sponsor CIBC and partners Rogers Sports & Media and Shopify.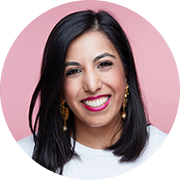 Written By
Ishani Nath
Ishani has worked as a senior editor at FLARE, and has appeared on CBC TV and radio. She is currently a freelance writer and editor with bylines in The Globe and Mail, Maclean's, Chatelaine, HuffPost and more.
Contact us
Connect with a business banking expert on your schedule or in your community.