Accessibility Quick Links
We're blessed to have very loyal clients. We know we wouldn't be here without them.
The Dutch Bakery and Diner has been a part of the Schaddelee family for three generations. We're located in downtown Victoria.

Our grandfather, Kees Schaddelee, Sr., started the business after moving here from Holland. He and his family left everything behind to start a new life in Victoria. Since grandpa had been a baker back home, opening the bakery here felt like bringing a piece of Holland with them.
At first, grandpa rented a run-down diner on Fort Street. Within a year, he was able to buy the building and expand. The whole family worked for the bakery, putting in long days. His boys quit school in 9th grade to run the shop. When they got married, they brought their wives into the fold. At one point, all 10 of the immediate family were working in the bakery, plus employees.
Us three cousins took over the business eventually. Michele runs the front-end of the bakery and does day-to-day paperwork, Jack is the head baker and cake decorator, and Brook is the chocolate guy and secondary cake decorator.
We've been blessed to have very loyal clients. We just celebrated 64 years in business, and we know we wouldn't be here without them. People make the trip all the way from Vancouver and Seattle in December to stock up on treats for the holidays.
Before COVID-19, business was going great. We were in the fortunate position of not needing to think beyond the day-to-day of running the shop. But the pandemic was a wake-up call. We had to learn to think outside the baker's box, so to speak.
Everything changed within those first few weeks. Nearly 99 per cent of our sales depended upon foot traffic. We weren't set up for online sales.
So, we called our regular customers to drum up orders. We set up delivery. All three of us live in different corners of the city, so we started delivering ourselves and occasionally using a local courier company.
We've managed to rebound since those first difficult days. Even though Victoria is still quiet, we've brought back 14 of our staff members, including the front-of-shop employees. The diner is now open as well, with precautions in place for safety. Things may look a little different, but the food has not changed!
CIBC has been our long-time bank, back when our uncles ran the bakery. They've been there for us whenever we needed them. Our advisor, Patrick Harris, helped us with financing during renovations after we took over the business. And the local commercial tellers at our CIBC Banking Centre have been fantastic, really helping out by being flexible during the pandemic.
Now that our clients are coming back in person, it helps that we're able to order cash over email. The whole team at CIBC has been really accommodating, opening early so that we can pick up our coin order when we need it.
Moving forward, we're making a few changes. The pandemic was eye-opening. We realized that an online presence is necessary—it's what saved us at the start of all this. So, we're exploring new ways to tap into digital channels. As we think about the future, we want to have a strong following on social media, and how we can keep our customers continually engaged.
We're testing things like sharing seasonal dessert favorites on Instagram or asking our community to share how our family bakery has become part of their family's traditions. It's been pretty easy to build an online community so far thanks to our existing customer base. It is so special to know we have such a loyal following. Victoria is definitely a city that supports local.
To create a tailored plan for your business needs and help you achieve your goals, meet with us Opens in a new window.. We're here to help. Talk to a CIBC Business Advisor today by calling 1-866-992-7223 Opens in your phone app..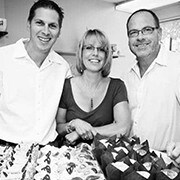 CLIENT BIO
Brook, Michele, Jack
Brook, Michele, and Jack are the owners of the family-business Dutch Bakery located in Victoria, B.C.
Contact us
Connect with a business banking expert on your schedule or in your community.