Accessibility Quick Links
Right now, maybe more than ever, a fitness routine can provide people with stress release, structure and human connection.
Seeing clients achieve their fitness goals is a never-ending source of joy for us. We get to watch people who have never exercised a day in their lives become stronger and more confident. It can be something as simple as mastering a hip hinge—a foundational exercise move. On day one, maybe they can't do it, but after a month, you'll see them out of the corner of your eye in class executing it perfectly.
Fitness and being active has always been a central part of our lives, and ultimately we decided to make it our career. We were so excited to open our first gym, an F45 franchise back in 2017. When the pandemic forced us to close in mid-March, we got to work right away trying to deliver virtual experiences to our clients. On day one, we filmed like eight workouts. We completely reinvented the business within just 12 hours, and within a few weeks, we transitioned from pre-recorded videos to live Zoom sessions.
We started posting workouts on a private Facebook page for members. A lot of clients were interested. Our community is really committed, and we knew they didn't want to let quarantine get in the way of their fitness goals.
Our approach has been to make working out at home as easy as possible. We tell people the exact equipment they'll need. And it's so important that we're ensuring the service we provide meets our clients' needs. Regular Facebook polls help us figure out what's working and where we can improve. Zoom workouts are also great for personal training because we can monitor our clients' form and give them feedback in real-time. We've seen a strong online showing.About one-third of our members jumped into online workouts right away, and more and more have joined since.
Right now, maybe more than ever, a fitness routine can provide people with stress release, structure and human connection. Working out at a gym as specific as ours is all about the community; most of our members live within 500 metres of the studio. So, we've tried to also create space for this part of the business online. Our members continue to build important connections, even when they can't be together in person. They do virtual classes at the same time or meet up at the park to do a class with their friends.
And in the same way that we can tell when someone is making progress in the gym, we've gotten to see a lot of our members improve their mental state by working out with us virtually. We've gotten some amazing feedback. Clients tell us they have more time on their hands, they're eating at home, building a workout structure and have a sense of routine. Some people are seeing great physical results, which is so rewarding.
Financially, we've been keeping our heads above water, but it's been a challenge. Online memberships are cheaper than regular ones, and we're still paying rent on the space, as well as salaries for our trainers. A loan deferral from CIBC has helped take some of the pressure off, and we signed up for Smart Banking for Business, which has been helpful with online payroll for our trainers.
Our advisor, Chad Elliott, has been in regular contact, helping us navigate government assistance programs and with cash management advice. We got a cash infusion in July, which has really helped us sleep better knowing the business is secure. And hopefully we can get back to talking about our plans for enhancements to the gym soon.
In early August we re-opened the studio with an innovative new setup, and updated policies including screening and social distancing measures to keep our members safe while they work to crush their goals in-studio. It is awesome to bring our community back together in person, but we're still offering online Zoom classes for those that are not ready to come back just yet. And we're even taking an exciting leap of faith—we're planning to purchase another F45 franchise. We hope to open the doors within the next year.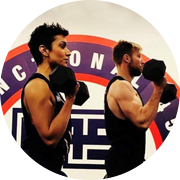 CLIENT BIO
Leena Vadera and Chris Grant
Leena and Chris are proud franchise owners of F45 studio. They strive to bring their members' fitness goals to life through workout programs and professional training. They're passionate about improving their members' mental well-being and physical health.
Contact us
Connect with a business banking expert on your schedule or in your community.