Accessibility Quick Links
"Recession" has been the buzzword of 2022. Learn what it might mean for you and your business in the year ahead.
We've been hearing the term "recession" an awful lot lately.
But, what is it exactly and what might it mean for you and your business?
A recession is typically defined as economic decline, where the value of goods, or gross domestic product, experiences negative growth two quarters in a row.
In a typical business cycle, the economy rises and falls as surely as the tides. Central Banks, Governments and other policymakers may try to smooth this out by keeping the "booms" in check while trying to shorten the pain of the "busts," but there is no stopping this force of nature. When the economy is running smoothly on all cylinders, positivity and optimism abound. People spend their disposable income more freely, businesses start to expand and hiring picks up.
Consequently, the labour market gets tight, demand starts to outstrip supply and prices start to rise. In response to an overheating economy, Central Banks may tighten monetary policy by raising interest rates. Faced with higher borrowing costs and falling asset prices, consumers pull back on spending and businesses re-think expansion. Talk of recession begins and soon becomes a self-fulfilling prophecy as consumers and businesses tighten their belts. Eventually, when prices bottom out, optimism returns and consumers and businesses attempt to take advantage of buying at the bottom of the market. The economy heats up and the cycle continues.
If rising interest rates kicked off talk of a recession over a year ago, why is it taking so long for this approaching iceberg to strike the hull of the economy? Also, if the Bank of Canada raised the overnight rate from 0.25% to 4.00% in nine months to combat inflation, why is it staying so stubbornly high?
How did inflation get so high?
Let's tackle the second question first: How did inflation get close to 10% and why is it so hard to get it to decline?
The answer comes down to three simultaneous shocks brought about by the pandemic. The COVID-19 era ushered in unprecedented government spending, strained global supply chains and choked off demand. A globalized economy has never faced three consecutive blows of this magnitude before. As a result, the responses were untested and the outcomes remain uncertain.
The first action came from the policymakers. Central Banks poured liquidity into the system by cutting interest rates to almost zero, promising that they would stay there, and bought bonds in enormous quantities. Governments then got into the superhero spirit and wrote cheques to consumers and businesses to keep them afloat while they were forced to stay at home. This worked brilliantly in the short-term and avoided a complete economic meltdown in early 2020. However, adding money to an economy without increasing productive capacity was bound to eventually cause inflation. According to Macroeconomics 101, when you add money to the system without increasing the number of goods, prices will rise.
The second shock to the system hit the supply side of the equation. As economies around the world suffered through various forms of lockdown, just-in-time supply chains that stretched across the globe grounded to a halt. Shipping costs soared, stores experienced empty shelves and huge ports began to back up with cargo containers. As the cost of doing business climbed, firms started to pass some of the increases on to their customers.
Third, consumers couldn't spend as much money as they used to for almost two years. Consumers may have ordered more goods from Amazon while binge watching the latest series on Netflix because of shelter-at-home orders, but they couldn't travel, go to the spa, try the latest restaurant or see a hockey game. With only so much spending possible, bank account balances started to grow and savings rates soared. When economies started to reopen, this pent-up demand was released with a vengeance.
Let's return to the battle against inflation. Unfortunately, of these three issues, the Central Bank's blunt weapon against inflation only works on the demand side. They can't make the newly minted money disappear, though higher rates may sop up a little excess liquidity. They can't force other countries to loosen their COVID restrictions faster or help with the global production of computer chips. All they can do is raise rates in an effort to dampen excess demand. However, by chipping away at only one leg of a three-legged stool, the Central bank runs the risk of toppling the whole economy suddenly and severely.
So, are we in a recession or is it on its way?
As mentioned earlier, in a typical business cycle raising rates slows down an overheated economy and a recession usually follows. The Central Bank then brings rates back down and the economy recovers. With inflation remaining stubbornly high and rates still on the way up, it's not hard to make the argument that the worst is still to come.
Are we in a recession? According to the definition mentioned above, we are not. Is it more reasonable to assume that a recession is coming? It certainly feels like this is the case, since rapid increases in interest rates usually come before a recession. But, if raising rates this fast usually means a recession, why is it taking so long for the economy to feel it?
Three reasons come in to focus after staring at the problem for a while:
1. Historically, there is a time lag between any action from the Central Bank and when the economy may feel the effects. There is debate about how much of a lag, but it's generally accepted that the real pain of monetary tightening, such as raising rates, may not be felt for at least a year or more. If that's the case, the economy may only just be starting to feel the full force of the first hike back in March of 2022. The true magnitude of the monetary tightening seen in 2022 may not be felt until halfway through 2023 with the downturn not hitting until late in the year.
2. As mentioned earlier, savings rates soared during the years of the pandemic. Government cheques kept consumer and company bills current, while being stuck at home meant that this cash had nowhere to go but into savings accounts. As the economy slows down and inflation takes hold, this abnormally high level of savings may keep economic momentum going for longer, kicking the recessionary can further down the road. Can the savings-fueled spending carry the economy long enough to weather the rising rates without a full-blown recession? This may be possible and would be the ideal scenario for the Central Bank.
3. The pent-up demand has yet to run out of steam. It may not be fair, but high inflation and elevated borrowing costs will not hurt everyone equally. People who stayed gainfully employed in well-paying jobs throughout the pandemic are eager to keep spending now that the economy is open. Moreover, this group did very well in asset markets, such as housing and equities over the last three years. Consequently, they're eager to take a vacation, treat themselves to the spa or try that new hot spot. They will consume any experience that was denied to them while COVID restrictions were in place, even if it cost a little more. The unintended consequence is that those who have the money will continue to spend and inflation will take longer to subside. Those who are having trouble making ends meet will have to face even higher costs if the Central Bank keeps raising rates.
How do you plan for such uncertainty?
It's always easy to say things will be different this time. From an economic standpoint, if the recession is different this time, the actions over the last year may not slow the economy too drastically, unemployment may not rise and a typical downturn could be avoided. Moreover, inflation may fall regardless as the supply chain improves and pent-up pandemic demand runs out of steam.
However, if it's not different, higher rates could dampen consumer demand, crush the housing market and eventually cause higher unemployment. This would probably take care of inflation as well, but the cost could be a full recession. This would happen in the more textbook way of falling consumer demand and rising unemployment. Labour costs would fall as more workers search for work in a smaller job pool, and businesses would be forced to lower prices in response to lower demand for goods and services.
For those running a business, "uncertainty" will be the buzzword of 2023. Uncertain times call for strategic planning on all fronts. A recession could be avoided and a soft landing is certainly possible. However, higher interest rates rarely let everyone come through unscathed. While the doom and gloom prevailing business news at the moment could be overblown, some form of slowdown is likely over the next 12 to 24 months.
Businesses would be prudent to have a spending plan in place based on certain sale thresholds. Having a plan for clear skies, stormy seas, and everything in between, is always the best course of action.
If you're looking for guidance on how to navigate your business through a potential recession, we can help! Connect with a dedicated CIBC Business Advisor who will work with you to understand your needs, provide expert advice and customized financial solutions. Whether you need to review your cash management options, borrowing needs or you just need an extra set of eyes, we'll make it easy for you to make your ambitions a reality.
To discuss your Business Banking needs
Book a chat with one of our advisors. They can help set you up for success, today and into the future.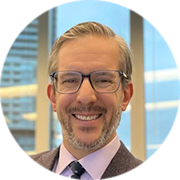 Written By
Nicholas Milton
Nicholas Milton has almost 20 years of experience working with businesses from starts-ups to large publicly traded entities. With a passion for economics, he takes large and often complex topics and ties them to meaningful advice for all businesses. Nick is a frequent contributor internally at CIBC writing weekly economic updates and a "What to Expect?" series prior to each meeting of the Bank of Canada or the Federal Reserve.
Contact us
Connect with a business banking expert on your schedule or in your community.