Accessibility Quick Links
CIBC's Environmentally Responsible Procurement Standard describes the requirements for the procurement of goods and services that may be associated with significant adverse environmental impacts. CIBC is committed to working with suppliers who share our level of respect for the environment and who provide a safe and respectful workplace for their employees.
Through our supplier questionnaire, where applicable, CIBC gathers and reviews the following information related to suppliers:
Environmental management systems

Environmental initiatives and performance pertaining to their environmental aspects

Environmental violations

Product stewardship

Forestry practices

Third-party certifications
When considering a potential supplier, environmental criteria are considered alongside standard requests for proposals and requests for information criteria. Post selection of suppliers, CIBC continues to monitor suppliers' environmental performance as part of our overall supplier management process, including completion of the supplier questionnaire at a minimum of once every two years.
As supported by our CIBC Supplier Code of Conduct (PDF, 70 KB) and our Environmentally Responsible Procurement Standard, CIBC is committed to working with our suppliers to responsibly manage potential environmental risks associated with the goods and services we procure.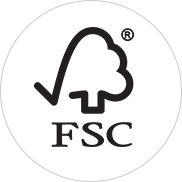 Forest Stewardship Council (FSC)-Certified Paper
Since 2006, CIBC has procured paper from sources that are environmentally and socially responsible, with a preference for FSC-certified stock. At present, CIBC recognizes FSC as the most rigorous and comprehensive third party certification, which guarantees that purchased forest products come from responsibly managed forests.
Since 2008, CIBC has committed to switch our office paper supply and other paper supplies to FSC-certified stock. In 2017, more than 98% of CIBC's total paper consumption was FSC-certified. This includes printer paper, client statements, forms, cheques, envelopes and commercial printing.