Accessibility Quick Links
Renewable Energy Financing
As part of our environmental strategy, CIBC is committed to providing innovative financial solutions with environmental attributes to our clients. Our Capital Markets team is at the forefront of financing new and innovative projects that contribute to cleaner, alternative or renewable energy supplies, including biogas, biomass, district energy systems, hydroelectric, solar and wind.
In the last five years , CIBC lent $1.6 Billion, including $380 million in 2017, towards financing renewable power projects.
Green Bond Principles
CIBC Capital Markets is a member of the Green Bond Principles (GBP) initiative. It is a set of voluntary guidelines designed to promote integrity in the green bond market where capital is raised to fund projects with environmental benefits. Green Bonds enable capital-raising and investment for new and existing projects with environmental benefits. The appeal of Green Bonds lies in the ability to support such projects while maintaining the risk/reward characteristics of traditional fixed income products.
CIBC Asset Management (CAM)
CAM manages a family of equity and fixed income portfolios with specific Responsible Investment (RI) mandates. These RI portfolios will not hold securities of any company whose primary business is the sale of tobacco, alcohol or weaponry, or that has major operations in countries that disregard human rights. CIBC's RI holdings include mutual funds as well as institutional mandates managed on behalf of our clients.
CAM also considers the environmental, social, and governance performance of global companies and considers these factors as part of their regular investment research process.
In 2017, CAM became a signatory of the United Nations-supported Principles for Responsible Investment (PRI), a global network of asset owners, investment managers and service providers who are committed to integrating ESG factors into their investment practices, analyses and decision-making processes.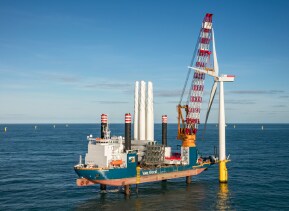 First turbine in the Gemini Wind Farm
"CIBC continues to support Northland Power in the growth of our renewables franchise in the North Sea. Through the Gemini Wind Farm project starting in 2014 and the more recent Deutsche Bucht offshore wind farm, CIBC has been a key lender that helped us raise sufficient capital for these multi-billion dollar renewable power generation projects."
– John Brace, CEO, Northland Power