Accessibility Quick Links
Renewable Energy Financing
Our Capital Markets team is at the forefront of financing new and innovative projects that contribute to cleaner, alternative or renewable energy supplies, including biogas, biomass, district energy systems, hydroelectric, solar and wind.
In the last five years, CIBC lent $1.6 billion towards $11.5 billion of financing for renewable power projects.
Green Bond Principles
CIBC Capital Markets is a member of the Green Bond Principles (GBP) initiative. It is a set of voluntary guidelines designed to promote integrity in the green bond market where capital is raised to fund projects with environmental benefits. Green Bonds enable capital-raising and investment for new and existing projects with environmental benefits. The appeal of Green Bonds lies in the ability to support such projects while maintaining the risk/reward characteristics of traditional fixed income products.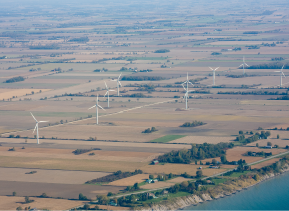 Kruger Energy Wind Farm
"CIBC co-led the $377 million CA refinancing of the 200MW Chatham and Port Alma wind farms in Ontario. The wind farms generate enough electricity to power approximately 60,000 households per year. The transaction allowed Kruger Energy to reduce its borrowing costs and increase its financial flexibility. CIBC played an important role in structuring and executing the transaction." - Alexandre Patte, Chief Financial Officer, Kruger Energy