Accessibility Quick Links
Herbert John Benson was born on September 10, 1880 in London, England. He entered the service of The Canadian Bank of Commerce in January 1912 at the London, England branch. Enlisting on August 4, 1914, he served in the Royal Navy as part of the Royal Fleet Reserve. Benson was transferred to the H.M.S. "Weasel" in August 1914 and then to the H.M.S. "Ruby" in January 1916.
His service included minesweeping and harbour duties, as well as patrol and escort duties in the Atlantic and eastern Mediterranean. Benson returned and resumed his employment with The Commerce in April 1919.
Excerpt from letter dated March 5, 1916:
I see we have almost a battalion serving from the Bank, which would also be sufficient to man a first-class battleship. I hope our casualties do not increase very much. I myself have been very close when ships have blown up-one, the 'Princess Irene,' C.P.R. boat, before you could count fifty, ship and 450 men were of the past. Another curious sensation is mine-sweeping, looking down into the waters expecting every moment the mouth of hell to open. This is really a first class War.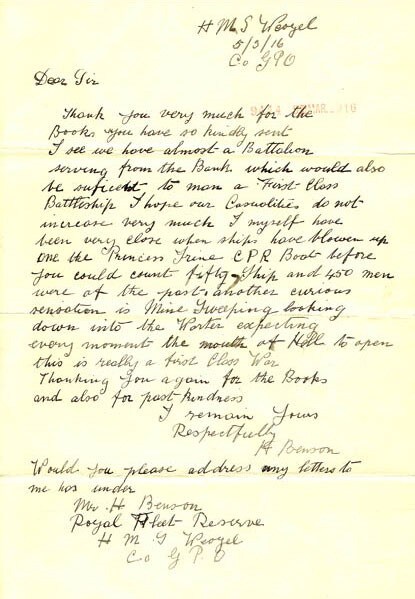 Letter dated March 5, 1916