Accessibility Quick Links
Harold Edgar Tylor was born on December 12, 1880 in England and entered the service of The Canadian Bank of Commerce in 1899. In September 1915, he enlisted from the St. Thomas, Ontario branch, where he was the manager. Tylor fought at the Battle of the Somme in 1916; at Vimy Ridge and Paschendaele in 1917; as well as at Amiens and Arras in 1918. After being discharged, he returned to work at the bank in December 1918.
Tylor was a regular correspondent and Letters from the Front reprinted several excerpts from his letters.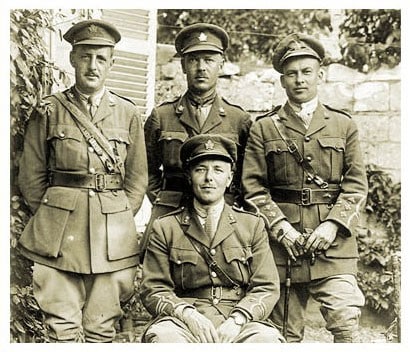 Harold Tylor standing far right
Excerpt from letter dated May 2, 1916, somewhere in France:
I am at present living in a sand-bag villa, and our comforts are few. Our villa is a very small one, holds three with crowding, but is quite safe except in case of a direct hit, either from a high explosive shell or a bomb dropped from an aeroplane, in which case our successors would have an untidy mess to clean up.

Excerpt from letter dated August 9, 1918 explaining how he obtained the German mark note that he sent to John Aird, General Manager

:

I enclose a souvenir (a two mark note) as it is easy to send. A [German] prisoner gave it to one of the men, apparently with the idea that it was quite the correct thing to do. They seem so pleased to be captured.