Accessibility Quick Links
Edward Cecil William Mockler was born on June 24, 1893 in Ireland. He entered the service of The Canadian Bank of Commerce in August 1912. Enlisting in August 1914 from the Humboldt, Saskatchewan branch, he joined the 9th Canadian Battalion and was later transferred to the 1st Canadian Battalion.
Mockler fought at Langemarck and the Second Battle of Ypres in 1915. He was severely wounded during the first German gas attack at Ypres and succumbed to those wounds on May 7, 1915.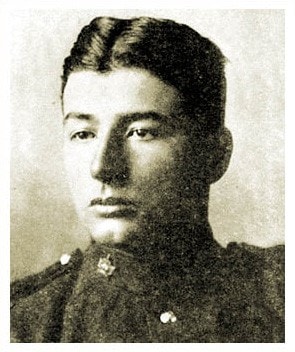 Excerpt from his obituary:
With sincere sorrow we chronicle the sad death of this promising young soldier who died in the military hospital, Cambridge, on 7th (May) from wounds received in battle in France on 23rd of April. He belonged to the first Canadian Regiment.
From the particulars we have been able to obtain it appears that, on account of his knowledge of the French language, he was taken by his commanding officer on a special mission in the carrying out of which they had to cross the enemy's line of fire, and had only covered about five hundred yards when the Major fell mortally wounded. The gallant young soldier, immediately in the face of a storm of shot and shell, went to the assistance of his officer, who on point of death, ordered him to go on.
In obedience he resumed his perilous journey, but had not gone far when he received what turned out to be his death wound - a shrapnel charge in the back, which penetrated a lung. To avoid further injuries, he threw himself down on the ground but did not escape other wounds of a more or less serious character, as well as the gas which had been directed against the French lines which he was trying to reach, and which caused the French to break away.
After crawling inch by inch for about six hours he succeeded in reaching his own lines, and although suffering awful agony he got into the ambulance unassisted, and was conveyed to the base. Passing through four hospitals, always on a stretcher, he eventually arrived at Cambridge at midnight on the 1st [of May]. Here he lingered until Friday last when he passed away, having received every care and attention from the hospital staff.