Accessibility Quick Links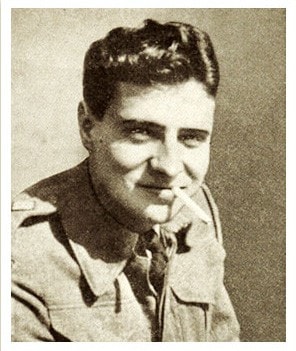 Born in Cobourg, Ontario, in 1921, Bernard Fox began work with The Canadian Bank of Commerce in 1939. Shortly afterwards, he enlisted in the Army and quickly rose through the ranks of The Stormont, Dundas and Glengarry Highlanders. After a brief stint as an instructor at Brantford and Camp Borden, Fox was sent overseas in September 1942 and took part in D-Day on June 6, 1944. Following the Allied victory in Europe, he served in the Occupation Force in Germany until May 1946. After being released from active service in the summer of 1946, Fox returned to The Canadian Bank of Commerce at the Yonge & Gould branch in Toronto.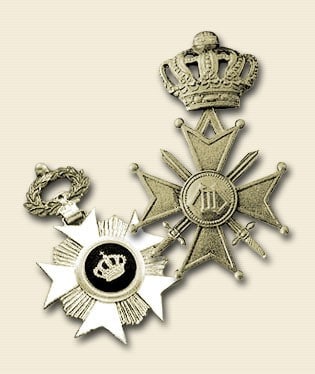 Knight of the Order of the Crown and Croix de Guerre medals awarded to Bernard Gerald Fox by the Belgian government
The Belgian government awarded Major Fox the Chevalier of the Order of the Crown with Palm and the Croix de Guerre with Palm for his distinguished services to the Allies and the ultimate liberation of Belgium.
Excerpt from the official citation of Bernard Fox, Canada Gazette, 31st August 1946:
At Hoofdplaat on 15 October, 1944, Major Bernard Gerald Fox, then Officer Commanding the Anti-Tank Platoon of The Stormont, Dundas and Glengarry Highlanders, despite heavy enemy artillery, mortar and small arms fire which was holding up the forward Companies, brought his guns to bear on enemy bunkers from a range of fifty yards, with such conspicuous success and disregard for his own safety that the strong points were overcome and the Battalion enabled to advance to the vital Scheldt pocket operation. The forward Company of The Stormont, Dundas and Glengarry Highlanders had reached the main crossroads of the town of Hoofdplaat with only a few casualties, and the second Company was advancing on the left flank against heavy opposition. The third Company, advancing up the sea wall to secure the right flank, ran into heavy opposition and were pinned down and unable to get on their objective. The reserve Company with anti-tank guns under the command of Major Fox were ordered to take the objective of the pinned-down Company. The Company was itself unable to advance until Major Fox volunteered to take a gun into the forward position, from where they could get their piece to bear on the enemy pillbox which was holding up the advance. Major Fox personally directed the siting of the anti-tank gun to such good effect under the most desperate conditions that ten rounds were put into the concrete stronghold, knocking out the enemy defenders. Throughout this engagement Major Fox so inspired his gunners and the forward infantry that the operation, which was in danger of failing, was carried through to a successful conclusion.
Major Fox's individual courage, leadership and initiative far beyond the call of duty were responsible for success of the operation, which led to the ultimate liberation of Belgium.