Accessibility Quick Links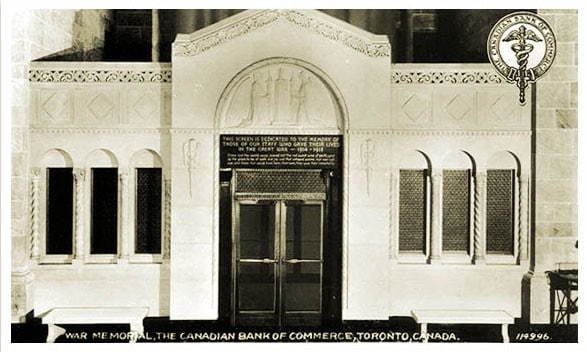 War Memorial at Head Office, 1931
This memorial is still visible today at CIBC's headquarters in Commerce Court
The Canadian Bank of Commerce created public memorials to honour staff that served during the Great War. Bronze memorial tablets were installed in various branches and included the names of men who enlisted from that particular branch. The tablet featured the Caduceus logo of the bank, with folded wings, at the upper left and two poppies intertwined with a symbolic olive branch at the lower right. Because of the special circumstances endured by the staff of the London, England branch, the bank also installed a plaque in front of the Lombard Street branch, honouring employees who enlisted for active service.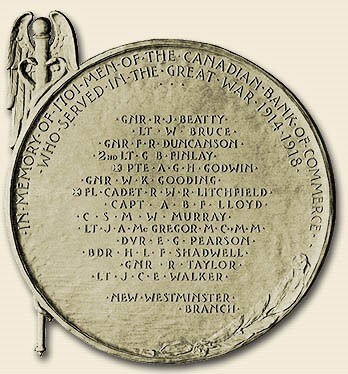 The Branch Memorial Tablets
In 1930, a permanent memorial dedicated to The Commerce employees who died in World War I was erected in the new Head Office. This memorial was carved in situ inside the banking hall and was made from Belgian marble. Designed by a local sculptor, it featured two angels with sheathed swords kneeling on either side of the altar of sacrifice.