Accessibility Quick Links
Check out these great features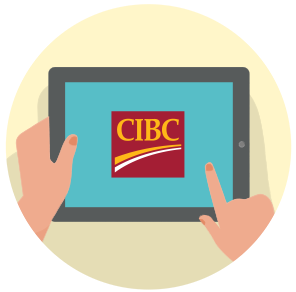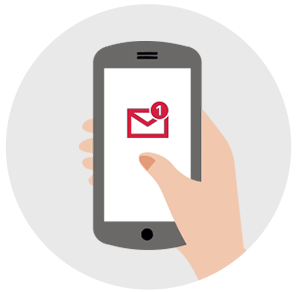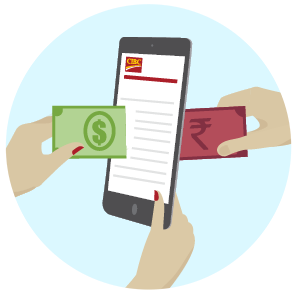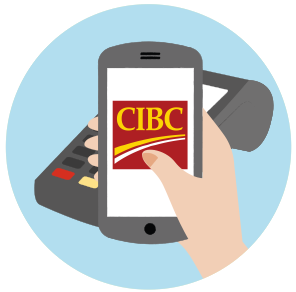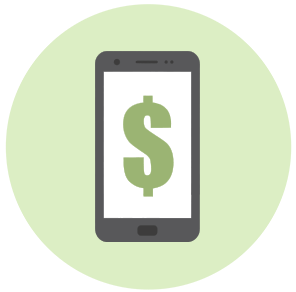 Overseas? Our Travel Tools can help
The next time you travel, use our mobile app to calculate how much a purchase will cost in Canadian dollars using your CIBC Visa* Card.
Now's the perfect time to join CIBC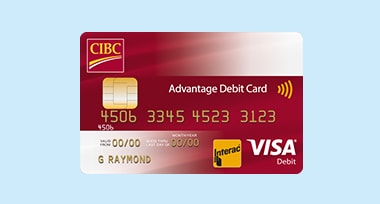 Featured Account
Open a CIBC Smart Account™
$4.95 per month for 12 transactions4
Capped at $14.95 per month for unlimited transactions4
Enjoy unlimited Interac e-Transfer service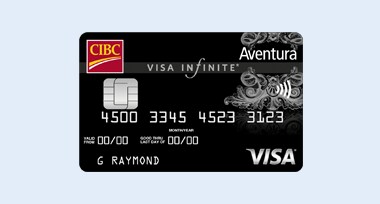 SPECIAL OFFER
Earn a welcome bonus of 15,000 Aventura Points5. Get the CIBC Aventura® Visa Infinite* Card today.
Book a flight for as little as 10,000 points6
Get a first-year annual fee rebate7
Enjoy a competitive interest rate of 19.99% for purchases and 22.99% for cash8
Terms and conditions

Hide Terms and conditions

1 We may withdraw approval if we become aware of any unfavourable information regarding your financial position or account status, or if you are unable to provide any additional information reasonably requested by CIBC. The application response time may take longer than 60 seconds in the event of technology issues. If you supply your email address, an application status email will be sent as soon as the technology issues are resolved. Otherwise, you will receive a response to your credit card application within 7 to 10 business days.

2 The CIBC free credit score service is a feature in the CIBC Mobile Banking App which allows CIBC clients to subscribe to get their credit score from Equifax Canada through Borrowell, our third-party service provider.

The Equifax credit score is based on Equifax's proprietary model and may not be the same score used by third parties or by CIBC in certain instances to assess your creditworthiness.  The provision of this score to you is intended for your own educational use.  Third parties and CIBC will take into consideration other information in addition to a credit score when evaluating your creditworthiness.

You should always obtain the most updated credit information and scores from Equifax Canada to ensure accuracy before making a major financial decision.

3 CIBC foreign exchange rates apply. A Global Money Transfer and a Foreign Exchange transaction counts towards your allowable transaction limit, bank account transaction fees may apply. Must have a CIBC chequing, savings or personal line of credit account to send a CIBC Global Money Transfer. Most transfers are completed by the next business day. However, there are times when a transfer requires 2 to 3 business days to be completed.

4 Please see the Personal Account Service Fees brochure, available on cibc.com or at banking centres, for a description of transactions that are included in the CIBC Smart™ Account monthly fee and everyday banking fees for other Personal Bank Accounts and Services. 

Each Interac e-Transfer transaction you send counts as a transaction for calculating your monthly fee. No additional service fee is charged.

5 You will receive a welcome bonus of 15,000 Aventura Points when you make your first purchase at any time with your card. The following do not qualify as purchases: cash advances, interest, fees, balance transfers, payments, regular CIBC Convenience Cheques or Aventura Point redemptions. It may take up to several business days for purchases to be posted to your account. Bonus points will be awarded to the primary cardholder on the first monthly statement after the qualifying purchase(s) are posted to the account. Card account must be open and in good standing at the time the Aventura Points are awarded. Offer applies to newly approved card accounts only; transfers from an existing CIBC credit card to a CIBC Aventura Visa Infinite Card are excluded. Offer and bonus points are non-transferable. Offer may be revoked if you appear to be manipulating or abusing it, or are engaged in any suspicious or fraudulent activity, as determined by CIBC in its sole discretion. Offer may be withdrawn or changed without notice at any time.

6 For full details see maximum ticket prices and Aventura Airline Rewards Chart at www.cibcaventura.com. Some airlines may impose fees, restrictions or other conditions on air travel. Aventura Points will be cancelled if they remain unredeemed for 60 days after you voluntarily close your Aventura credit card account or within 12 months of the primary cardholder's death.

You are eligible for this annual fee rebate offer only if you apply and are approved for your first CIBC credit card. If you are a current or former CIBC cardholder, we may approve your application but you will not be eligible for the offer. This offer applies to the following eligible card: CIBC Aventura® Visa Infinite* Card ("Eligible Card"). If you apply and are approved for a new Eligible Card between November 1, 2016 and June 30, 2017, CIBC will rebate the annual fee for you (the primary cardholder) and up to three authorized users added at the time of the application.

7 This offer does not apply to annual fees for authorized users that are added after you submit your application. This offer applies for the first year only. If your application for an Eligible Card is not approved, you may be considered for another card (as disclosed in your credit card application). If you are approved for that card, this rebate offer will still apply. If you qualify, the rebate will be awarded to you and will appear as a credit against the applicable annual fee(s) within two monthly statements. Your new credit card account must be open and in good standing at the time of the rebate. This offer is not transferable and cannot be combined with any other offer. This offer does not apply to transfers from another credit card account. This offer may be withdrawn or changed without prior notice at any time. CIBC may, in its sole discretion, disqualify, limit or revoke this offer if you are believed to be abusing or manipulating it, or engaging in any suspicious or fraudulent activity.

8 Interest rates will change from time to time on at least 30 days prior notice to primary cardholders. "Cash" means cash advances, balance transfer and Convenience Cheques.