Accessibility Quick Links
An extra layer of security
Before you complete a sensitive request that requires greater protection, you'll get a prompt to enter a one-time verification code.
After your password, it serves as a second check to make sure it's really you accessing your account.

No more personal verification questions
Don't worry about having to remember the answers to your personal verification questions anymore. The one-time verification code replaces them.
Unique verification codes
A new 6-digit one-time verification code is generated for each sensitive transaction or request, but you'll only need to enter the code once during each online banking session.
Each code is unique, and we'll never contact or ask you to reveal the code over the phone.

How it protects
Two-step verification applies to certain transactions and account changes as a way to verify your identity and confirm your request. So even if someone manages to access your account, they won't be able to:
Register for online or mobile banking
Update your contact information
Add a new or change an existing Interac

e-Transfer®

contact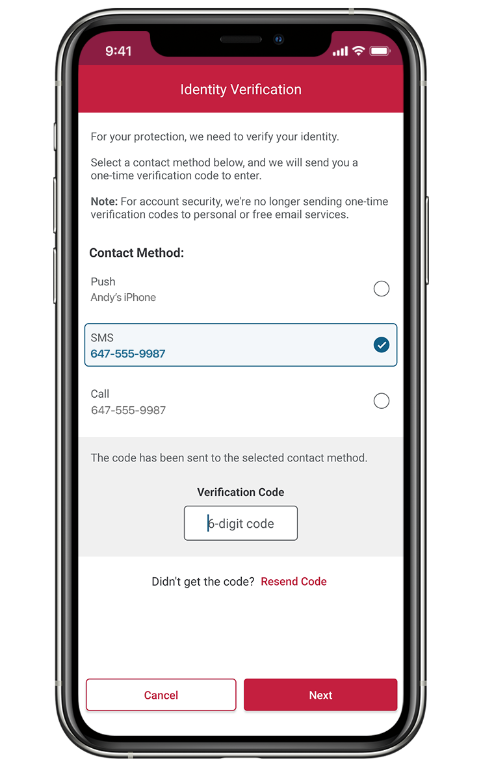 Step 2
Enter your one-time verification code

Once you receive the code, enter it into the box to complete your transaction.
Note: Verification codes expire in 10 minutes, so enter it as soon as possible to complete your transaction. If you enter your 6-digit one-time verification code incorrectly 3 times in a row, the code will expire.
Fraud prevention
We want to protect you from scams. Fraudsters may contact you, pretending to be a member of CIBC's fraud team. They may claim your account's been compromised due to suspicious activity. They may also ask you to share a 6-digit one-time verification code with them to protect your account. If anything like this happens, disconnect the call immediately and call the number on the back of your card.
Learn more about banking fraud about how CIBC is supporting Ukraine.
What to do before you travel
Review your settings
Make sure the device you'll be travelling with is set up to receive push notifications. Keep in mind you can only enable push notifications on one mobile device at a time.