Accessibility Quick Links

International student? You need to visit a banking centre in person to apply for the CIBC Dividend® Visa* Card for Students. Make sure you mention this $50 offer. Branch locator Opens in a new window.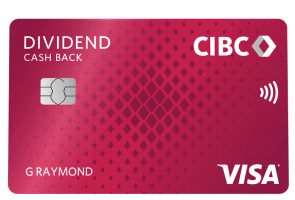 Earn cash back for no annual fee
Plus, build your credit history by making at least your minimum monthly payments on time.



Bundle for more
Earn up to $175 cash back and 6 months of Disney+ after you get CIBC Smart™ Start and a CIBC Dividend® Visa* Card for Students. Conditions apply.
A card that's award-worthy


Get a free SPC+ membershipⓘ with this credit card
Save up to 30% on over 450 top brands when you shop online or in-store. Plus, get exclusive access to special experiences, cash prizes, giveaways and more – all for free, only with CIBC!
Maximize your cash back with these perks
Get cash back on demand
Redeem your cash back at any time when you have a minimum of $25 through CIBC Online and Mobile Banking® or by calling us at 1-800-465-4653 Opens your phone app.. Or wait to get your cash back annually as a credit on your January statement.
$0
for each additional card
(3 card maximum)
Interest rate (purchases)
RDS%rate[2].VSDIV.Published(null,null,6,null)(#R#)%ⓘ
MINIMUM INCOME REQUIREMENT
$0

MINIMUM CREDIT LIMIT
$1,000