Accessibility Quick Links
CIBC Dividend® Visa* CardCIBC Dividend® Visa*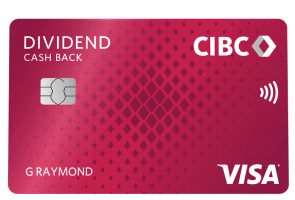 Earn cash back for no annual fee
2%
Cash back on eligible grocery purchases1
1%
cash back on eligible purchases1
Recurring payments or bills
A card that's award-worthy

Save up to 10 cents per litre on gas with CIBC and Journie Rewards
Link and use your CIBC Dividend Visa* Card with Journie Rewards to save up to 10 cents per litre at participating Pinoneer, Fas Gas, Ultramar and Chevron gas stations.2,3

Save
3 cents
per litre
every time you fill up4
Save an additional
7 cents
per litre
every time you reach
300 Journie Points5
Maximize your cash back with these perks
Get cash back on demand
Redeem your cash back at any time when you have a minimum of $25 through CIBC Online and Mobile Banking® or by calling us at 1-800-465-4653 Opens your phone app.. Or wait to get your cash back annually as a credit on your January statement.
Earn cash back with CIBC Global Money Transfer™,6
Earn cash back◊◊ when you send money abroad. There are no transfer fees, and there is no interest if you pay your balance by the payment due date.7
$0
for each additional card
(3 card maximum)
Interest rate (purchases)
RDS%rate[2].VSDIV.rate(null,null,6,null)(#R#)%8
Interest rate (cash)
RDS%rate[2].VSDIV.rate(null,null,3,null)(#R#)%8,9
RDS%rate[2].VSDIV.Published(null,null,90,null)(#O2#)%8,9
(for Quebec residents)
Minimum annual income
$15,000
(household)
Looking for a student card?

CIBC Dividend® Visa* Card for Students
Get $30 cash back after you make your first purchase!13